Not only the most important books, not only the most innovative. Those that are dearest to us, the ones that we look for the pure pleasure of reading. Those who are among our favorite choices of all time and that most often we remind. Those who opened windows on other cultures, those that describe or create worlds. Those who light up our curiosity and our interest. Those that we continue to look for even though they are dusty, yellowed by time or consumed, The ones that made us fall in love with photography and still continue to seduce us. The ones that we want the most. Tomorrow will of course be others.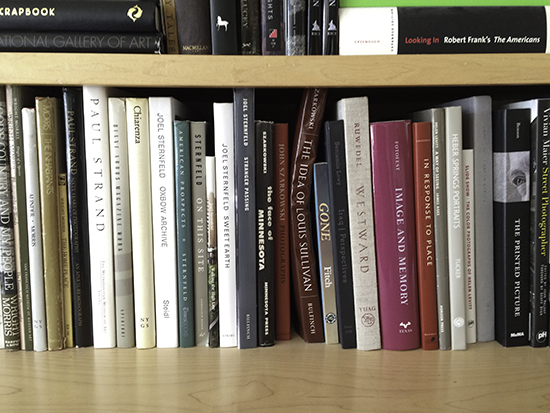 In this section the 10 favorite photobooks selected and narrated by Peter Brown, photographer, writer and teacher. Peter Brown, has a BA and MFA from Stanford University and has taught in the Art Departments of Stanford and Rice. His photographic awards include the Lange- Taylor Prize, the Alfred Eisenstaedt Award, the Imogen Cunningham Award - as well as fellowships from the Carnegie Foundation, the Graham Foundation, The National Endowment for the Arts, and the Houston Arts Alliance. His photographs are in collections of the Museum of Fine Arts, Houston, The Menil Collection, The Museum of Modern Art New York, the San Francisco Museum of Modern Art, the Getty Museum, the Los Angeles County Museum and the Amon Carter among others.
Brown is the author of the books West of Last Chance, Seasons of Light and On the Plains. His photos have been shown internationally and have been published in many magazines. In 2008 he received the inaugural Glasscock School Teaching Award in recognition of his years of service at Rice. He is a founding member of The Houston Center for Photography where he is on the Advisory Council and is an Art Board member of Houston FotoFest and an Advisory Board member of the Glasscock School, which this spring named a gallery in his honor. He is now at work on a book about Texas with the writer Joe Holley.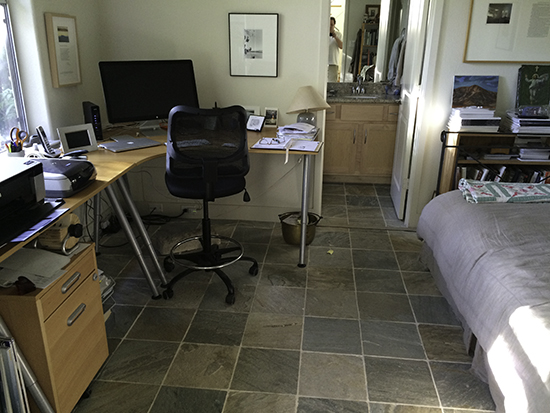 The subject of these books involves the everyday. And I feel connected to each of them. Almost all have been out for a while, most have helped shape me and almost all have been with me for many years. And as such they feel like home. Each makes me hopeful, and almost all make me happy. As a group they reaffirm the decision I made years ago to become a photographer. Their presence points towards community and I would pack them and take them with me (along with my wife Jill, a computer, a solar charger and a decent camera) to this mythical island. The books would feel like kindred souls.
And there are many more that I could add to this list of course. Reducing my favorite books to ten is like asking me to limit the number of people I love to ten.
But here they are just the same. And in a move that is certainly illegal in this context, I am eliminating four of my favorites right from the start. They'll be on many lists: Walker Evans American Photographs; Robert Frank's The Americans; the four volume edition of Atget edited by John Szarkowski and Maria Morris Hambourg. (This I count as one illegal book.) Plus Cartier-Bresson's The Decisive Moment, which is finally to be republished this fall. (Its lack of presence on photographers' shelves is the equivalent of making War and Peace available only to the wealthiest novelists for the past sixty-two years.)
That gives some breathing room. Yet to make matters even worse ethically, I intend to include a supplement.
Here they are, in no particular order...
The books are not ranked in any way...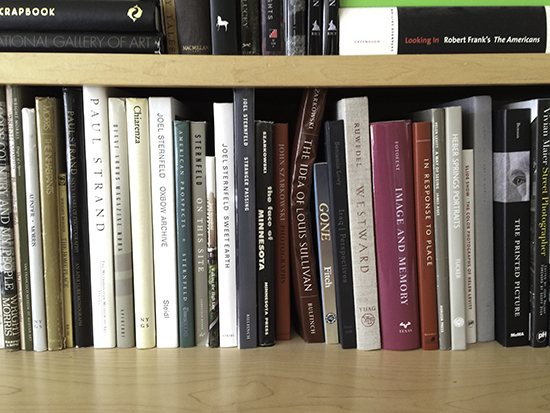 Nick Nixon, The Brown Sisters
I've been shaking my head over this mysterious book since I first picked it up fifteen years ago. As we know: four sisters photographed in an unchanging row, one photograph a year for twenty-five years. And now, in November there will be an update. This new edition will include forty years of portraits. I am filled with speculation, self-created gossip and personal memories as I move through the pages and through all the years these pages represent. And I am moved by the beauty of these lives. And through these women (and Nixon of course) by life itself. A simple idea – and one of the best in recent photographic history.
A review I wrote many years ago.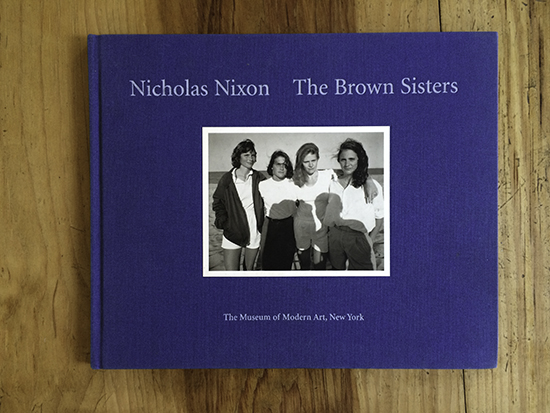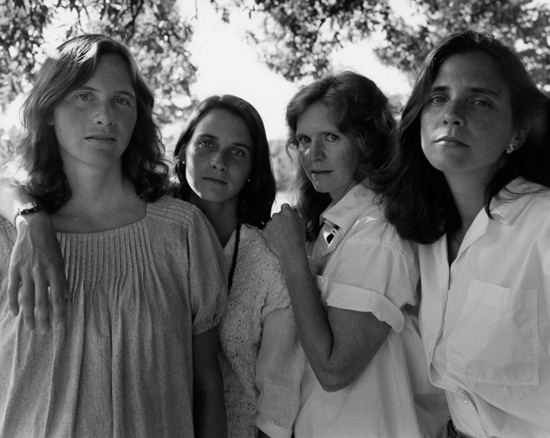 Disfarmer, Heber Springs Portraits – 1929-1946. From the Collections of Peter Miller and Julia Scully
A portrait of a town by way of individual portraits - and a portrait of a time in American history as well. Rural and small town people at their clean, surreal and reverent best.
Another review.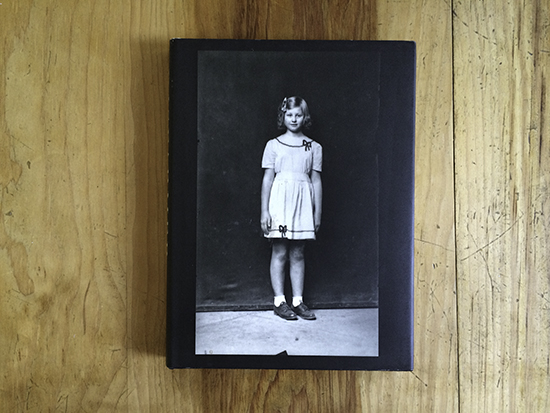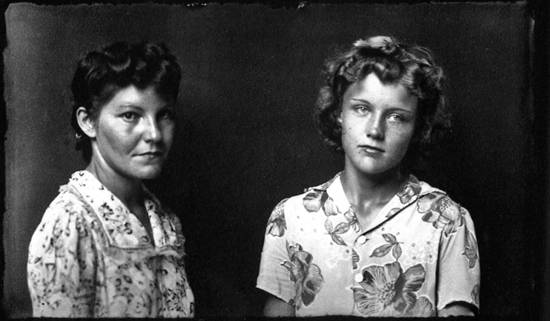 Joel Sternfeld, Oxbow Archive
My favorite of the many Sternfeld books. I was born in Cooley Dickenson Hospital in Northampton, Massachusetts, four miles from the oxbow, and these photographs represent some of the first things that I saw. I talked to my mother a few days ago and she said that she held me up to the window of the car as we drove home from the hospital – past fields such as these. The photographs seemed familiar the moment I cracked open this beautiful, resonant book. A spiritual life seems imminently possible through close viewing of these pages.
Link: Peter Brown - A Book ofDays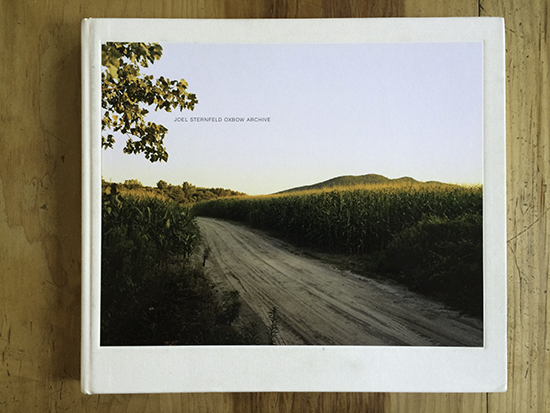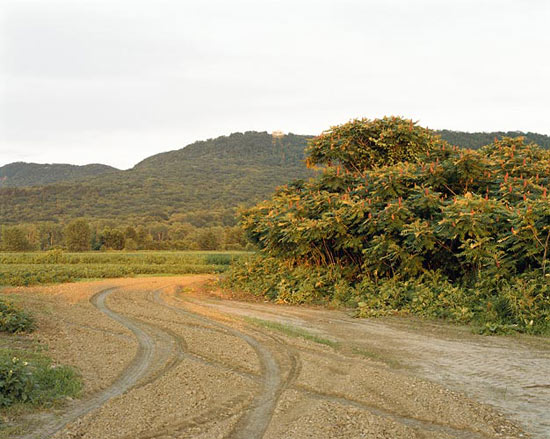 Solomon Butcher, Photographing the American Dream
A wonderful and little known book, by a wonderful and little known photographer. Butcher photographed small towns and rural prairie life in central Nebraska from the 1880′s to the turn of the century. These are documentary photographs that are almost surreal in their intensity. Sod houses, portraits of wide-eyed families, towns slapped down for no particular reason - odd writing on the negatives - as well as birds and trees sketched in to satisfy Butcher's sense of natural history gone awry. A great and couragous book.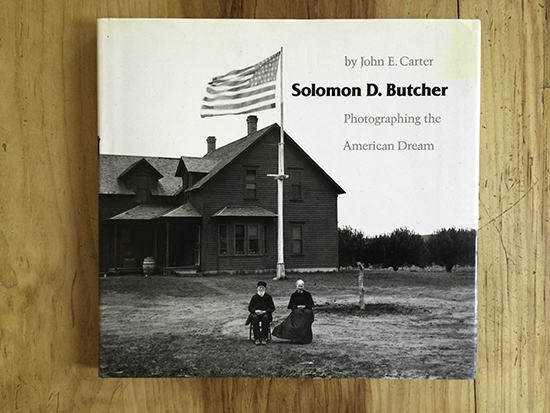 Garry Winogrand, The Animals
The first photo book I purchased (for $2.50 in 1972). Again, a personal choice in that the animals in the book were kept in the Central Park Zoo in New York, and were photographed in the fifties and sixties when I was a kid. And I went to that zoo again and again, with my parents and on school trips and I knew these particular animals. The other animals that Winogrand photographs – the people - are familiar too – and just as exotic. It's a wonderful book, filled with surprise and humor and it's a harbinger of the wild inclusiveness that Winogrand perfected over the years.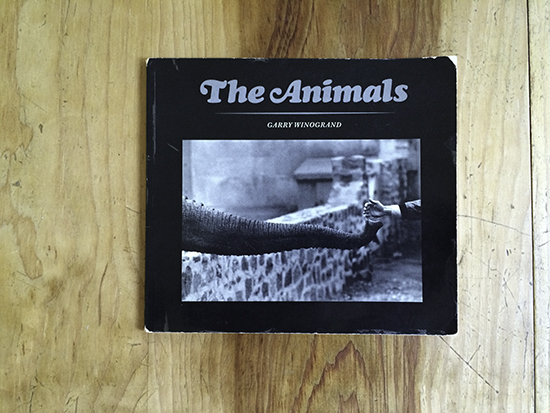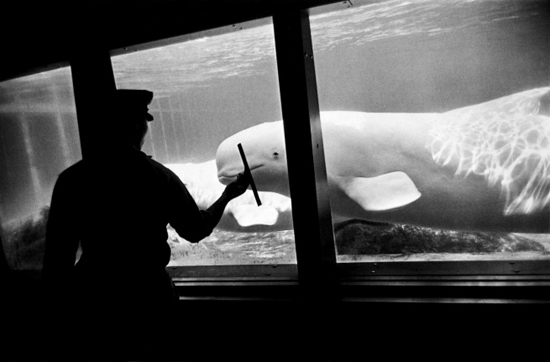 Robert Adams, Listening to the River: Seasons in the American West
My favorite of the maybe thirty books by Robert Adams that I own. I think I have them all. I like so much about this book – from the journey on foot that it represents, to the wonderful two page spreads of up to six images that link in such inventive panoramic ways, to the poetry of William Stafford which weaves through the pictures, to the quiet of the entire enterprise. A beautiful, peaceful and troubling book. It's a mix of all that is actually out there in the rural/suburban divide that consumes so much of America.
An appreciation of Adams that includes this book.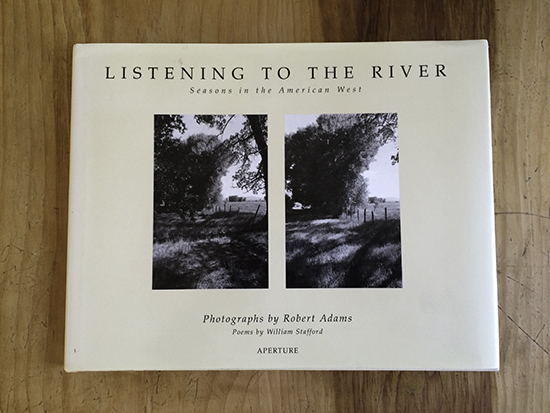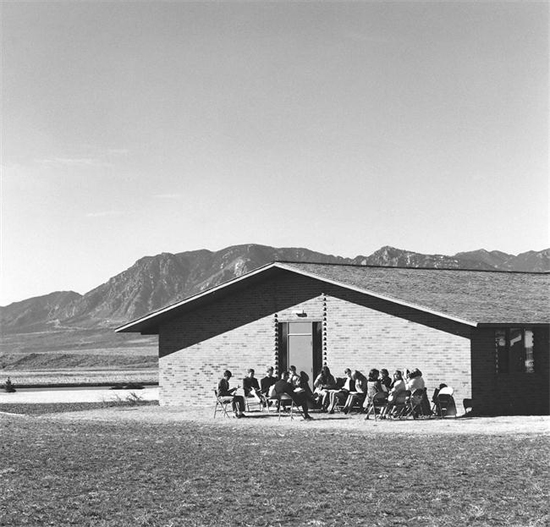 William Eggleston, William Eggleston's Guide
A toss up really between the Guide, Los Alamos and The Democratic Forest. The work in these books (and indeed most of Eggleston) seems of a piece to me. But The Guide introduced me to him and I've been directed by his work ever since. It opens every bit of existence to the camera and it particularly opened the contemporary south to me just before moving to Houston, a city in its origins as southern as it is western. Szarkowski is at his best in the introduction and I love how confounded people still are by this book and Eggleston's work in general.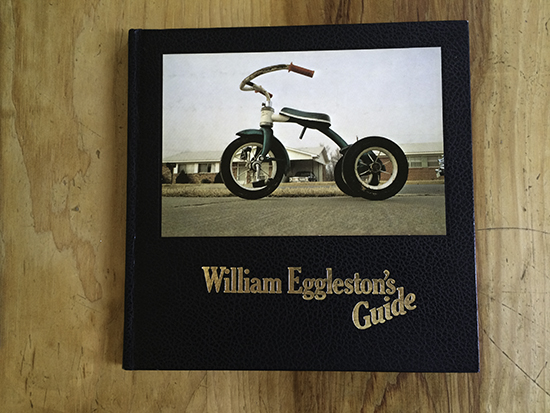 Lee Friedlander, Friedlander (retrospective), The Museum of Modern Art
This actually isn't my favorite Friedlander book, but it includes the whole package, so I'd take this along before Self-Portrait and the early Haywire Press retrospective. It just has so much. It also reminds me of spending more than three hours at the show at MOMA with my wife and daughter - the three of us poring over each print. And we emerged energized – and just looking, looking, looking at New York. Friedlander I think, more than any other photographer, opened America to me – I see potential Friedlanders wherever I look. And he, like Robert Adams is protean in his accomplishments: a new beautiful book rolling out every six months or so. Let me throw in a quick huzzah for the designer of these books, the remarkably talented Katy Homans. More: I love the new Friedlander family volume (a non-fiction novel really), and the collection of music related photographs from New Orleans - a miracle of waiting until the proper moment to publish finally arrives. Over the years we've seen it all: chain link fences, monuments, mausoleums, infinite reflections, oddball clouds, city sidewalks, people, deserts, phone booths, quirky homes – everything there is, and the man just keeps on. He finds he can't walk because of knee operations, and he photographs the stems of flowers in glass vases. And they all look like Friedlanders. Signed, sealed and delivered.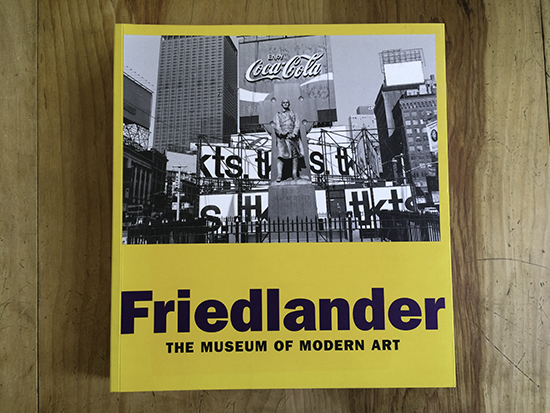 Joel Meyerowitz, Cape Light
Another personal choice — a somewhat sentimental one and a sweetly sentimental book. I bought it early on and love it still. The terrific interview with Meyerowitz that opens the book turned me into a color photographer. He had worked in black and white for years, switched to the 8×10 and color, and spoke of the immediate flood of emotions that swept over him as he stopped translating the world into black and white. I had been doing the same, and the equivalent happened to me. And Meyerowitz' subject matter – the Cape, summer, late afternoon/evening light, Little League baseball, friends here and there, barbeques, couldn't be more common or home grown. And for me those things mix with a summer place that my family has in the northeastern part of the state: soft light, the same picnics, the same relaxed and joyous atmosphere...
The book brings me a mix of my history and some familiar friends. A tender and optimistic book.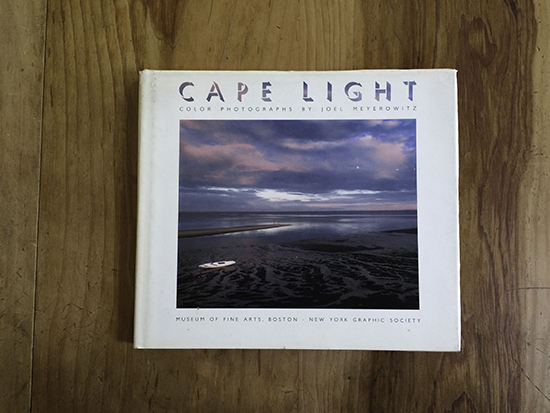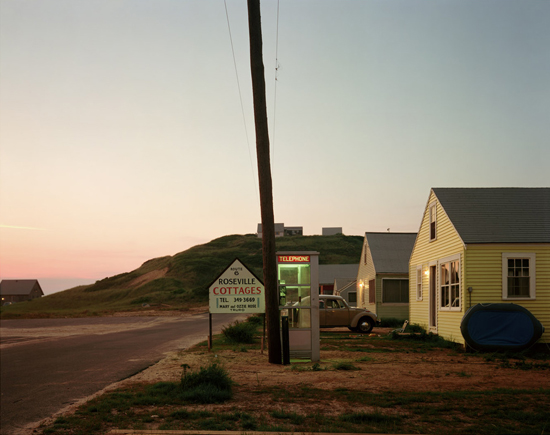 Stephen Shore, Uncommon Places
The paradox of course is that these photographs are made in very common places, and through Shore's vision, become their individual and uncommon selves. The book is a lesson in seeing, in color, in American culture and in traveling the land with purpose. Uncommon Places moved me to buy a large format camera and to begin to explore the American west – in particular, the small towns of the high plains. I carry Shore's images in my mind always, as I travel. As I do those of Sternfeld, Evans, Atget, Christenberry, Fitch, Gholke, Misrach, Eggleston and on... See Geoff Dyer's inspired The Ongoing Moment for more of this.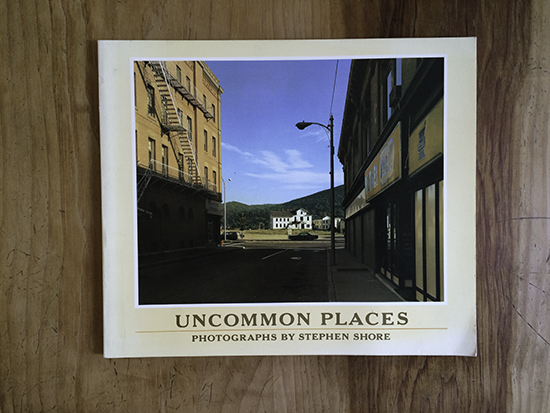 A few more personal favorites:
Bryan Schutmaat, Grays The Mountain Sends
Joseph Koudelka, Gypsies
Steve Fitch, Diesels and Dinosaurs
William Christenberry, Southern Photographs
Richard Misrach, Desert Cantos
John Szarkowski, Looking at Photographs
Peter Beard, Eyelids of Morning: The Mingled Destinies of Crocodiles and Men
Alex Soth, Sleeping by the Mississippi
Mike Brodie, A Period of Juvenile Prosperity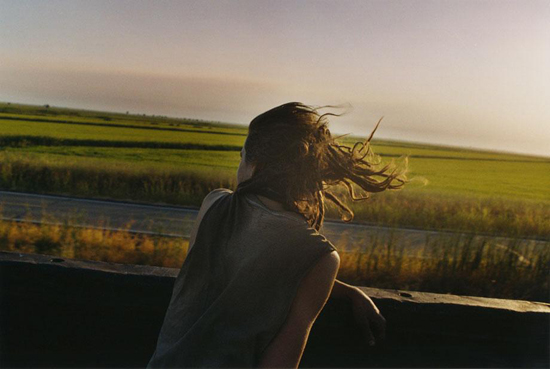 Peter Brown, (no false modesty here):
Seasons of Light
West of Last Chance
Steve Fitch, Rick Dingus, Miguel Gandert, Andy Liccardo, Tony Gleaton and Peter Brown:
Llano Estacado: An Island in the Sky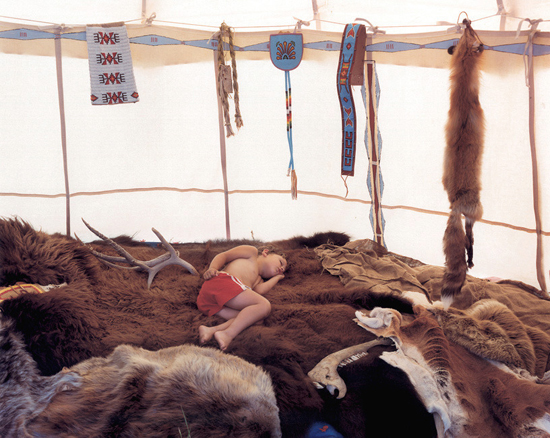 And while I'm at it some non-picture-books:
Kent Haruf:
Plainsong
Eventide
Benediction
Cormac McCarthy:
All the Pretty Horses
Blood Meridian
Kathleen Norris
Dakota: A Spiritual Geography
Ian Frazier:
Robert Adams
Beauty and Photography
Why People Photograph
Along Some Rivers
Geoff Dyer: