Landscape Stories: You have some ideas you want realize. How do you develop your project?
Cyrille Weiner: I have a framework for my project, which is the confrontation of planned spaces with the way people appropriate them, both physically and mentally. I find contemporary places too normative, leaving little space for improvisation, individual initiatives and freedom. That is why I search for places that give me a deep sense of freedom. I am interested in the margins. Planners fear the margins but in a lot of domains, not only urban planning, margins are where you can find innovation and creative spirit. I like the quotation from Siegfried Kracauer : « The worth of cities is determined by the number of places devoted to improvisation», which is an interesting framework for looking at my works and my project. About its development, it is close to my life, both personal and professional. It is made of personal research, collaborations and exchanges, personal works and commissions from architects, planners, urban or art institutions. I mix small or short term projects with long term ones, always keeping in mind my photographic project. This leads to series that are in many ways connected to each other. Sometimes i re-collect images or pieces of works to compose a new series, the way I partly did for Le Ban des Utopies. I try not to format a project before I start. It is an in-progress open process.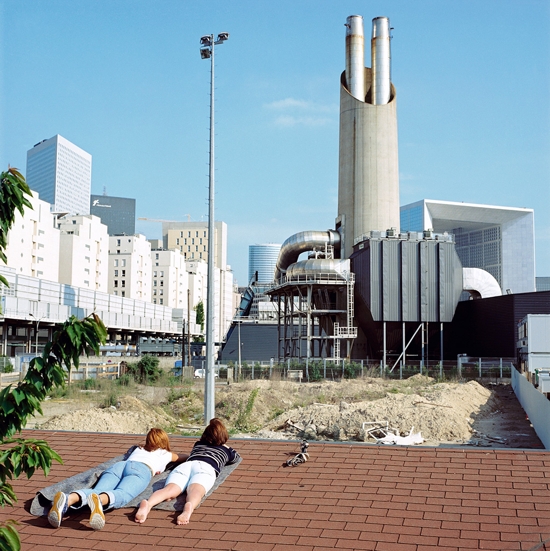 Landscape Stories: Do you do any particular research on the territory while working on the project?
Cyrille Weiner: I do not do intensive research. Emotion is important in my relation to spaces, and documenting is not the main end. I don't want to know much when i am on the field, to preserve my sensitivity and a kind of sensual link to places and their imaginery. I tend to collect documents and informations after, once I have a personal point of view. I did more research for my abroad project in Brasilia.
Landscape Stories: Every place or landscape is full of meanings and particular stories. What does it mean for you to photograph in Europe?
Cyrille Weiner: I mostly photograph in France. It is important for me to manage to understand well what I photograph and to give me time, even though I don't want the shooting period to last too long. In the end, my projects are not documentary. I develop a plastic formal language that uses reality as a material. The meaning is important. But the physical places are not so. I mean i pay more attention to what they mean, evoke, than what they really are (geographically and socially speaking). It is a process of representation where ideas are expressed in images. It goes beyond places. This mean the reality of a place is not important as far it can be a material to express an idea. The stories are my own...
I would say France is an interesting field for my work because I find a wide range of spaces which do not carry a strong universal imaginary. It would be much more difficult for me –I believe – to photograph in the United States for instance, where each street corner, each piece of road or landscape can refer to a movie or a photograph. On the other hand, i would be stimulated to find iconic elements from another country in France.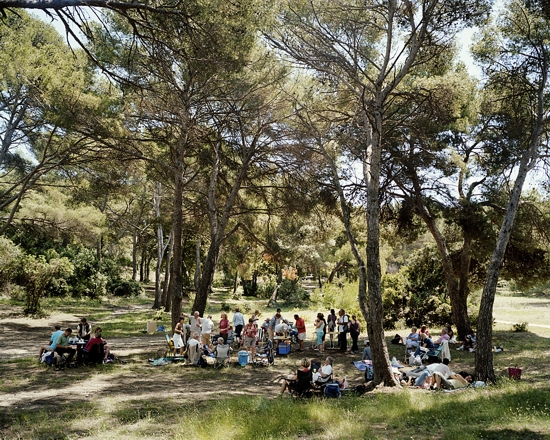 Landscape Stories: What are you working on right now?
Cyrille Weiner: I am working on several projects. As said before, mix short term projects with longer ones, and. To give you a more precise idea : I decided years ago to scale the rythm of one of my project with the rythm of an important regeneration program in the suburb of Paris. It started in 2001 with Avenue Jenny. I am also starting to work on a new personal project that I imagine as a tribute to Jacques Tati's Playtime. I started a few months ago on a commissioned art project in Lyon. It deals with a contemporary re-interpreation of modernist utopia and the place of contemporary art in the city. I am also making a book on a new building. A very interesting contemporary architecture in Dordogne. It is commissioned by the architect and the art director of the book. I work a lot on architecture commissions, and I can express myself very freely. Randomly, I am looking at fairs like I did in the Jours de Fêtes series. I do not like fairs so much in themselves, but I strongly believe they are images of colourful joy in cities. Western Cities lack this. It's a kind of metaphore.
Jours de Fetes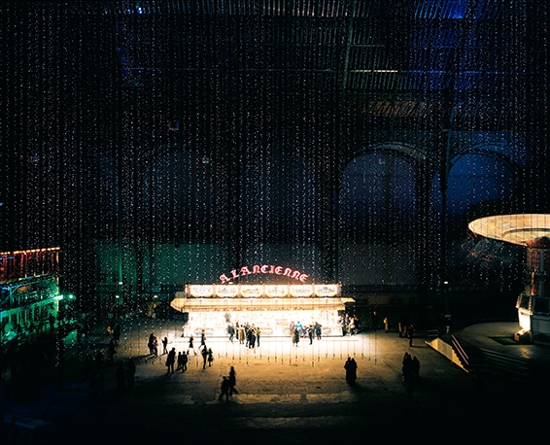 Landscape Stories: Speaking about your project "Presque Île" we can see different forms of human settlements, how people inhabit places and try to relate to landscape. How do you want people to respond to the pictures you take?
Cyrille Weiner: The Presque Île exhibition and book are the fruit of a residency at the villa Noailles. The only constraint of the residency is the territory, you have to do something in Hyères or around it. I wanted to do something more universal and less documentary than what had been done during the previous residencies. I wanted to photograph things that everyone can see, to confront the reality of the coastline with my own imaginary.
Presque Ile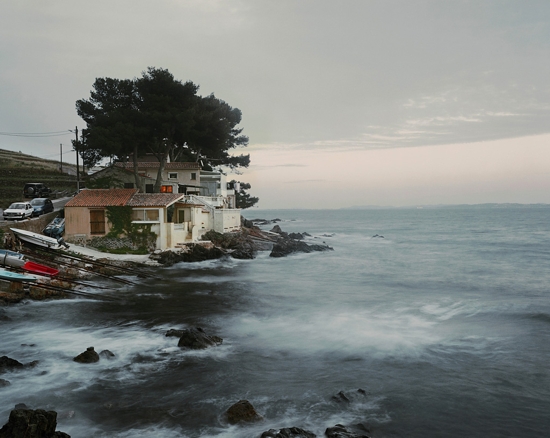 A great number of visitors werw very familiar to the places photographed but wished to show them in a very personal and photographic way. Some people were astonished by the way i photographed, avoiding the shiny sunny pick of the summer season of this area... This was part of the project, to focus on the mid-season. Generally speaking, i am looking for a very simple, pure formal language. I am interested in using a realistic, almost naive image to try and produce meaning, or emotion, to stimulate the imagination, but from an image of the world as I imagine that can be seen by everyone. That is why I use medium and large format. When working on artistic commission related to urban planning, as I did for Les longs murs in Marseille, I like the idea of confronting planners with a reality that they otherwise would not see, or chose not to. The different levels of meaning of the images and the realistic formal expression are part of these projects.
Les Longs Murs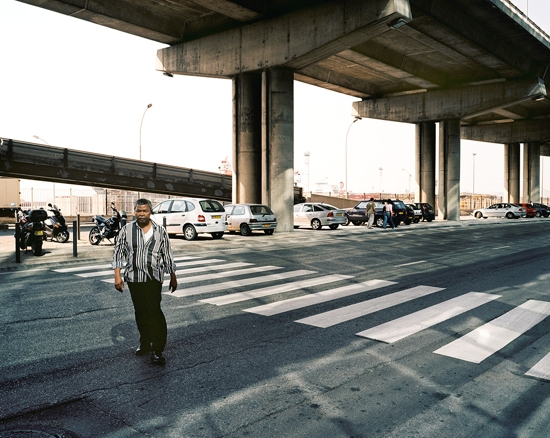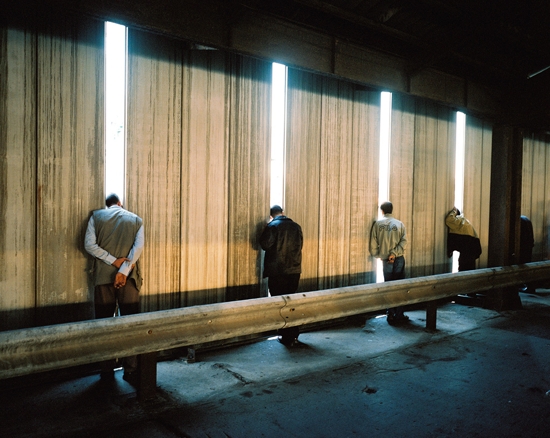 Landscape Stories: What has been your favorite photo-book in the last few years?
Cyrille Weiner: The two portraits of cities Santulussurgiu and Tulle by Patrick Faigenbaum impressed me a lot with their simple, but very deep sensitivity and sensuality, and the beauty of the images. I love going back to these two books regularly.
Interview by Gianpaolo Arena