Landscape Stories: In the past you have been using exclusively the black and white, in the 'Ideology in Paradise' project, you used the color. Can you explain this change?
Hiroshi Watanabe: My main medium has been and will be, I think, black and white, mainly because I enjoy the process (film/darkroom work) and that it appeals to me aesthetically. When I started the North Korea project, however, I thought black and white images might look like old social documentary photographs which might suggest dark old age. That was how most people imaged North Korea. I wanted to be apart from it and neutral to what I might see once I arrived there. I also knew that Korea had very colourful culture in clothes and living spaces. I did not want to miss it in my photographs.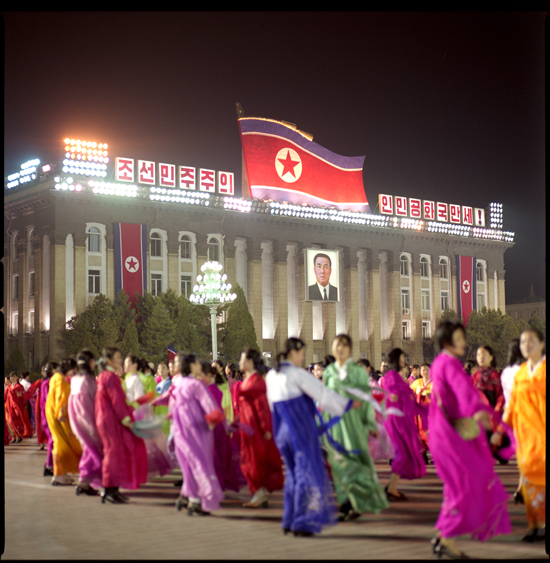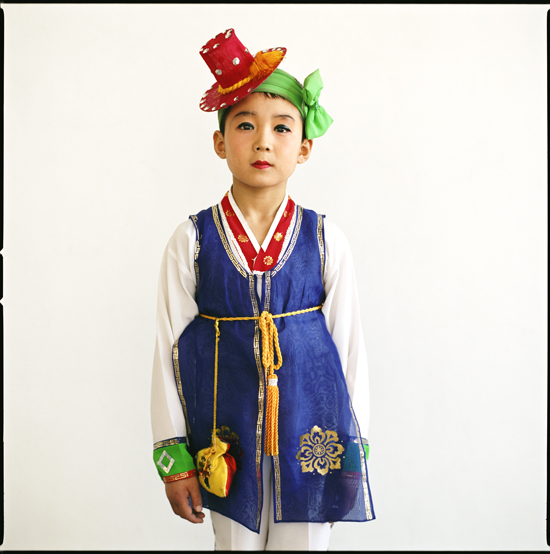 Landscape Stories: In 'Ideology in Paradise' you explore the North Korea and the myths of this nation. These images are rich in both content and aesthetics, giving the viewer a window into a moment in time, captured with a genuine respect that is visible throughout the series. Can you talk about it?
Hiroshi Watanabe: As I mentioned in the previous question, I had negative images on North Korea after bombarded by constant negative news. That seemed conclusive and universal. My approach for every project I do is to first (try to) stay away from those "common sense" and (try to) look things straight as I see them, without applying common beliefs and understandings, and even without my own beliefs and understanding. I tried to look what revealed to me as they were without interpretation.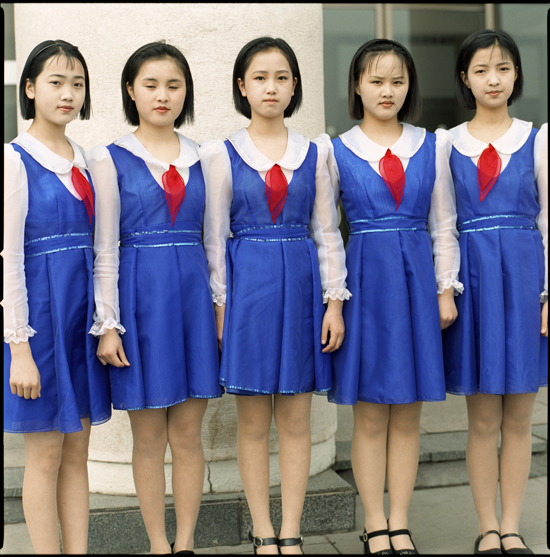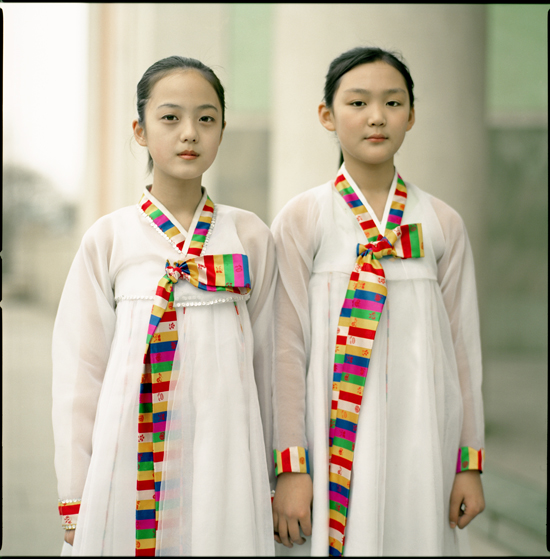 Landscape Stories: There is an image, of this series, that I love more: 'Singers'. Tell me.
Hiroshi Watanabe: I was watching a show in the theater of a place called Pyongyang Schoolchildren's Palace. It is where many students go after regular school hours and participate in various activities such as acting, music, dance, painting, computer, and sports. Those children really try hard in everything they do and they are very good. I was struck by their eagerness and seriousness.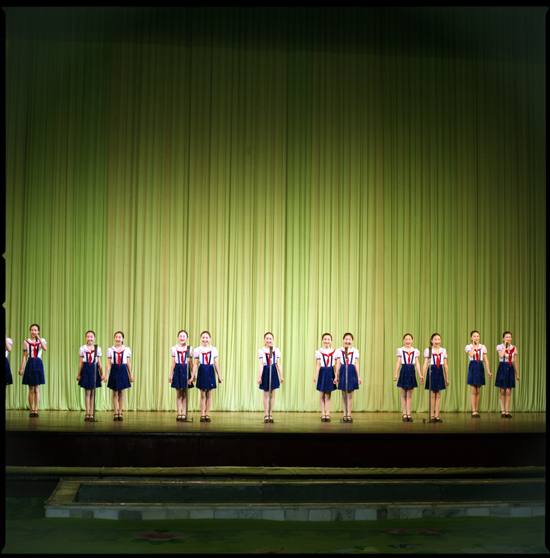 Landscape Stories: And two another 'Kim Il Sung Poster & Three Boys ' and 'Songdowon International Children's Camp'. Can you tell about them?
Hiroshi Watanabe: 'Kim Il Sung Poster & Three Boys ' was taken in a pavilion on Army Day in Pyongyang. The pavilion had many booths by various organizations and all were decorated with so many flowers that it looked like a botanical festival rather than a political event.
Songdowon International Children's Camp is, according to the explanation I received, a camp where all children from all around the world can come and enjoy many cultural and sports activities. It has dormitory-like facilities and large play grounds and marina. I did not see any foreigners but there were many Korean children. A girl who gave me a tour proudly stood in front of a mural which depicts one country on the whole Koran peninsula painted in red.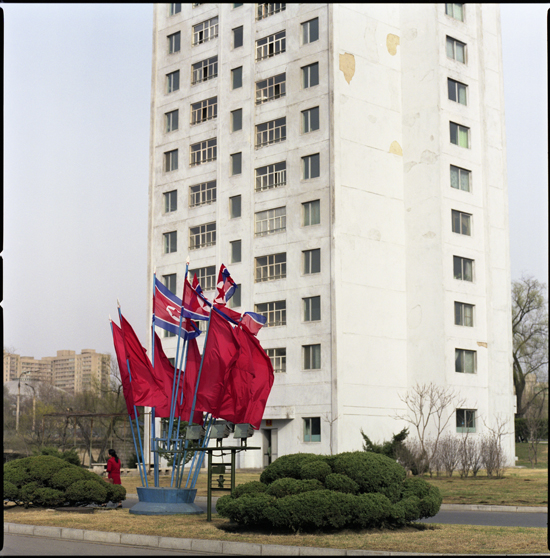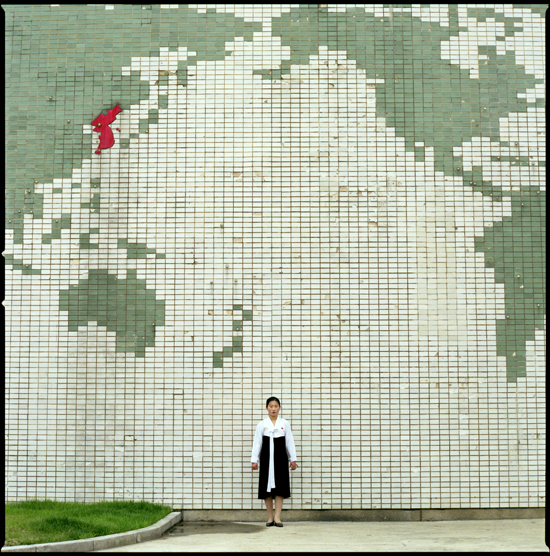 Landscape Stories: Can you tell about the teens in Korea?
Hiroshi Watanabe: I was surprised by the fact that many young children including students wear make-up and they seem to do so everywhere like parks and schools. It was opposite of my earlier image of starved and oppressed children that I often saw in the media.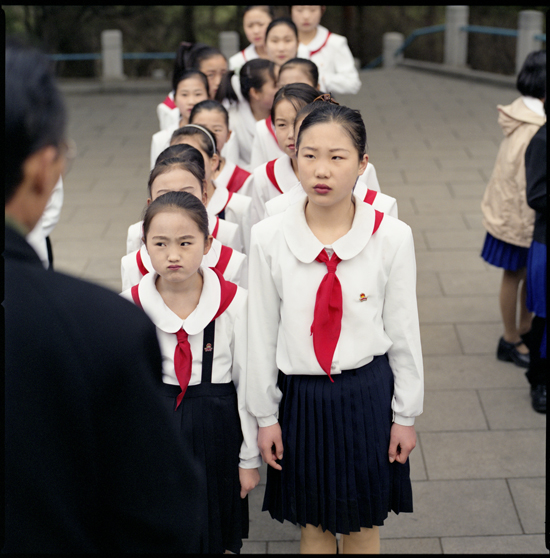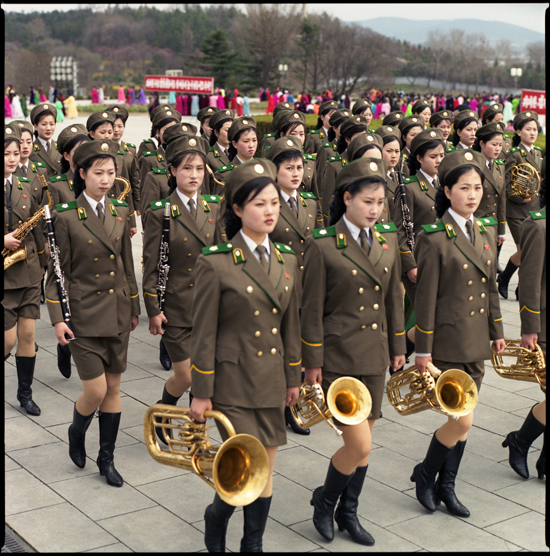 Landscape Stories: What were your earliest photographs and influences?
Hiroshi Watanabe: My early influencers are old masters such as Robert Frank, Diane Arbus, Walker Evans, Richard Avedon, August Sander. I am also inspired by new talent such as Alec Soth, Roger Ballen, Pieter Hugo, Raymond Meeks, … there are so many.
Landscape Stories: What has been your experience working on books?
Hiroshi Watanabe: I enjoy working on books. It is different from making and exhibiting individual prints at galleries. Books force me to think each project as whole. They must be completed or at least have some kind of conclusion before I can put it out. I also like the process which involves various people who teach me how to look at my own work from different point of views. My only problem is that there are so many wonderful books, visually and intellectually, that are coming out all the time, and I see my shortcomings compared.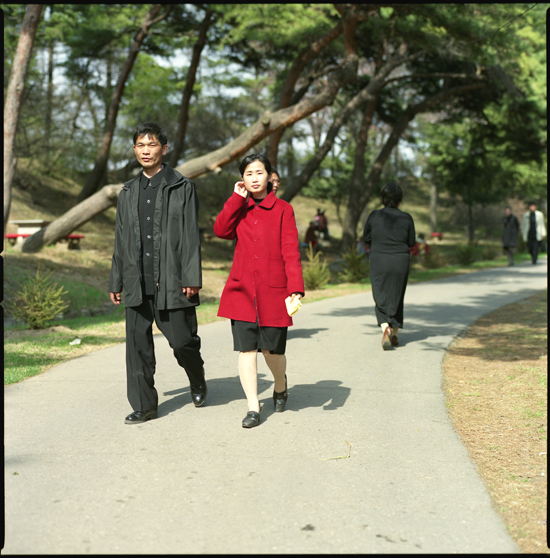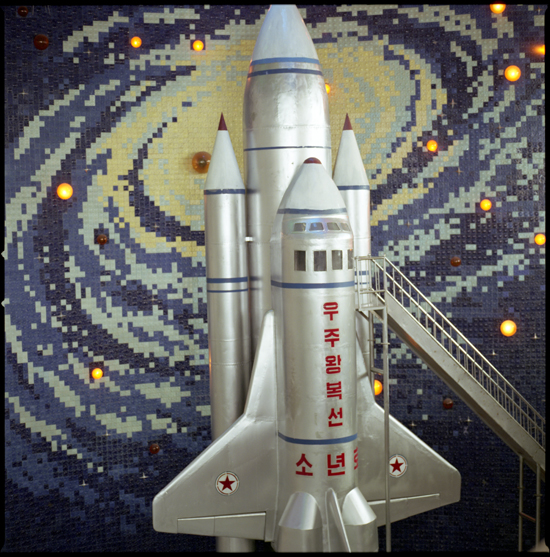 Landscape Stories: Next projects?
Hiroshi Watanabe: I am currently working on a project in which I am photographing artifacts from Japanese internment camps during the second world war. I am exhibiting them first time in Japan in this September. Please read below if you are interested.
In 2009 I received a commission from the San Jose Museum of Art. The project was to photograph the city's Japantown. I was told I could photograph any subject as long as they relate to Japantown. Before I flew to San Jose, SJMA gave me names of a few key individuals in the community. One person was Jimi Yamaichi, Director and Curator of the Japanese American Museum of San Jose. This local museum was temporarily closed for renovation. I asked him what were the items to be exhibited in the museum and he told me they were in the storage. He opened the door and told me to follow. Inside was full of cardboard boxes. He explained that inside the boxes were things from the internment camps where the Japanese were forced to stay during the war. They were things people used and made during such confinement.

I saw one flower brooch. Looking at it carefully, I noticed that the flowers were made with tiny shells. He explained that many internment camps were located on dry lakebeds which used to be lakes thousands of years ago. He said that if one digs underneath the surface, he would find many shells. He said because people were not allowed to go outside, they used whatever they could find inside the fence. I thought then things inside these boxes could the essence of Japantown and I decided to search what else are in these boxes.
While I was photographing those artifacts, I also heard that there was a dump site near an internment camp in Tule Lake in northern California. When the Japanese internees left the camp, they disposed their belongings they could not take in a field outside of the camp. I became intrigued by the story and I traveled there. The dump site was a wide open field, almost a half mile long and I saw many exposed items that were rusted and broken. When I dug up by hand, I found many more items beneath the soil. I was certain that many more things were there to be found. I decided to pursue further and explore by photographing those buried items.
Interview curated by Camilla Boemio