Landscape Stories: How did you first come to photography?
Theo Baart: When I was a little kid I found in the attic the collection 6×9 cm negatives of my granddad. I had seen on television that you had to put them in some liquid to get prints. So I put them all in a bucket filled with water. Later, I got an enlarger of a deceased family member and started as a 12 year old to print. In order to print something, I had to produce negatives. You may say I started with photography because the technical side intrigued me. Something I somehow lost during my career as a photographer.
Landscape Stories: Are there any photographers or movements that have influenced or inspired you? How much were "New Topographics" movement a source of inspiration for you when you started to search for your photographic style?
Theo Baart: I became an ambitious photographer at the end of high school considering what I would love to do. What would fit me after high school? Thinking back, that is a wonderful period in life when you don't feel withhold by boundaries and can think that the sky is the limit. I owned at that time two photo books: First and Last by Walker Evans and Antlitz der Zeit by August Sander. That was I what knew, I had bought the books with my own money, so you bet that was influential. The presentation of the New Topographics (NT) in George Eastman House in Rochester, NY was in 1974. I was riding my bicycle to school in 1974 in Holland and stopped once in a while to make a landscape with my plastic camera made in the DDR. I was not much aware of what was happening in the field of contemporary photography. I became aware of NT at the late 1980s when I had found my own way and when I was already familiar with the work of individual participants at NT exhibition. I am more influenced by early 'confrontations' around 1980 as a student at the academy of art with the works of Lee Friedlander, Paul Strand, and Walker Evans, and Albert Renger-Patzsch. And later in 1980's, I was inspired by Chris Killip's In Flagrante, the work of Nicolas Nixon, Lewis Baltz and Paul Graham. My friendship, collaboration, sharing darkroom facilities and equipment with Dutch photographers Cary Markerink and Hans Aarsman in the beginning of my career has had a great influence on the development of my work.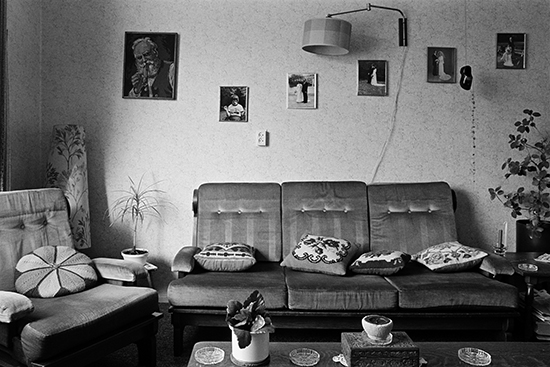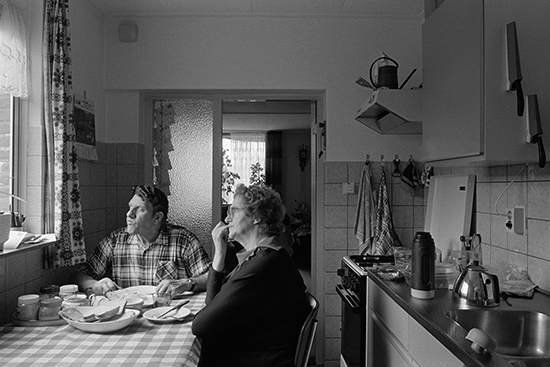 Landscape Stories: You have some ideas you want to realize. How do you develop your project?
Theo Baart: Most often a project starts with a notion that something I see everyday, is special. Than I try to formulate this notion in a text: what is it about? What I am looking for? What is my argument? How can I find an answer in a visual interesting way? When I have a clue I start to read, I am looking for literature about the subject matter in a very broad context. All my projects are about how we develop and design our surroundings. I basically try to understand what is happening around me. Photography can be a great way to find an answer. So for me photography is a mean not a goal. Sometimes an idea is inspired by what I read. For me making a project, a book for instance, is all about concept and editing. Photos do tell the story but text can also be useful and important as an additional component. Ten years ago I lost the awkwardness to write myself. Before that time I asked writers to help me out. I sometimes still do that when I aware of my incapability to deliver a worthwhile textual contribution. Text is for me an important but a supporting act. I start a project with exploring the visual possibilities, interviews with experts on the subject matter that helps to form the content of the project. That is the moment to start looking for funding, select the designer, and ask some qualified people to be a critical commentator of my work in progress. I need to check my ideas and output on a regular base, their input improves the project. I produce my books since 1996 self but collaborate with a publisher to have access to a good international distribution network. And a good publisher is also a critical editor. I think that is the down side of many of the self publishing photo books now a days: you can often see that there was not much critical editorial confrontation during the making of the book. These books seem only to be 'a monument' for the photographer.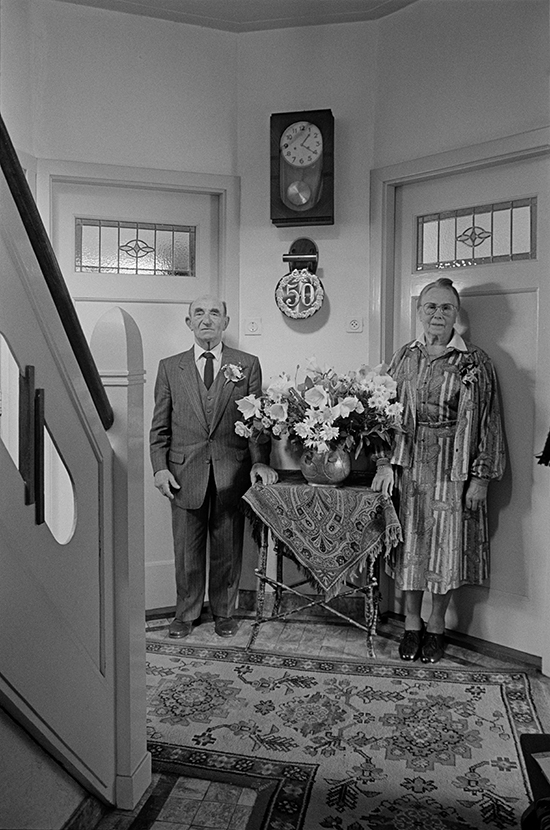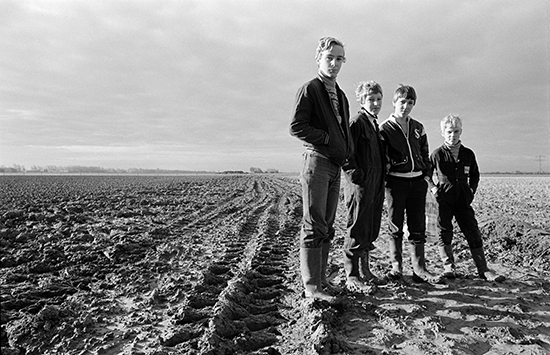 Landscape Stories: Your books "Territorium" and "Eiland 7" are about the places where you live... What are you interested in considering as the landscape? Could you try to define it in your own, personal way?
Theo Baart: Territorium (2003) and Eiland 7 > tales form suburbia (2008) have a lot in common and could be seen in combination with Bouwlust > The urbanization of a polder (1999) as a trilogy. These books are about the places where I lived. I was amazed how these places were designed, built and transformed. Who 'orders' this process and designs it? Is there a general idea? How is it to live in these places? I used my own and family experience as a background for the stories. Territorium is about a New Town connected with Amsterdam built in the 1960s and 1970s according to the ideas of Le Corbusier. A few years after this New Town with its huge apartment buildings was finished, the powers that be decided that it was after all not such a good plan. They start to rebuild it and I moved with my family to this area in redevelopment because we could not afford to stay in the expensive part of Amsterdam where we lived. At that time I was working on Bouwlust and Atlas of Change (2000) and funny enough it took some time before I realized that my new neighborhood was there to be observed and to be described. Our kids were exploring this neighborhood between their elementary school, our apartment and the Ajax football stadium, like me when I was a kid, on their bikes (the title Territorium, Territory depicts this area). The text is about how this area has been redeveloped and how it was for us – especially the kids – to live there. From this poor area in Amsterdam populated with emigrants I moved 8 years later to a new typical Dutch middle class suburb, attached to the town where I grew up. This book (Eiland 7) is about land policy and land development in the Netherlands. I asked the farmer on whose land the subdivision was built what he received per square meter. I knew what I had paid for the parcel of land on which our house was built and I went to look for the difference. That difference in land value explains a lot about how these suburbs are developed. That is the text. The photography is about the mismatch between the perception of the architects and developers and the expectation of buyers of the houses.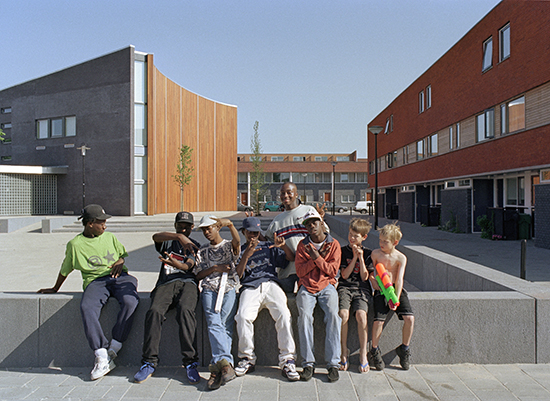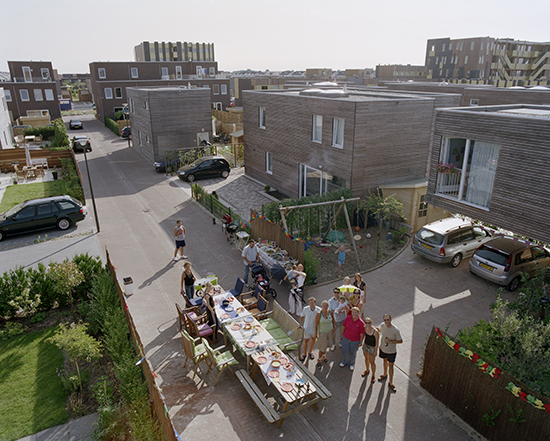 Landscape Stories: Referring to your project "Bouwlust"... The increasing urbanization, the transformation from an agricultural to a suburban area, the new hierarchical relationship between the city and the countryside and the enlargement of the global market have contributed to assimilate very distant worlds similar. To what extent does your work represent and reflect the present?
Theo Baart: In the Netherlands we do not have a lot of space. The country is densely populated. We tend to live in the Western part of the country that is situated 2-4 meters below sea level. So urban planning has been a major issue for many decades. What we do with our cities, how we design and build our suburbs reflects very much our culture. It depicts who we are. That interests me since I was a high school student when I saw how my own little town changed in no time. I am observing, sometimes commenting on this very complicated process. I guess you can say that all my projects have a political touch. Bouwlust is a simple straightforward story about a small agricultural town where I grew up the 1960s and 1970s that over time became connected with Amsterdam Airport and with the city of Amsterdam it self. I simply covered this transformation over decades. I was totally amazed about the speed and the impact of this process. I invited two writers and a poet who had written about this process to contribute work and I gave an assignment to a researcher to make an inventory for all plans and designs that were made for this area since 1850. So it became a combination of research, reflection, opinion and documentary photography.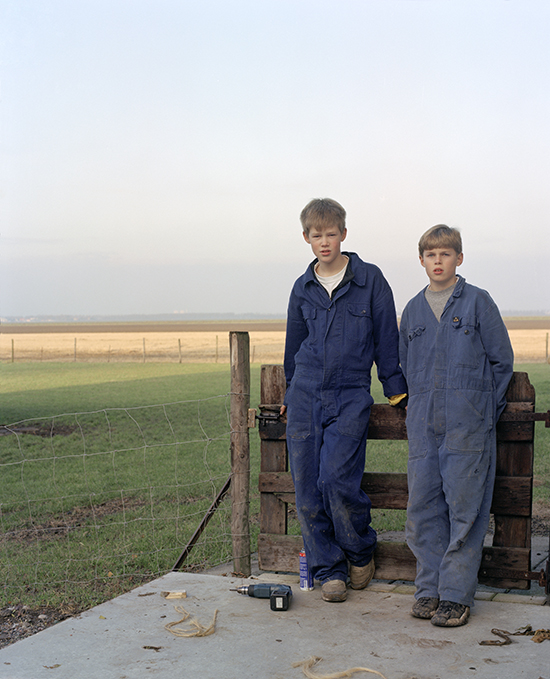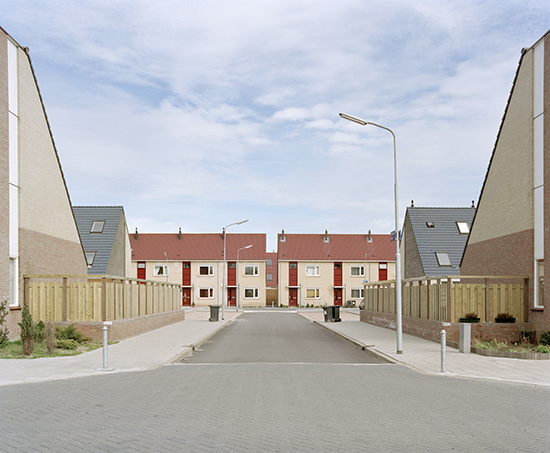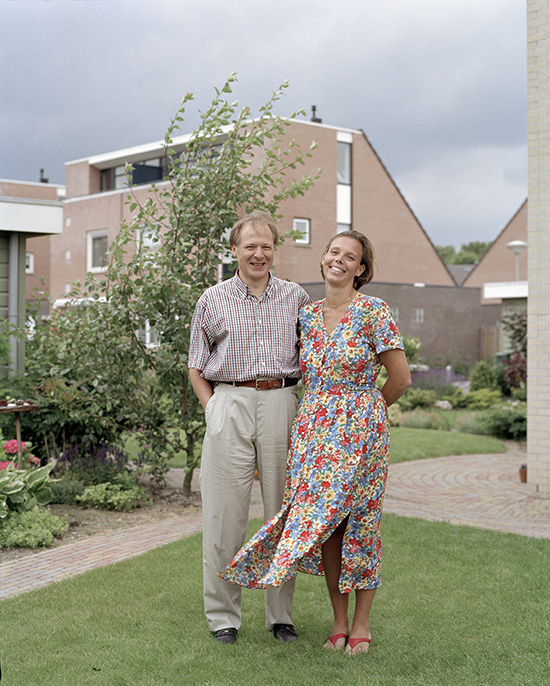 Landscape Stories: Referring to your book "Snelweg" in collaboration with Cary Markerink... Could you tell us something more about the creation of the book (concept, editing, graphic, printing)?
Theo Baart:Cary and I were very much aware that the Dutch territory with its small historic town centers and huge suburbs could only exist and expand because of the growing mobility and good infrastructure. In 1994 we decided to look at the connection between these places: the 'snelweg', the highway. We quoted J.B Jackson who once said that a road is not only a connection between two places but also a place in its own right. So we had an idea and asked a friend of us Tracy Metz who writes about architecture and urban planning to join us because we were aware of the boundaries of photography. We knew that we wanted to combine text, sometimes lists of words with and in our images so we were looking for a designer, a typographer, who could handle text very well. That became Els Kerremans. So we had a team and Cary and I described the project as a way to look at a forgotten landscape. We started with the funding. That took some time like always and in the mean time we worked on the book project. Every couple of weeks we gathered at the studio of the designer and spread the prints on the floor. We made combinations of pictures, discussed missing images and went back to highway to photograph. That took a year or so. Because we found out at the start that there was not much interest for this subject matter (note this was all before the now so popular Non-Places notion so well defined by Marc Augé) we felt that we had to proof with every spread the diversity and importance of the subject matter. So every spread represents a new aspect of the highway (to be fair we used sometimes two spreads or a fold out to stress a statement). We printed 2000 copies, we gave 500 away at the opening were we organized a symposium. The remainder of the edition took us a year to sell out. After it was included in one of the Martin Parr/Gerry Badger volumes it became a sought after book but I am sure that many of these give away copies will show up somewhere. I don't think it is the best book we have made but I am still content with it. That is something I can't say of everything I have made.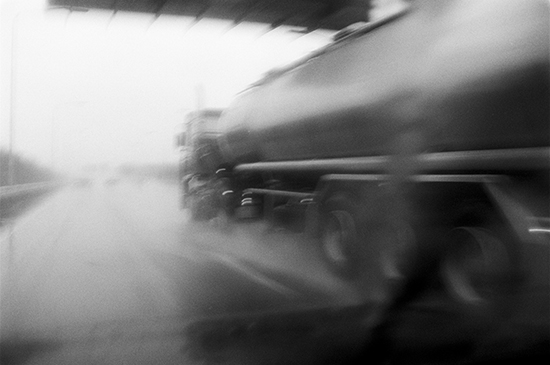 Landscape Stories: Referring to "Nagele", a new village on new land in the Noordoostpolder. What attracted you towards its landscape, urban spaces and architecture?
Theo Baart: Nagele is a town designed by modernist architects in the 1950s in a rural setting for agricultural workers. The population of this town was selected by the authorities: the inhabitants had to be independent and brave people because they had to build up this new community in the middle of nowhere. Cary Markerink and I started to work there in 1985 (Nagele N.O.P, published in 1988) because we were interested how this experiment had worked out after 30 years. This town reflected in the 1980s so much of the ideas and policies of the 1950s and was in many ways so much a footprint of a society long gone. In the middle 1980s there were no farm hands living anymore in the village caused by agricultural mechanization. There we no shops left but it was still an inward looking community far away from the rest of the world. In 2004 we went back and made Nagele Revisted (2006). Nowadays a lot of people from Russia and Poland are living there because the town is good located to work everywhere in Holland, Belgium and the western parts of Germany. In that way Nagele in 2006 expressed very much the effects of globalization. And it was very much part of the present time. It could be interesting to have another look in 10 years time at this place and see how this experiment evolves (or dissolves).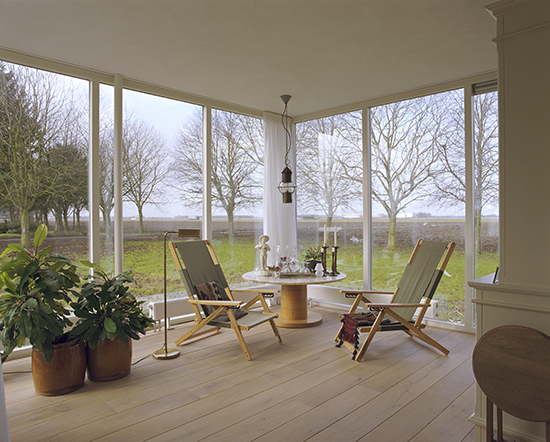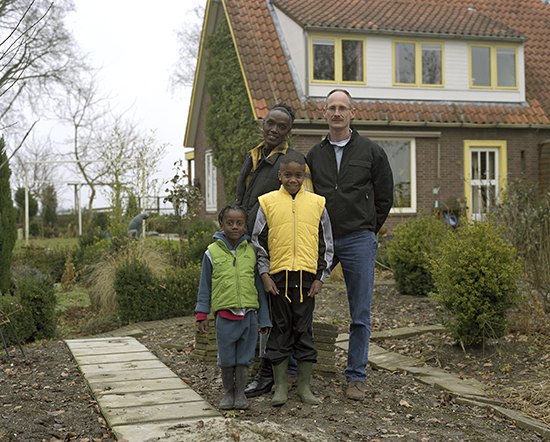 Landscape Stories: What's the piece of work that best represents your research and in which you see yourself in, the most?
Theo Baart: I did a book project together with writer Tracy Metz in 2000 called Atlas of Chance. She made interviews and wrote essays on the changing Dutch landscape. What I did was, I collected interesting phrases used in the Dutch urban and landscape policy. My work in that book is about the language used in all kinds of policy papers, publications, etc. to describe developments in spatial planning. With this list of words I traveled through the Netherlands and made combinations of the language and the landscape. Let's say I synchronized word and image. You need to understand Dutch to comprehend this work and you need to have some sensitivity for the sometimes ironic outcome of the combinations. I must confess that although I admire many people in the field of urban design and understand how difficult is to perform for them, I love to tease. I think in this project a lot of the things that I am always looking for is coming together: there is a clear concept, there is a target, the form is simple, it is confronting and it is dated (nobody understands it anymore in 20 years time because the language and the landscape will be changed).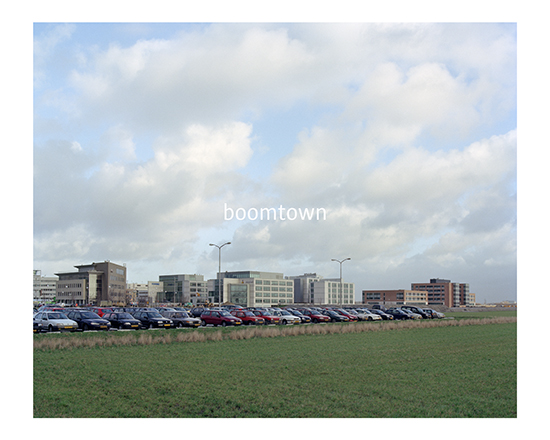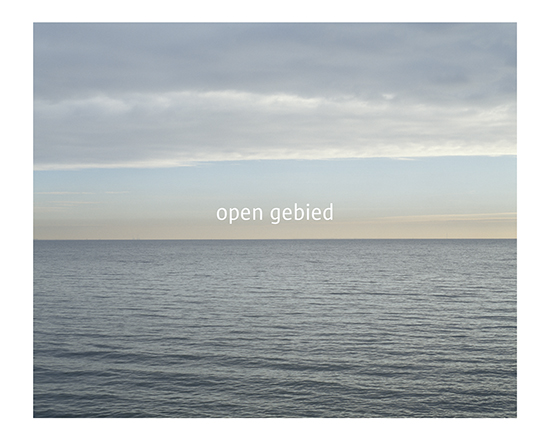 Landscape Stories: "Common Ground provokes us to admit the inspirations and influences that I believe should define our profession. The phrase also trains our attention on the city, which is our area of expertise and activity, but is something created in collaboration with every citizen, and the many stakeholders and participants in the process of building. The discipline of architecture involves diverse and often contradictory concerns, but I believe we share ideas and visions that can be confirmed through architecture itself. Common Ground invites us to find these shared ideas from our individual positions of difference". David Chipperfield, director of the 13th International Architecture Exhibition.
Common Ground is the title of the last Architecture Biennal in Venice. Are you involved and interested in contemporary architecture? Who are the architects that most excite you today?
Theo Baart: I don't think I am very much interested in the architect as artist although I appreciate good architecture. I tend to go to a museum to see the art, not the expression of the over present artist who designed the roof over the collection. I am interested in the main stream: shopping malls, suburbs, infrastructure, leasure parks, business parks, airports, etc. That is partly also about design and architecture, of course but quite often done rather anonymously and made for daily use.
Landscape Stories: What are you currently working on in your photography? What's in store for you in 2013, photographically or otherwise?
Theo Baart: There are a few things going on. I am always working on long-term projects.
This is in the pipe line: A project in which I compare a couple of cities in the western hemisphere with a rich and successful economic past. They are now struggling to find a way to recover. The center of this work is three former cities in the Netherlands with a past in the textile industry. I have compared them with Rochester, NY (Kodak city) and hopefully in 2013 I can continue doing that with two cities in England and Germany. They have a lot in common but there are also some interesting differences, which make sense to compare them. Ironically they have an advantage on other stricken cities in this long and deepening economic crisis because they are adjusting themselves for a longer period of time . They have more knowledge and vision on this matter than the regions who are now for the first time confronted with economic stagnation and a shrinking population This project will be a combination of text and images and hopefully published in the spring of 2014. The book Bouwlust of 1999 will get an update in 2015. A lot has happened in the area and although I was not sure if that was enough to justify a new book I think after all it does. It is lot of work and although I life in the middle of all the turmoil it is not so easy to execute it but I am progressing steadily. And I am working with Cary Markerink on a new project. In this project we will combine our interest in the history of photography, the making of books and landscape. We just started so it is a little bit early to say more about it. We hope to present the first results in 2014.
Interview curated by Gianpaolo Arena