Landscape Stories: Are there any photographers or movements that have influenced or inspired you? Who are your favorite artists and why?
Ferit Kuyas: The American Classics have inspired me quite a bit in the beginning. It struck me like a lightning when I saw Edward Weston's "Dunes Oceano, 1936" in a show in Zurich. That's when I wanted to get seriously involved with photography. I switched from 35mm to 4×5 Inch immediately and then to 8×10.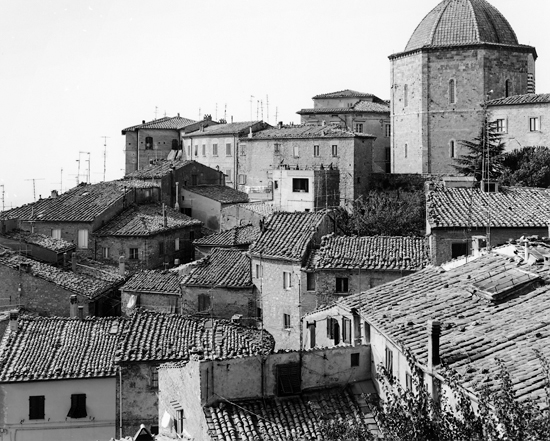 I love Josef Sudek's work. Looking at his pictures I learned a lot about light. Without having known Elger Esser's work I might not have had the courage to photograph City of Ambition the way I did. I respect Stephen Shore very much. He is the link between classic photography in black and white and contemporary photography in color. There's also influence from exchange with artist friends. For example Luis Delgado. Spending time with him opened me up for new directions in my project A Quintology of Diaries. I value his intellect and his sense of humour very much. My favorite contemporary photographer is probably Simon Norfolk. Not only are his photographs amazingly aesthetic but they always tell a story and make me think. There are way too many contemporary artists I value highly. To name three who always have a deep effect on me when I see their work are Damian Hirst, Anish Kapoor and Richard Serra. When visiting museums as a kid with my parents I was always fascinated by Canaletto paintings. Maybe that's the reason why I like to have lots of detail in my pictures?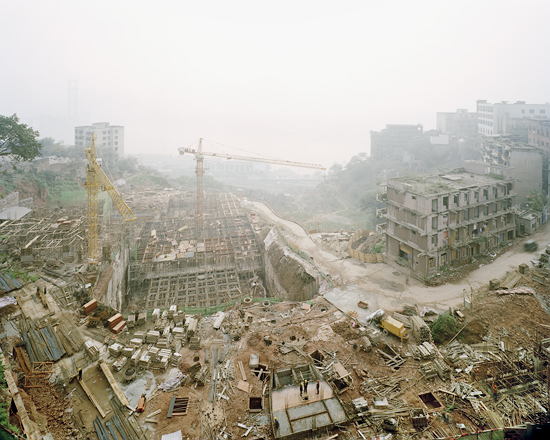 Landscape Stories: You started out studying architecture and law. What made you shift to photography? In which way do you think these studies influenced your photography? How did you discover photography as your medium for expression?
Ferit Kuyas: Actually photography was always there since I was 15. I wanted to study photography but circumstances were against me. I studied architecture at the the Polytechnical University in Zurich for two years and then switched to the University of Zurich where I finished law school. Only to find out during my doctorate thesis that this was not the way I wanted to spend my life. I started jobbing as a translator and interpretor and educated myself in photography. Having studied architecture helps me dealing with space and understanding architectural projects better. Actually "space" is one of my favorite themes. I love to photograph space and that is a good thing when you often photograph architecture. My major in law helps me thinking in a structured and organized way when preparing projects or assignments for my clients. I discovered photography thanks to my parents, especially my father. One day when we were starting a road trip in Turkey he gave me an old Voigtlaender camera with the words "maybe you want to take some pictures". Obviously he liked my photographs. Later that year I got my first camera for my sixteenth birthday. I still got it.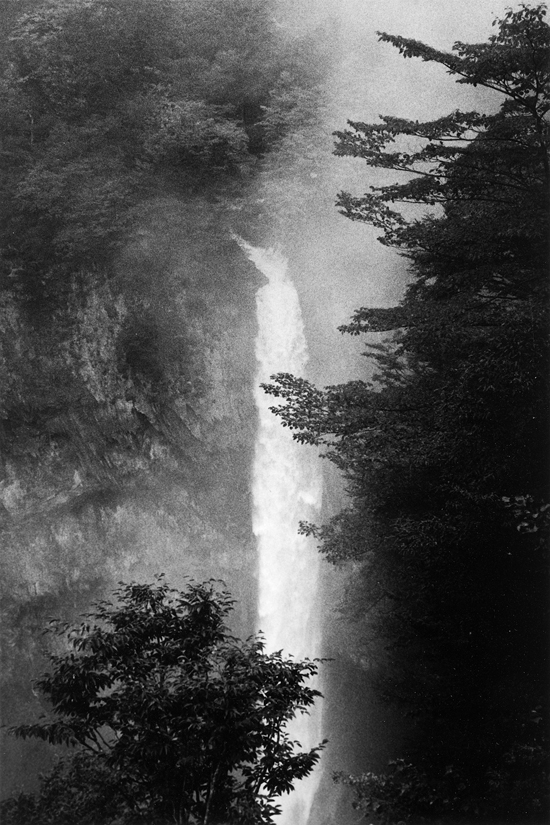 Landscape Stories: Do you have a method of working which you follow for each series, or does it vary for each different project? Please explain the themes in your artwork and your working process…
Ferit Kuyas:First of all a personal project needs to feel right in my mind and on a level of emotion. Otherwise I won't do it. Before starting out I lay out a basic concept. If it is a long term project I try to stay as open as I can during the initial stage. I live with those pictures for a while. During later stages I deepen and refine the aspects that seem to be important for the outcome of the project. I don't understand concepts as something rigid but rather as something in flux. City of Ambition and Aurora are such projects. If it is a very defined project like A Quintology of Diaries Part 4 – Fifty Objects I haven't touched for Five Years and some other Things, there is much thinking going on before I do the first picture, so the concept is already very defined. Then I play around to find the right look and then execute.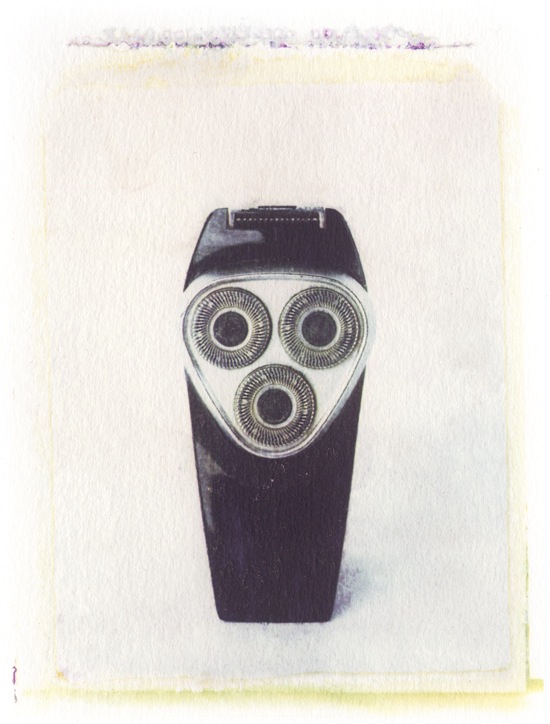 Landscape Stories: Could you tell us something more about the creation of your book 'Chongqing – City of Ambition'. How the project started? How much importance do you attach to the social and political aspects of what you exhibit?
Ferit Kuyas: The idea for City of Ambition came up when I visited my wife's family in Chongqing. I was immediately fascinated by those huge rivers blending in the city, the size, the topography. I thought about doing a project for a while, experimented with different looks and decided to begin autumn 2005. I photographed during several visits through January 2008. I always thought of it as a book project. Finally it was Maarten Schilt from Schilt Publishing who saw the potential and wanted to publish. It came out fall 2009 in German (Benteli Publishers) and spring 2010 in English (Schilt Publishing).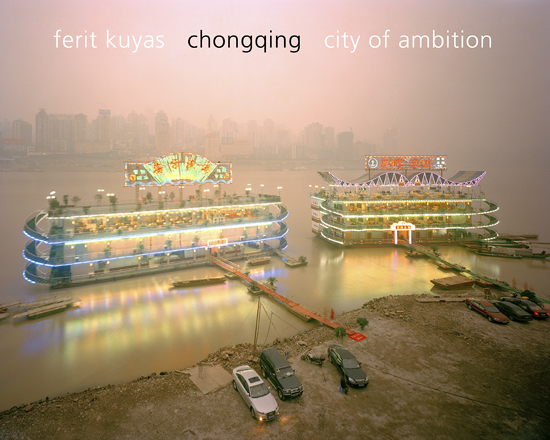 Being aware of political and social issues I try not to be biased and judgmental. I try to create an imagery where the spectators can see for themselves what is going on.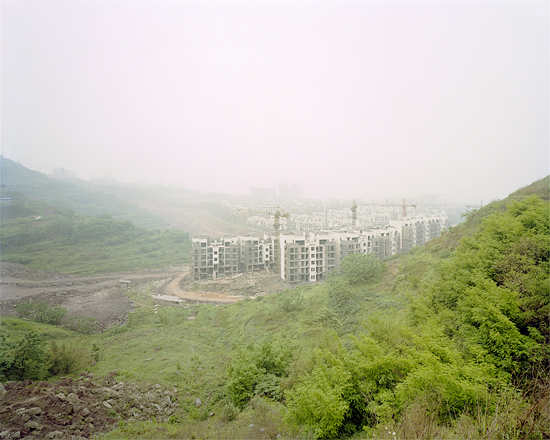 Landscape Stories:The Chinese city of Chongqing (32 million inhabitants, located on the Yangtze river in the province of Sichuan in southwestern China) is one of China's most rapidly growing cities. Your images deal with pollution, working-class people and environments in China and have a melancholy side to them. How did you come to these themes in your artistic practice?
Ferit Kuyas:Chongqing is not part of Sichuan province anymore but one of the four municipalities in China at province level. But of course it is located in the Sichuan region. What you see in the pictures is less pollution than fog. The city's nickname in China is "City of Fog" since centuries. From October until April you'll usually have foggy days. The fog and mist add much to the prevailing mood of melancholy. And I tend to be melancholic when in China. Also the approaching end of my marriage made me more melancholic and that shows through. But don't get me wrong. Basically I'm a very happy person.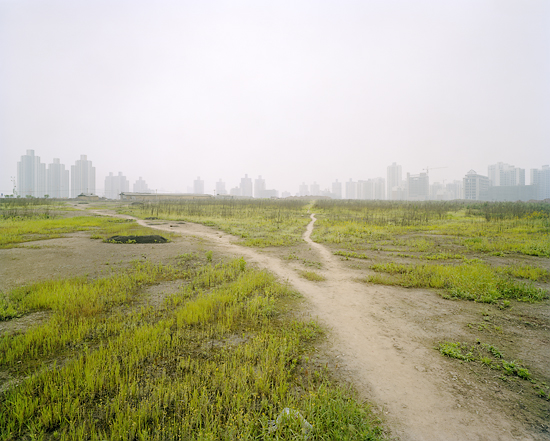 I think I rather tend to create romantic and heroic looking pictures. That's a natural pattern coming from long time ago. I have the tendency of beautifying even uglyness. The social problems, pollution, etc. remain visible but are packed into an appealing picture, which makes it more like a poisoned dish. I like that ambiguity.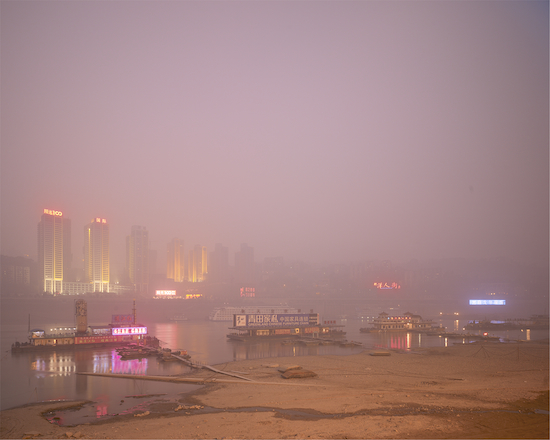 Landscape Stories:The Chinese city of Chongqing (32 million inhabitants, located on the Yangtze river in the province of Sichuan in southwestern China) is one of China's most rapidly growing cities. Your images deal with pollution, working-class people and environments in China and have a melancholy side to them. How did you come to these themes in your artistic practice?
Ferit Kuyas:While I am photographing for a project sometimes I have to wait for things to get right in the picture. When that happens I have the habit of walking around looking for things that were thrown away. Chinese cigarette packs tend to be quite pretty and they quickly caught my attention. I made a whole series of thrown away cigarette packs.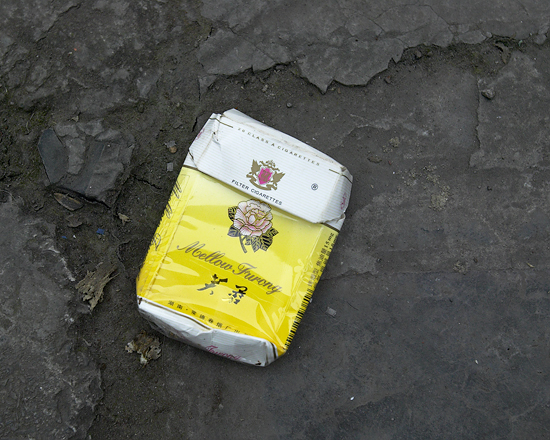 One day after lunch I found a cigarette pack in front of the restaurant and got ready to photograph it. A man who was passing by quickly put his pack of cigarettes on the ground and said that the one I am about to photograph was dirty, and I should photograph his pack. He was quite interesting looking so I talked him into posing for me together with his pack of cigarettes.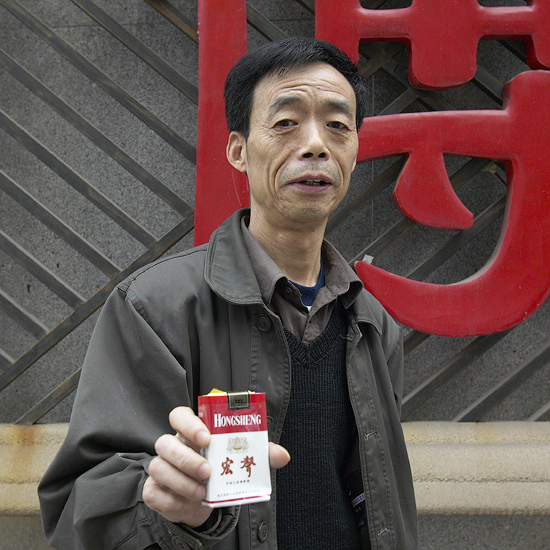 Later I would meet my portraitees while taking photographs for City of Ambition. The Chinese in general are quite curious people and also interested in photography. They would come and ask what I was doing when they saw my camera on a tripod. So I would ask them to pose for my Chinese Smokers project. Later I would spend whole days walking around to streecast people for the project. The first question would be: Do you smoke? If yes I would ask if they carry a pack and would pose with it for me. Many people I asked thought I must be crazy but once they said yes we would have fun.
Landscape Stories:We tend to work in series of images nowadays. What about the power of one photograph?
Ferit Kuyas:Ah, I envy the photographers who seem to add one powerful singular photograph to another. I've always been thinking in series. It suits me well, also it is the only way for me to create a cohesive body of work. This approach comes natural to me, so I'll continue thinking in series and projects. But once in a while a picture in a series stand out and could also be a singular picture.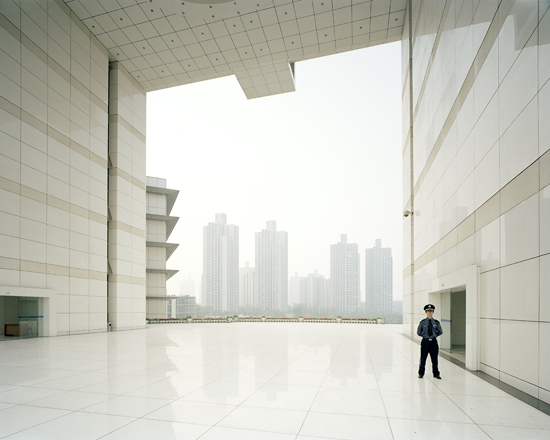 Landscape Stories:What equipment do you use? Do you think it's important to be technically proficient? How important is color in your photography?
Ferit Kuyas:The equipment I use depends totally on the project. I use view cameras of 4×5 and 8×10 Inches, medium format with digital backs, DSLRs, SLRs, point and shoot cameras and even my iPhone. I use film and polaroid and shoot also digital. I think it helps being technically on top of things. I am not advocating to focus solely on technique. A technically imperfect but strong photograph is still a good picture. A boring but technically perfect photograph will remain a bad picture. Knowing what I do enables me to work quickly, gives me confidence and makes me take the right decisions. Previsualizing the final picture and knowing how I can get there makes my life easier.
Color has become very important over the recent years. After I had finished Shanghai – a mutual project in black and white with fellow Swiss photographers Edy Brunner and Marco Paoluzzo – I decided to never do black and white again in China. In the meantime I had understood that the Chinese love color and make much use of it. I wanted to give something back and be it only photographing in color. I got stuck with working in color and I am really happy about it.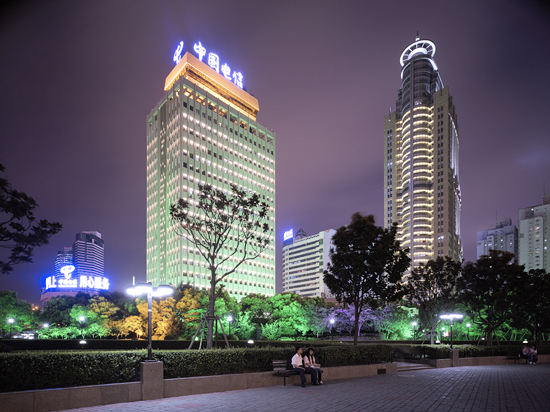 Landscape Stories:Can you talk a bit about your new project, Aurora (Space/Struggle)? What kind of research are developing today and how this is linked to your past? How can we find a link between Guatemala City, the local area where the work was done, and its meaning?
Ferit Kuyas:It came about because I won the GuatePhoto Award 2010. I traveled to Guatemala City to receive the prize and I was invited back 2011 for a solo show at Alliance Française and to teach a workshop on landscape photography. In the meantime it had become obvious to me that I would not just travel there only for those two events but start a project about the city. I think it is rather linked to my future than to my past. To my past because I am still interested in large cities as subject matter. To my future because it opened up a door for me in Latin America which I had totally missed visiting because I was so attached to South-East Asia.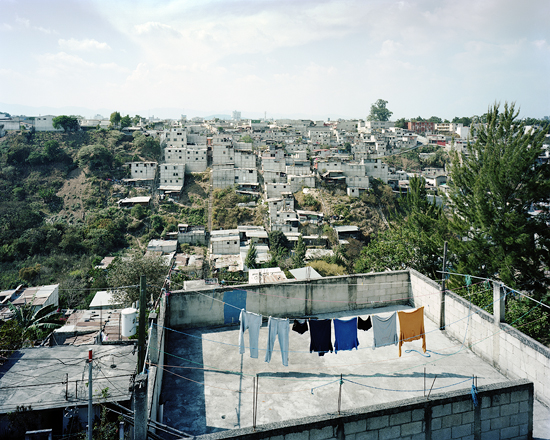 Initially I thought this project would be "another" cityscape project, like a sequel to City of Ambition, just in a totally different culture and light. After finishing part one – Space – I knew something was missing. That's when the idea with the portraits came up. And I think Struggle is the stronger part of the now dual project. It was a great experience connecting to the people I portrayed. They are not just subject matters for a good photograph but human beings with a story behind, with anxieties, hopes and challenges. I feel gifted having had the opportunity to spend time with them and telling their stories. It was a very humblifying experience.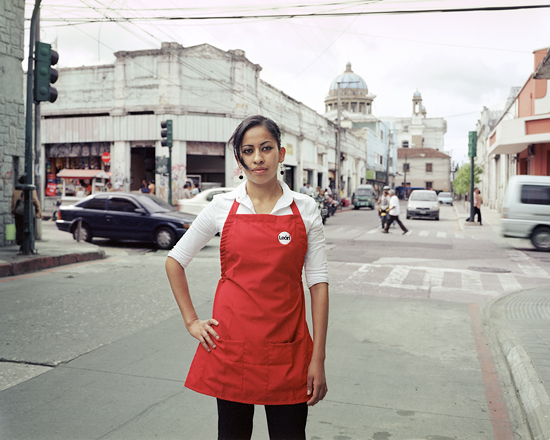 The meaning? Maybe we can say that there is hope, optimism and warmth even in the most difficult of places and times.
Landscape Stories:What has been your favorite photo-book in the last few years?
Ferit Kuyas:The Sound of Two Songs by Mark Power.
Intervista a cura di Gianpaolo Arena
Traduzione a cura di Mirco Pilloni