Landscape Stories: What are your influences, photographic or otherwise?
Rob Hornstra: I always try to find answers on two questions: The first one is 'Why do I want to tell stories?' and the second one is 'Why do I tell these stories in the way I do?'. The first question is not so much about being influenced; it is more about the motivation (or drive) behind your work. The second question is about the way of working or about the style in which you choose to work. Speaking about this, I can be influenced by anything. It can be the work of an artist or documentary maker. It can also be an article in a newspaper or a person I met at the supermarket. I know that my style (the way I work) is shifting, although it does not change with big steps. To give you a very simple example: If you look to my graduation book Communism & Cowgirls (www.issuu.com/borotov) you will see that I only made vertical photos (except for one). I just did not know how to handle the horizontal format. Without forcing anything, things have changed. The upcoming book Sochi Singers consists of only horizontal pictures (except for one). I think that my visual vocabulary slowly expands. I will definitely stop working as a photographer on the day that I realize that my way of working is not changing anymore. The moment you are satisfied is the moment you have to stop.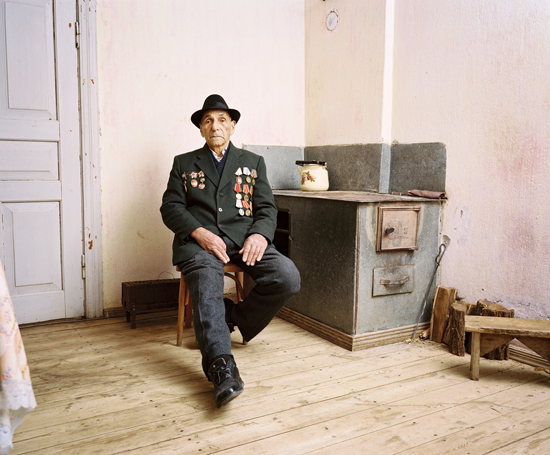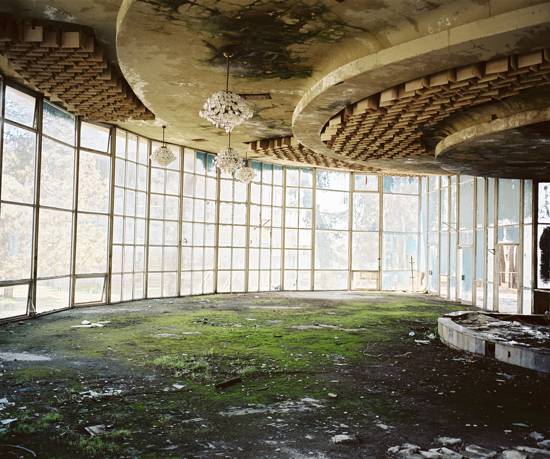 Landscape Stories: You started out studying social and legal services at the Utrecht University. What made you shift to photography?
Rob Hornstra: Maybe an interesting detail, after my secondary school my parents did not want me to study photography at the Art Academy. Nevertheless I secretly applied for the Art Academy, but I was rejected. So I started studying Social and Legal Services and I did my internship (and worked for a short while) as a probation officer in Utrecht. Nevertheless I still wanted to study photography. After my graduation at the social Academy, I applied again and this time I was allowed. I believe my photography can best be seen as a combination of these two areas of study. Also in photography I feel concern for the world around me and I am fascinated by both the behaviour of other people and the reasons behind their actions. Looking back I do not consider these two studies as completely different fields of study. Both studies helped me a lot in what I am doing today.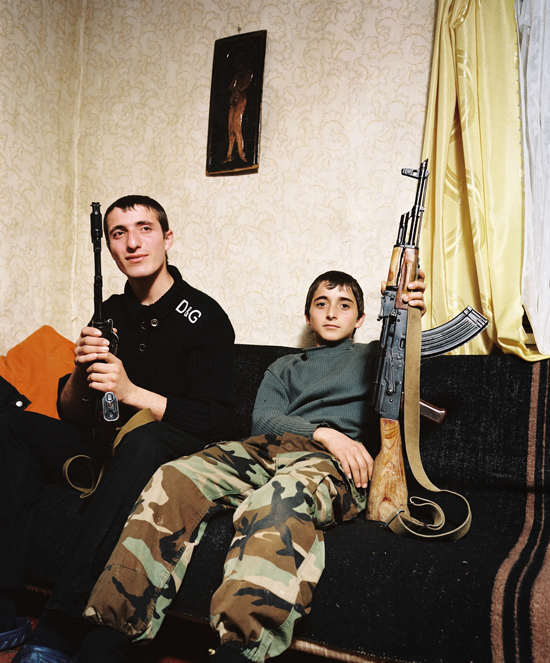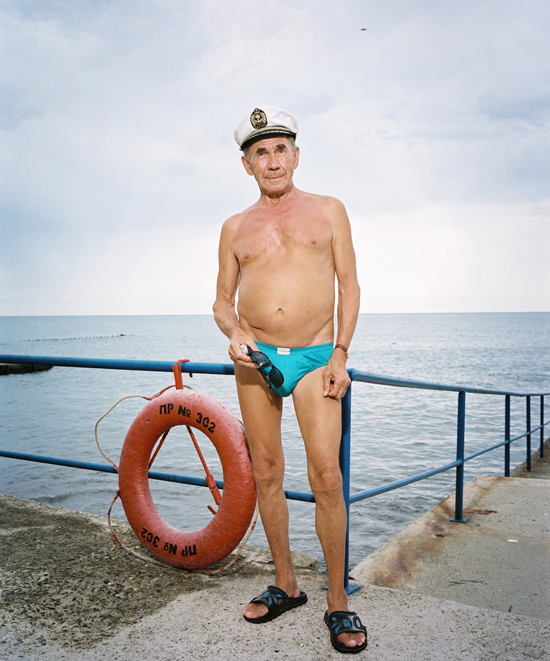 Landscape Stories: Why are you in photography?
Rob Hornstra: I have a great need to tell social stories. With my photography I try to raise questions about the society in which we live. It is a challenge for me to allow people to question their ideas and prejudices.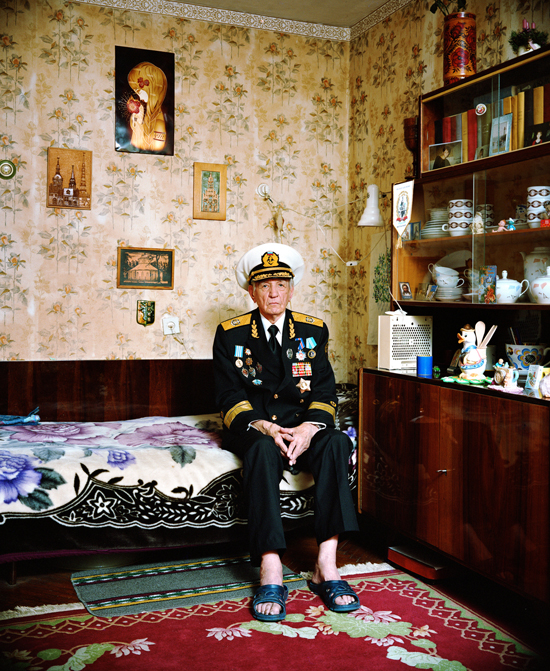 Landscape Stories: How much emphasis do you assign to the social, economic, or political aspects of what you exhibit?
Rob Hornstra: Together with writer Arnold van Bruggen, I really care about an independent way of working. We investigate a lot and talk to all kind of people and this research ends up in the stories we produce. It is not our aim to be as objective as possible. We are completely aware of the fact that these are our ideas, our vision on big issues or themes. But the stories are produced independently. We do not have one single reason to write positive or negative about groups, ethnicities or countries. If our stories end up in exhibition and people read a kind of political, economical or social statement in it: perfect.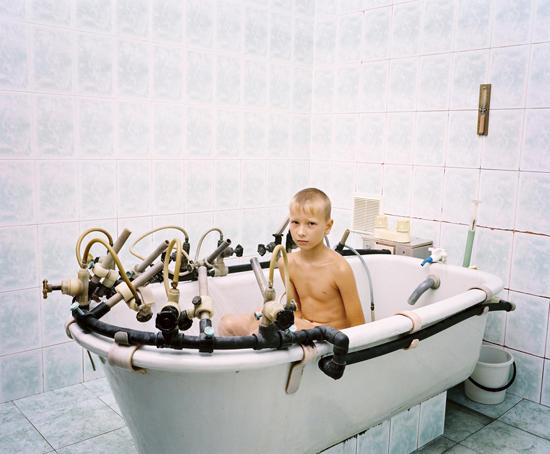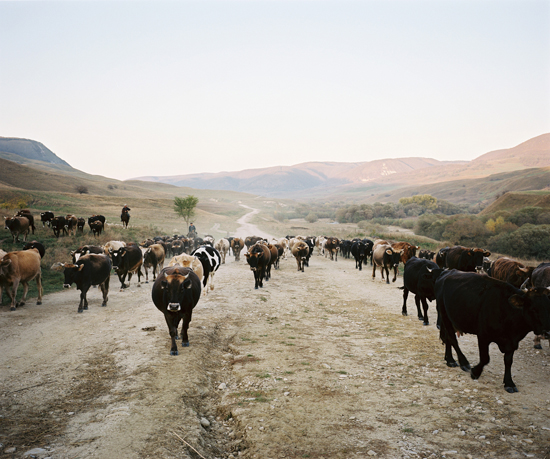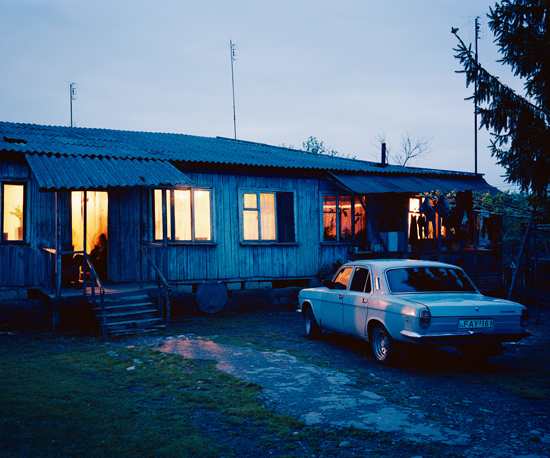 Landscape Stories: Referring to 101 Billionaires project, you set out to travel across Russia for an extended period of time. Did you do any particular research on the territory while working on this project? How did you choose the places that you photographed in these images and how do you approach people for your portraits?
Rob Hornstra: After four trips in 2007 I started to realize what kind of project I was working on. It was early 2008 and I read an article in Russian Finans Magazine that there were 101 Billionaires living in Russia. I noticed a lot of prosperity in the streets of Moscow, but I did not see this wealth when I was travelling to other cities. It was clear that Russia was a very rich country, but only a few people took profit from this wealth. Apart from Moscow and Saint Petersburg, all cities were more or less the same: Almost all people were poor, no prosperity, no work and no future. So actually it didn't matter to which city I would go. I could have used an arrow and throw it on a map of Russia and go there. The pictures in 101 Billionaires could have been taken in every random city.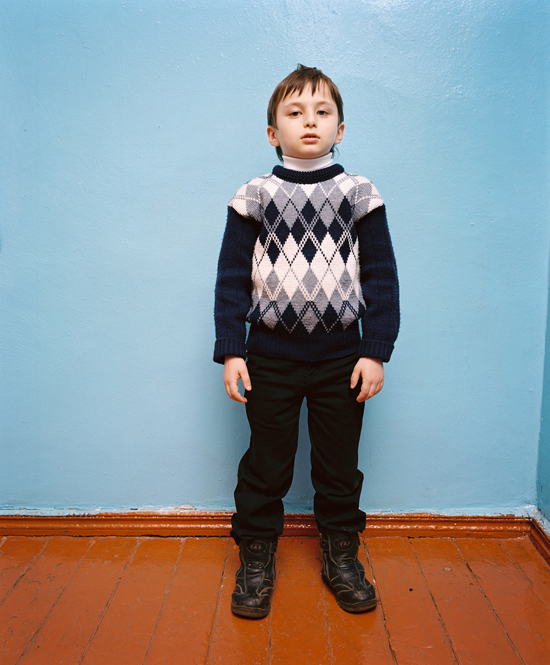 Landscape Stories: Do you have a method of working which you follow for each series, or does it vary for each different project?
Rob Hornstra: There are of course similarities, but I believe that every story needs its own approach. We (right now I am working together with writer Arnold van Bruggen) do a lot of investigation before we go to a certain area or work on a certain subject. Although we investigate a lot, we do not plan or schedule everything in advance. A very important aspect in our way of working is coincidence. We always want to meet with new people and try to be open for new ideas or visions. Things we try to avoid is f.e. working too often with the same assistant or always using the same transport or driver. This makes travelling more difficult, but (in our opinion) it offers a better insight in what we are doing. Anyway the basis of every trip is substantial investigation in history, politics and social issues. It is crucial to know what has happened in the past, what is currently going on and of course anticipate on the future.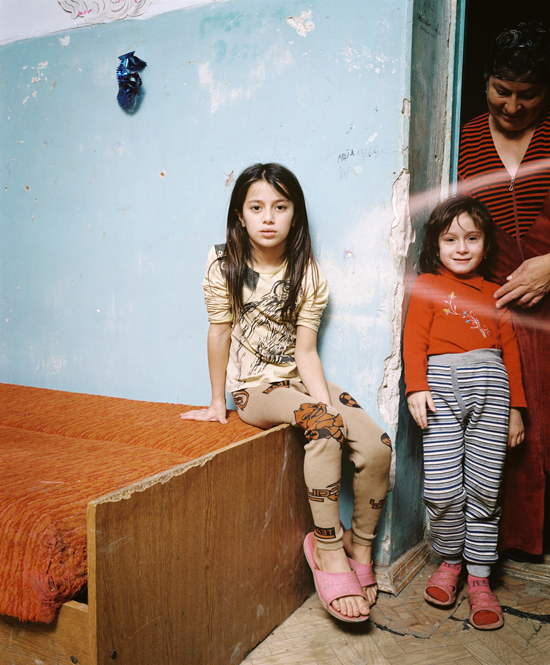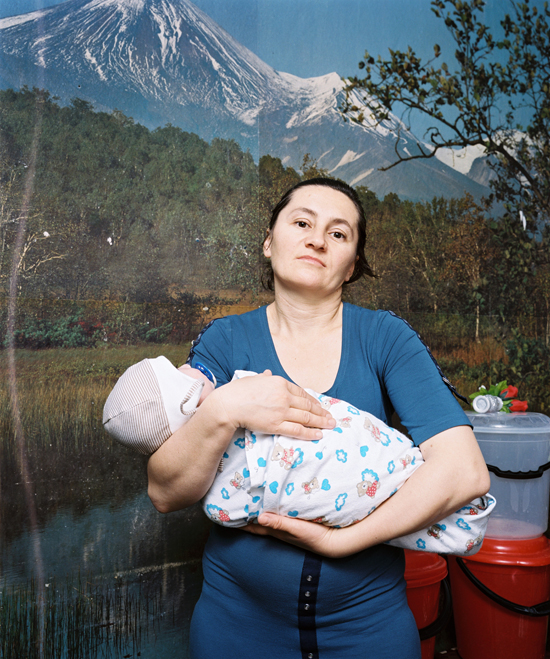 Landscape Stories: The Sochi project was initiated three years (2009) ago by you and the writer and film director Arnold van Bruggen to describe and document the Abkhaz region, on the Black Sea, squeezed between the Russia and Georgia. Referring to the book Empty Land, Promised Land, Forbidden Land... Could you tell us something more about the creation of the book (concept, editing, design, printing, limited edition etc.)?
Rob Hornstra: We started The Sochi Project in 2009. The book Empty land, Promised land, Forbidden land is our second annual publication and you can see this as a chapter within The Sochi Project. Within five years of The Sochi project we try to make several chapters (maybe around ten, not necessarily all publications). All these chapters together will form an atlas in words and images of the bigger region around Sochi, where in 2014 the Olympic Winter Games will take place.
Empty land, Promised land, Forbidden land is not a photo book. It is a documentary in book form, in which stories are told through text and photography. Sometimes the text tells its own story, sometimes the photography does and sometimes they do so together. The book's format was geared towards this; we wanted the largest format that would still be comfortable to handle.
Originally, the horizontal photos-mostly landscapes and interiors-could be spread over two pages, whilst the portrait photos-mainly of people-could only fit on one page (of 20 x 25 cm). That seemed to contradict the story we wanted to tell, which was precisely about people. It was the portraits that should get the most attention. As a result, we opted to rotate the photo chapters, thus giving the people the most space.
During our travels we struggled through layer upon layer of an increasingly irreconcilable conflict. In this book, we take readers with us on our journey, so that they have to go through the same struggle to understand the complexity of the situation. To reinforce this feeling, the book is filled with references to other pages.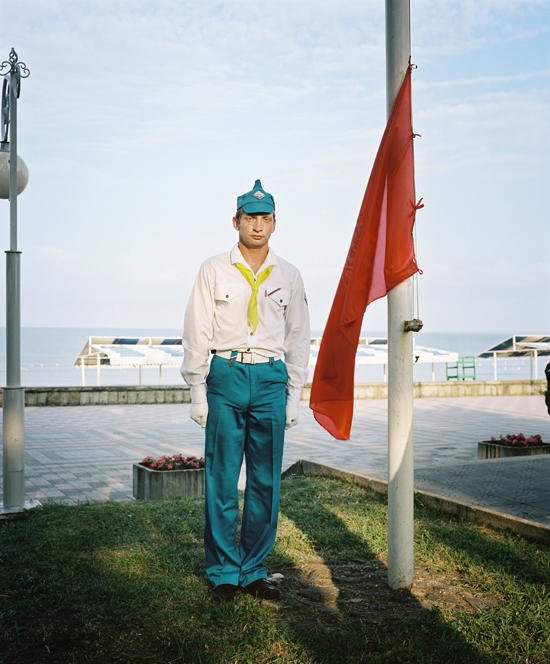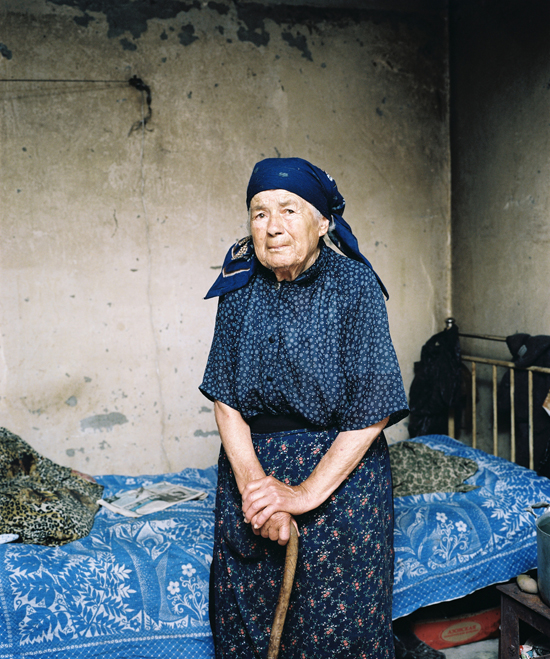 Landscape Stories: What do you think about self-publishing?
Rob Hornstra: I can only tell you why I am self-publishing my books. First of all it might be good to know that I am not a self-publishing activist. I don't have anything against traditional publishers.
I consider books as the best output for my work. Better than exhibitions, magazine publications, slideshows, single framed prints or what else. So if you want to talk about my work, then we are actually talking about my books and not about my photos. I consider bookmaking as the work I am doing. Making a photo is only part of it.
From this point of view I see it as a logical continuation that you want to keep control on the whole process of bookmaking and that you try to avoid any concessions in this process. As you know, I never worked with a publisher, but f.e. it is hard for me to believe that any publisher in the world would ever accept the completely non-informative cover of 'Empty land, Promised land, Forbidden land'. If you see the book in a bookstore, you do not know what the book is about or who made it. So the book is selling really bad in regular bookshops. A publisher has to care about these kind of things. I only have to care about the question if the book is the perfect output of my work and if our idea of a cover fits perfect to the concept of the book (see also previous question).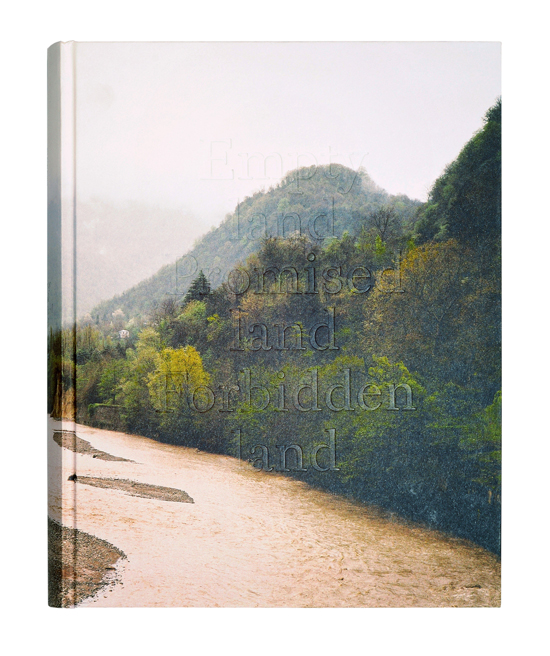 Landscape Stories: Do you see potential in the Internet, as another space for curating work? What does a photographic exhibition or publishing a book mean for you, and how in your opinion these displaying and communication forms are going to change, to the spreading of online publications?
Rob Hornstra: Difficult question. First of all, I think the importance of the Internet nowadays lies predominantly in promoting, distributing and archiving of work. But I think web based projects definitely add an interesting dimension to the existing traditional forms like books and exhibitions. I do not see them separately. A website or App can contribute to an exhibition or a book and vice versa. I do not see any concurrence between these forms. Storytellers have to decide for themselves what they consider as their best form. For me making a book was (and still is) the ultimate form for my work until now. But there are many things to say for making an eBook or iPad App instead of a paper book.
www.borotov.com
www.thesochiproject.org
Interview by Gianpaolo Arena