Landscape Stories: The Teens world is a topic of the moment in UK, also the Turner Contemporary has realize a great group show inspired by Margate, a seaside town associated throughout history with youth experience, encompasses the excitement, energy and pulsating creativity of the young. Can you introduce the Teenage Pre-occupation series?
David Stewart: The series explores different aspects of a teenage years. Teenagers are wrapped up in there own world and unaware of what the outside think and I thought it was worth documenting this from my point of view. We all remember things from our teenage years and some of the situations in the images will remind people of their own teenager past. The world is changing very fast at the moment and it will only be a few years before these images seem out of date due to fashion and technology.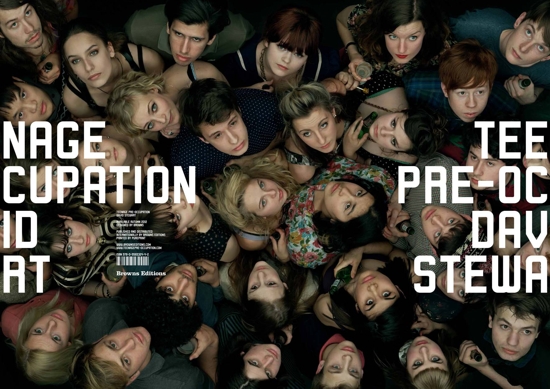 Landscape Stories: The images are amazing … Can you tell me about the three big posters?
David Stewart: The objective of the posters is to make audiences aware of both a forthcoming book. Targeted audiences include art and photography books shops, galleries, museums, art and photographic press, all on an international scale. The aim ultimately is to sell books to a quality audience. Three A0 posters have been designed to promote the book and publisher. Although the posters work individually, they have been designed to interconnect, hinting at the aesthetic of the eventual publication. The posters will be mailed to bookshops, galleries, museums, and the press around the world to generate interest. Bookshops are encouraged to use the posters for point of sale. 100 copies of each poster have been printed four colour litho. The book will be printed traditionally, not digitally, so it was felt important that the posters should also carry these qualities, a statement of sorts, in a digital world.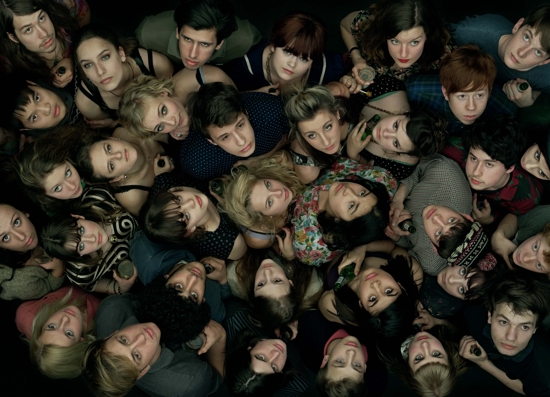 Landscape Stories: … Vibrant culture and the important role they play in society: Place, space and territory; groups and individuals; rebellion and responsibility; and boys, girls, sexuality and growing up … Tell me more about the images! Without following the normal documentary style that most photography of youth takes it was my intention to present my observations from the outside. Sometimes it is just small details of what Teenagers do and how they appear.
David Stewart: When photographed all these details they become more visible, the teenagers in the images think they are just getting on with there normal lives but from the outside it can seem more surreal. Subject matter covered includes isolation, boredom, waiting, fashion, learning, eating, posing, gaming, socialising, antisocial, playing.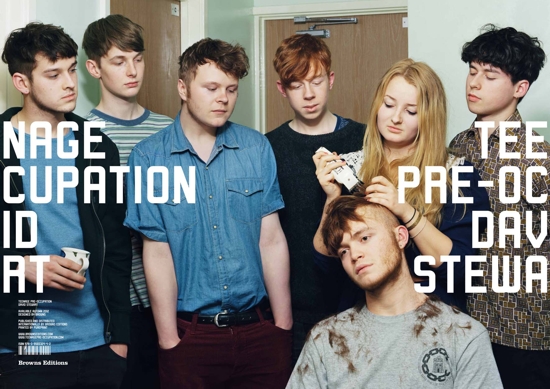 Landscape Stories: What has been your experience working on books? What can you tell me about your new Teenage Pre–occupation catalogue?
David Stewart: The book is due to launch around october and is currently in the planning stage. Books are a way of placing a project in time and as a photographer I find them way of learning from your own work as it is easier to access your work in retrospect. Even more now due to the internet I think photography In book form is more valuable. People from outside photography treat a book as a thing value.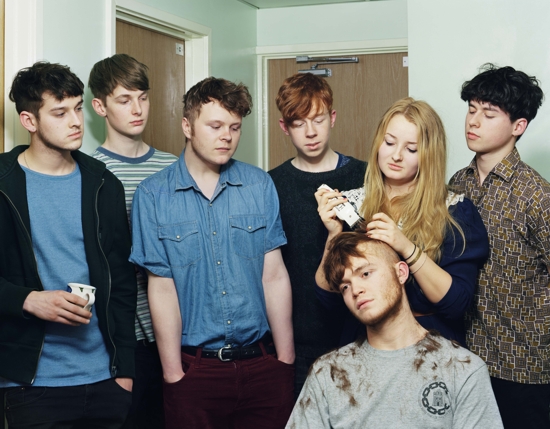 Landscape Stories: What were your earliest photographs and influences?
David Stewart: Richard Avedon, Irving Penn were my first influences due to the nature of how I worked. I learnt on large format cameras (8×10 format) like they did. I have continued to shoot this way. All of my projects are still shot on 8×10 film including Teenage Pre-occupation. This is important as it creates a particular way of seeing.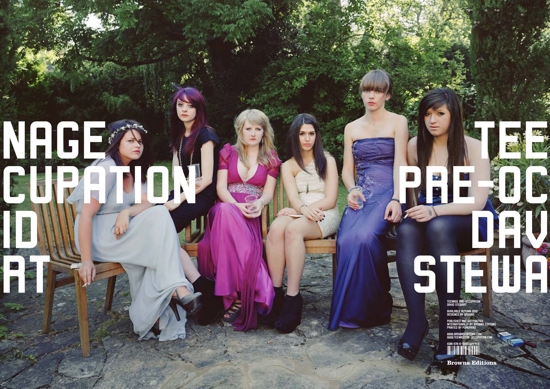 Landscape Stories: What are you keep to the London punk rock (I think your friendship with the Clash and the Ramones) and to 1970s/1980s underground culture?
David Stewart:When I first started taking pictures it was during the late 70′s punk era and at the time I was taking pictures at gigs mainly in the north ofEnglandand so the bands at that time were the punk bands. It was this that started my interest in photography as a career. I have recently been archiving the images from this time which were all shot on 35mm transparency film.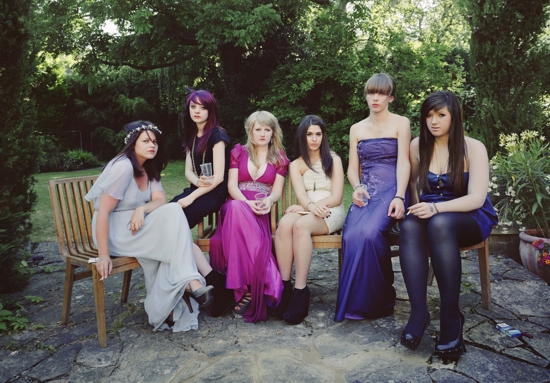 Landscape Stories: How change is the current generation of teens?
David Stewart: I think teens today are Insecure, looking for something to follow or not, to fit in or be individual, weighed down by technology, antisocial networkers, obsessed with what other people are doing. The internet and technology has created a generation where they think anything is possible but this is only in the virtual world. After education comes occupation and at the moment this is a difficult place to be.

Landscape Stories: Which was the more funny image realize? Tell me about a part of the background of the project.
David Stewart: The Image 'Waiting Room' shot from above of the group was organised on facebook. The Teenagers were given beer and pizza and treated the whole time we spent shooting as a social. They were oblivious to the process of me shooting and it was as if everything was normal apart from the usual concern of how they looked in the picture. I work on projects from my observations of things in my life and what is close to me. This project started as I find myself surrounded by teenagers (my sons and daughter and all there friends) and noticed some interesting things about them which I think may be of this time and the current culture and thought it was worth documenting from my perspective. It is just a document of teenagers and there preoccupations at this time. As things are changing around us very fast at the moment I thought it was the time to record it. In my previous book 'Thrice Removed' there was an image called 'Five Girls, four cartons, three cups' what also got me thinking about my next project which became 'Teenage Pre-occupation'.
www.davidstewwwart.com
teenagepre-occupation.com
Interview curated by Camilla Boemio