Landscape Stories: How did you first become interested in photography? Where can the roots of your work be found?
Jürgen Nefzger: As a child starting at the age of ten I made many journeys with my mother to many foreign countries. My father who never came with us being too afraid to fly gave me a Super 8 camera for our first trip, telling me to make him travel by means of pictures. So for many years, after each summer break, my poor family had to suffer for quite a few evenings looking at those shaky films filled with squirrels and sunsets. More seriously I became interested in b&w photography when I was 15 putting up my first darkroom and maybe a year or so later I bought my first photobook : Robert Frank "The Americans". Concerning the influences on my work, as you're Italian I would like to use a quote that one of my favorite photographers Luigi Ghirri used by citing himself Bob Dylan: "I can't tell you the influences ' cause there's too many to mention I might leave one out an' it wouldn't be fair" (in camera Austria 21/1986).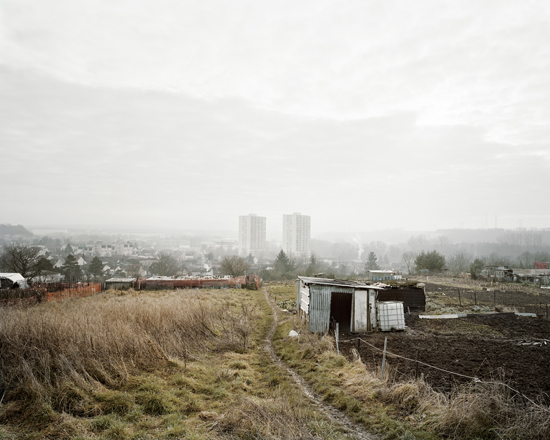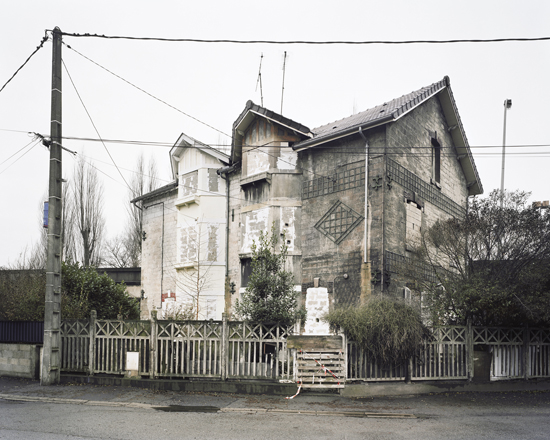 Landscape Stories: The lessons learnt from the European masters of landscape painting. What has been the import of this example on photographic interpretation of landscape and its changes over time and light?
Jürgen Nefzger:There are two references I like to convoke here. One is the romantic current in the 19 th century mainly in Germany , with it's best known representative Caspar David Friedrich, and the other is the Dutch landscape school of the 17th century. When I use a composition reminiscent of certain Romantic paintings, I do it with an ironic twist. Romantic artists are inspired by a deep desire for a communion with the nature. (they gaze upon). I fear that today few people experience such a desire when facing for example a nuclear power station or a landfill. Another connexion I feel is with Dutch landscape paintings of the 17th Century in particular the Ruysdael's landscapes that I rediscovered in Dunkerque with their immense skies, their sinuous paths that minuscule man run through, their foliage flooded with light.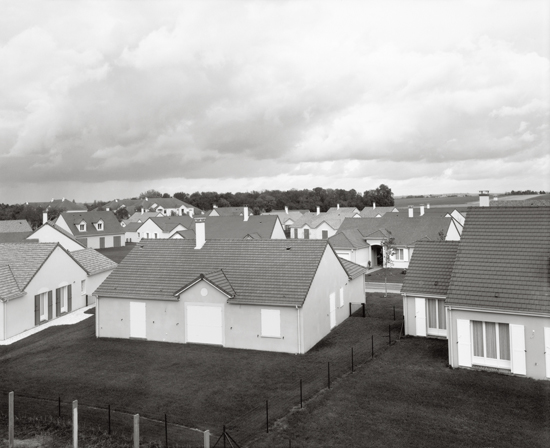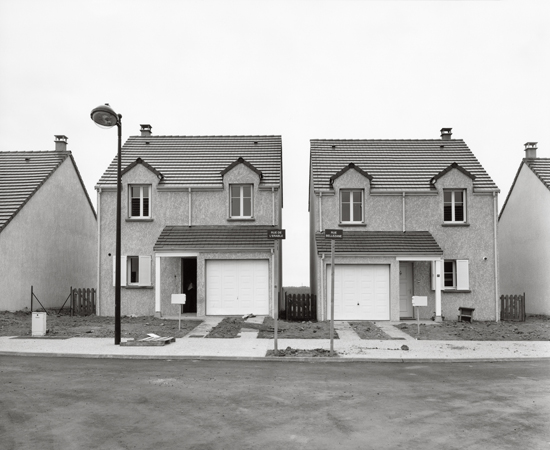 Landscape Stories: You have some ideas you want realize. How do you develop your work? How do you approach the landscape while working on your project?
Jürgen Nefzger: I don't think of projects as isolated entities. In many ways I feel that every body of my work connects to the other. This is very important for me and it happens quite in a intuitive way. My projects are simply guided by my own personal interest in subjects. For "Fluffy Clouds" I did a lot of reading on nuclear power, for others like Motordrome (a work on the formula 1 race in Monte-Carlo) I went there without even knowing the actual names of the pilots. I really felt like a total outsider and keeping this distance was a good thing to not loss the critical grip on the subject. In the nineties working on the beginning of Hexagon I often drove around throughout the country looking for urban places that could interest me. Today my work is more guided by an idea and looking for a visual equivalent to it. Working with a large format camera I mostly use a wide angle lens providing a large overview on the subject. Details are kind of rare in my work . Maybe one reason is that, given the high quality of large format picture, you can often read the details in a larger picture. I'm sensitive to the light because photography is a lot about light. For Holzwege I decided to work only on rainy days in winter because I wanted the colors to be extremely reduced and a countryside which is in a kind of hibernation. In other projects like Athens I went there in July and worked under the heat, the dust and the pollution on those white billboards. But I don't conceptualize my work entirely. Some things are left to be negotiated on the spot, like the distance to the subject, framing, the moment.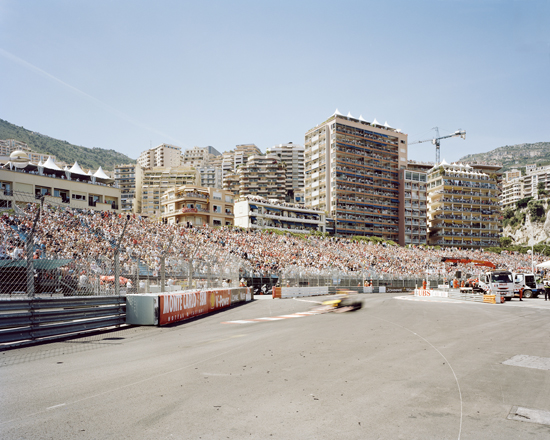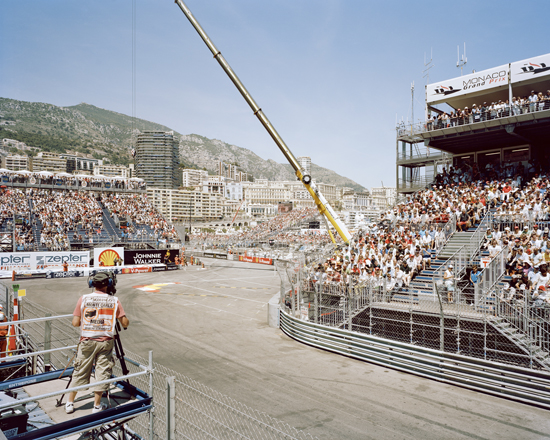 Landscape Stories: Did you do any particular research on the territory while working on your project 'Dunkerque'? How did you choose the locations that you photographed in these images and what motivated you to include people in this series?
Jürgen Nefzger: I've been a couple of times to "Dunkirk" throughout the years before I was invited for the residency program by the museum. This heavy industrialized region along the channel coast attracted me by it's strange beauty. I first came to Dunkirk in 2002 and took pictures of the industrial landscape in the close surroundings. At that moment it was still possible to drive just inside the steel industry complex on a Sunday morning and shoot right in front of the blast furnaces! Today you need authorizations for everything in this and you can't move around freely anymore. I also made a quick trip back to the region for another work (Fluffy Clouds) taking pictures of the nuclear power plant of Gravelines, which is really very close to "Dunkirk". So when I started working on the project I already knew a little the territory but I wasn't interested in the pure industrial aspect any more. My attention shifted to the surroundings. In the meantime I had started working more and more with people , you can see that already coming up in "Fluffy Clouds". The point with Dunkerque was that I felt a real strong connexion between the people, the way they live and the territory. One was infused by the other and therefore I considered them being vital and natural part of the whole scenery. Even I knew a little about the region before starting I did a lot of driving and walking throughout my time being in Dunkerque. It was more the idea of a place then the knowledge of it that guided my ways around. But I wouldn't consider the Dunkerque pictures as kind of portraits. It's all a question of distance. I always worked with a wide angle lenses on all these pictures – showing mostly people as part of an overall scene. They are not detached from the background by a small depth field for example as you can find in many portraits work. I do not want them to look fixed in the scene. The most interesting ones are those when I'm far enough away and people just go on without caring to much for the camera. This happened a couple of times, but I still have to practice more in this field.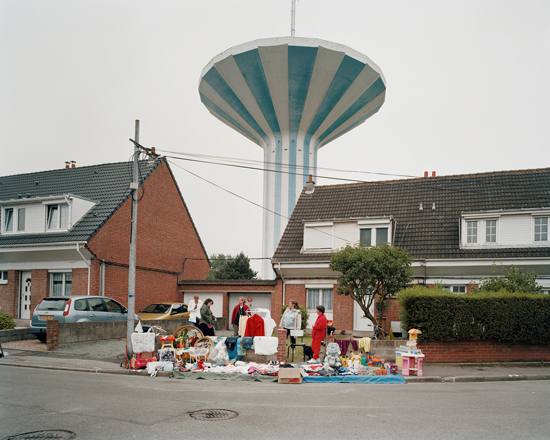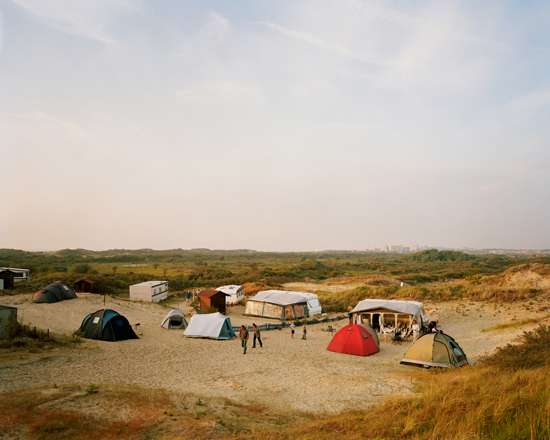 Landscape Stories: Referring to 'Hexagon', what attracted you towards architecture, landscape, urban and rural spaces?
Jürgen Nefzger: I think that the way we shape our close environment is telling a lot about our selfs. When, in the middle of the ninety's I started working on what is now resumed in the book Hexagon I mostly took pictures of empty places –shopping malls, suburbs, holiday resorts, etc. Evidence of our passage, our tastes and our needs. Architecture in it's best and it's worse is a mirror of our society, it always was. My concerns are those of today's world. To understand it better, I have sometimes found useful to reflect on the legacy of these last decades. The suburbs are shown with their new towns and social-housing blocks. But today the blocks are falling and the new town is failing. Bungalow developments are another example; their scale constitutes an interesting phenomenon. The poor and repetitive aesthetics of these bungalow estates and the reclusive of their inhabitants are part of a refusal to get involved in society. This corresponds to the times we live in. During the 1990s, my vision was formed by questioning the urban environment. Since then, my interests have broadened.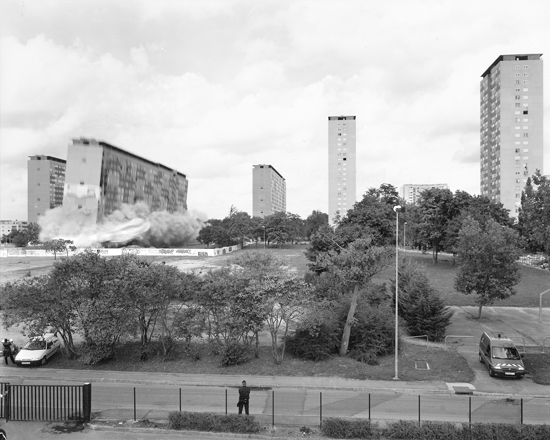 Landscape Stories: Referring to your project 'Fluffy Clouds'… The climate changes, the pollution, the new hierarchical relationship between the city and the countryside and the power station site have contribuited to change our perception of the world and of course the representation of contemporary landscape photography. To what extent does your work represent and reflect the present? How much importance do you attach to the social, economic, or political aspects of what you exhibit?
Jürgen Nefzger: For me photography is very closely link to the subject and to the present. But it is difficult to assess the impact of a work of art. Reducing it to a political message is to abuse it. My images are political in a wider sense, in which politics is understood as the "space between men", as defined by Hannah Arendt. My photographs are part of what is shared between men, of what is looked at, discussed and judged. I hope that they contribute to the collective conscience of the world we live in. By making my work visible, I am contributing in one way or another to a public and political debate. I think it's a rather disappointing experience to be struck for example by a picture of a highly polluted river and to learn afterwards that the photographer only refers to the beautiful light on the surface of the water. In my opinion you have to make a stance when you work on this kind of subject. So when it comes to words I'm not hesitating in giving my opinion `But you have to make a difference between my words and my work… My work is more nuanced than my words. That is what I like about photography. At the beginning of the 1980s, Lewis Baltz intimated the subversive nature of photography when it confronts us with a world that is at odds with our hopes and objectives. I think that nowadays this confrontation is more essential than ever. I offer images that may be read on many levels and I want the viewer to make his own meaning. I do not impose a point of view. The visual presentation of my photographs is very important to me as I aim to convey an idea, but also an emotion that comes with the aesthetic. I do not wish to be directly demonstrative and violent.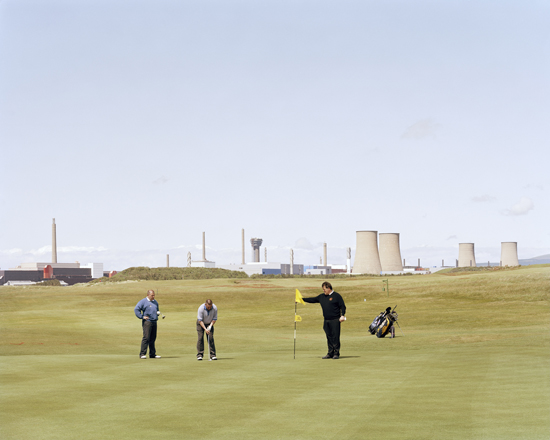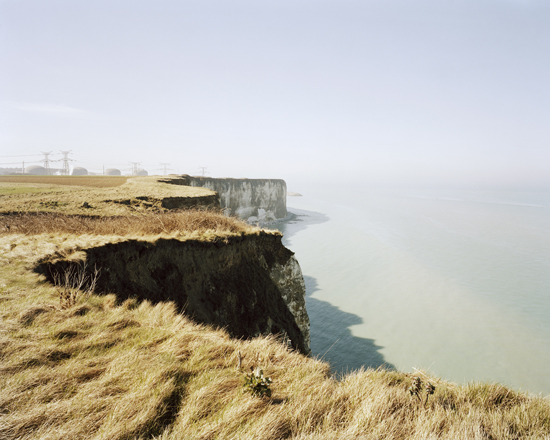 Landscape Stories: I'm interested in your body of work, 'Fluffy Clouds (Hatje Cantz, 2010)'. Could you tell us something more about the creation of the book (concept, editing, design…)?
Jürgen Nefzger: In March 2003 I took the first picture of a nuclear power plant on the Normandy coastline at a site called Paluel. I went on for 6 years working on this project. I made the first dummy for a book around 2006. But it was very difficult to finance and I made other books in the meanwhile. It was only in 2009 when on the occasion of a solo exhibition at the Chatêau d'eau Galerie in Toulouse that the book saw the day!
The main structure of the book didn't change much – it's the same as for the exhibition: the work is shown in cyclic way following the seasons of a whole year. Another option could have been to use a more geographique presentation like a countrywise organization of the book. But with the nuclear hazard I felt that country boundaries are obsolete in case of an accident, and that the full cycle of a year could be reminiscent of the long lasting half-life of nuclear residues. I have a clear political standpoint towards nuclear power and I wanted to make a book that would make my point without being militant. There is no foreword in the book, it's starts directly with a warning sign on nuclear hazard found on the Scottish beaches close to Dounreay in 2005. The story than unfolds throughout 72 photographs questioning more our relationship with nuclear power than condemning it. Even so the book was published on the occasion of a retrospective exhibition "Watch your back" end of 2009 at the municipal Gallery Chateau d'Eau in Toulouse the afterward is written by Ulrich Pohlmann from the Munich Museum of Photography. This is because the project went on for quite a while and I already had made decisions before the Toulouse exhibition.
Concerning the graphic design of Fluffy Clouds it's a real classic design and format. In many other previous books like Hexagon 1&2, Dunkerque and Nocturnes I was working with Aurelien Bidaud a friend and graphic designer. He did some real interesting work on the typographies and text layout but when we first did Nocturnes with Hatje Cantz in 2008 I had to realize that we gone too far and that the book was too different from the editorial line.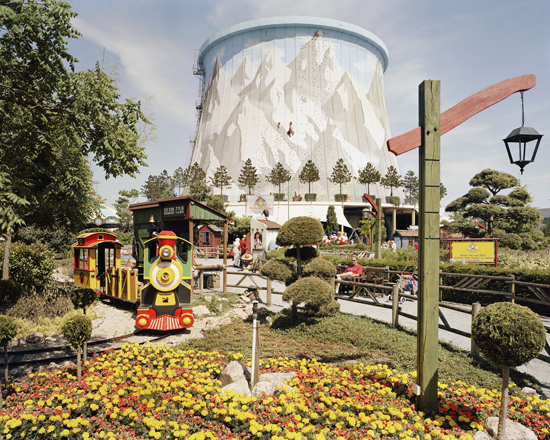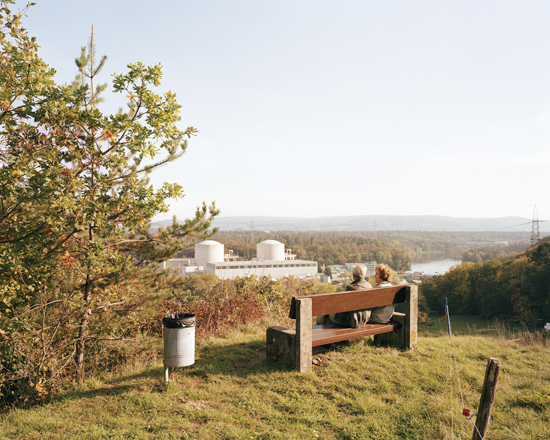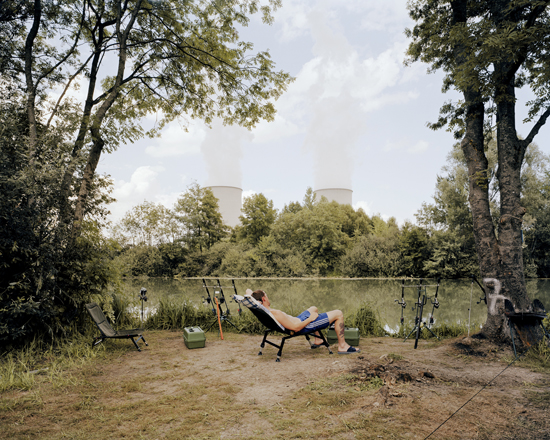 Landscape Stories: What's the piece of work that best represents your research and in which you see yourself in, the most?
Jürgen Nefzger: I would probably choose "Nogent-sur Seine", France 2003 from the Fluffy clouds project. Looking through my work you will find quite a few of benches or deckchairs waiting for a potential visitor to the site. It's kind of inviting the viewer to make a halt and have a look at the surrounding scenery. In the case of Nugent-sur-Seine the deckchair is already occupied by a young man fishing in one of the river channels of the Seine right in front of two enormous cooling towers. The scenery is quite peaceful and the trees on both sides provide a romantic framing. He seems to totally ignore the wider picture, the decorum in which his holiday inscribes itself. There is this kind of crack in the picture I often search for. It's like we only see an finite part of the world that is determinate by our own experience and sensitivity and that photography might be able to reveal to us what fail to see.
All images © courtesy of Jürgen Nefzger/Galerie F. Paviot, Paris.
Interview curated by Gianpaolo Arena