Landscape Stories: What poetry or artist influenced your beginnings the most? Where can the roots of your work be found? How much were Walker Evans, the masters of color photography (Eggleston, Shore, Sternfeld) and the "New Topographics" movement a source of inspiration for you when you started to search for your photographic style?
Peter Brown:Great questions... Each of the photographers you've mentioned has had an influence, but when I was beginning back in the early seventies, only Walker Evans, of those had any real national presence. Szarkowski did not introduce Eggleston as "the first color photographer" until 1976; Stephen Shore's work was just beginning to be recognized (Uncommon Places in 1982), and Joel Sternfeld was not even on the map — American Prospects was published in 1987. And of course there was no internet. So books, shows and a very few magazines were the ways that good photographs got around. Black and white still reigned supreme. Ansel Adams had famously referred to color as "vulgar".
Beaumont Newhall, the preeminent photo historian proclaimed: "If you can't make it right, make it red." And color photography as art was generally discredited. So I didn't see much color beyond magazine work, ads and a few photographers like Ernst Hass and Eliot Porter. Joel Meyerowitz published Cape Light in 1978 — an important book for me at the time. My black and white work was essentially about light and his color work seemed to be as well. And he had an interest in American culture. Plus the interview he gave on color I thought was perceptive. He, Shore and Eggleston became the triumvirate of color back then and in 1979, after five or six years of black and white work I switched to color and have never really looked back. Still, black and white photographers have had a profound influence on me and my work from the very beginning.
Timothy O'Sullivan, to Eugene Atget, to Walker Evans, to Robert Frank is a fairly conventional route of influence that I've traveled. But there have been many more: Robert Adams notably (you mention New Topographics) for his imagery, for his writing, for his friendship and intelligence — and for the places he photographs; Lee Friedlander for his scalpel-like eye and his ability to structure the chaos around him; Gary Winogrand for the cultural critiques, his humor, his appetites and the helter-skelter way he took pictures; Walker Evans of course for the subtle order and the vernacular beauty that he recognized everywhere, and Cartier-Bresson for all the reasons that anyone admires Bresson: the miraculous timing, the global perspective, the grace under pressure, and the perfection of the photograph.
But also Koudelka, Minor White, Gene Smith, Kertesz, Bernice Abbot, my wonderful teacher at Stanford, Leo Holub. Those were the photographers who were particularly there for me at the start. But I could say also that before that even, my real beginnings were when I was a kid looking at LIFE Magazine and National Geographic. And Field and Stream, Outdoor Life and Sports Afield as well. I was a fisherman and loved the photos of the natural world as well as the crazy cobbled together shots of leaping trout and night pictures of gigantic catfish and the like. Sports Illustrated too had its effect. I lived for sports. Poetry and literature: I have always been affected by visual writing, and there are particular writers who have molded much of my consciousness. The precision of a Hemingway landscape; the clarity of anything by Nabokov; the realities of William Carlos Williams or Theodore Roethke; the continental sweep of Wallace Stegner; the simple images out of lines by Chaucer or Shakespeare. And Yeats, Gary Snyder, Ginsburg, Kerouac, Basho, Buson, Issa... I could go on — and I won't get into the painters and sculptors... And as far as subject matter goes, the roots of my curiosity about the West are in children's fiction and in television of the fifties: Rolling Wheels, books like Jeb Bridger: Mountain Man or Kit Carson: Man of the Plains, TV shows such as Cheyenne, Have Gun Will Travel, Gunsmoke, Rawhide, Rin Tin Tin, Roy Rogers, Gene Autrey; lots of Westerns. At the perfect time (I was twelve) we moved from the east coast to the west and kept a summer home in northwestern Massachusetts — and because of this we would make two car trips each summer, back and forth across the country. And that did it. I fell in love with the West and I became a Westerner. Moving to Houston to teach at Rice University after graduate school didn't hurt either... As for style, I never looked for one. I never have given style much thought actually.
I recall Winogrand saying that the subject matter of a photograph should dictate its form, and Robert Adams writing about the tautness of the surface of a picture — that it should be like a trampoline — but beyond a few thoughts such as these, I've photographed in ways that have simply "felt right." I move around subject matter that interests me until it makes sense — until it locks into position — and then I take the picture. It's very simple and very intuitive. It looks right; it describes something with clarity; there is an indefinable element there as well — and within those parameters, a new small world comes into being. This is not to say that I haven't learned from the subject choices and compositions of other photographers — I have, and have internalized thousands of images over the years, and they certainly inform me both consciously and otherwise, but the basis of composition and style for me has always been more intuitive than rational.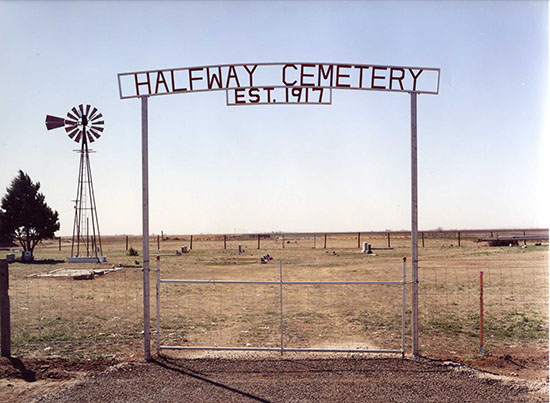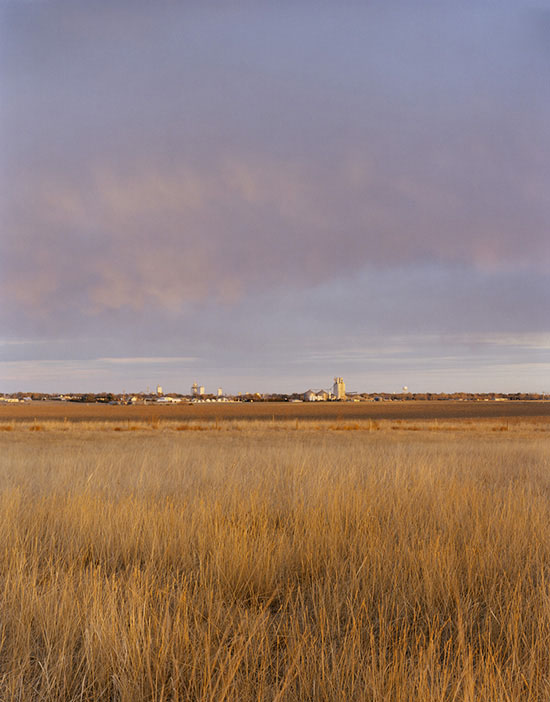 Landscape Stories: Do you do any particular research on the territory while working on the project? Do you gather specific information about what you are going to photograph?
Peter Brown:I have studied the West for decades: fiction, non-fiction, poetry, journalism, memoirs, films... And throughout the time I've worked in the region I've traveled and photographed and read. I collect anything I can get my hands on. Yet in the same way that I frame pictures in an intuitive way, I like to travel without many preconceptions. I enjoy driving and the feeling of being on the road — that sense of discovery. And in the beginning I simply followed my nose and photographed the places that I came to. I always have had some background knowledge, but out of a general understanding I move along without a lot of preplanning.
I've photographed the High Plains for so long now, that I begin to understand them intimately. On the road I'm curious about things that I've seen and I take notes and revisit questions when I get home. But most of the driving and photographing I do is simple: I go to a new place, or revisit an old one.
I usually drive west in the morning because the light feels better from behind, and west seems more "hopeful" for some reason. I circle around at lunch, north or south and drive east in the afternoon — light again being more interesting. Beyond that I trust instinct, books, maps and conversations with local people. Let me just mention three particularly helpful books out of many: Great Plains, by Ian Frazier, Dakota: A Spiritual Geography by Kathleen Norris and The Worst Hard Times, by Timothy Egan.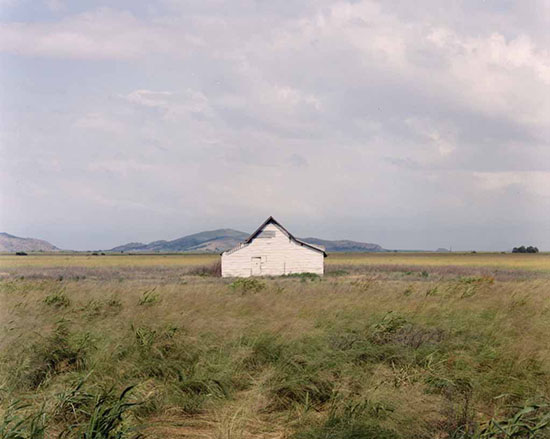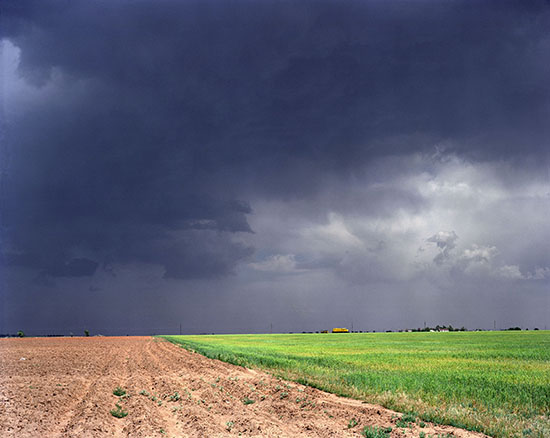 Landscape Stories: How much Poetry or Prose is present in your photographic work? Is there any sort of connection between literature and the way you've described America?
Peter Brown: I think of my work as being a kind of personal documentary: a documentary that's within a lyric tradition. Each photograph is both a description of a specific place, yet within that description something else must resonate. Some unknown. So the photograph may or may not have anything to do with its ostensible subject matter.
The best work may be about the West, but just as importantly about other things that are more universal. I'm not sure how to put this without using symbolic examples, but this X factor can have to do with anything — from the most cultural to the most personal. At the same time, I think there is a narrative quality to my work. Seasons of Light uses literal written narratives.
On the Plains is an extended photographic narrative — a road trip through that country, and West of Last Chance is composed of chapters that bounce around historically but interrelate in somewhat literary ways. There are some photographers whose work is resolutely about the real world —the nuts and bolts of the everyday. There are others whose work attempts to be "poetic" in nature — someone like Minor White or Michael Kenna perhaps, and then there are those who seem to create the equivalent of novels — Walker Evans certainly, Robert Adams in a way, although his work seems to be more epic narrative poetry... I think, since we're speaking of literature, that the best work, the work that truly holds up over time is a mix of all of this — and because that mix is something I look to, the most vital way for my work to be presented is through books. A narrative is there in the sequence; the real world is involved in each image and the "poetic', (though this word always makes me cringe a bit in relationship to photography) is there as underpinning. To write about this sort of thing too much runs the risk of trampling on the work. It's like dissecting a joke. To talk or write about meaning cuts into an image's mysterious power. My first book Seasons of Light deals with this question.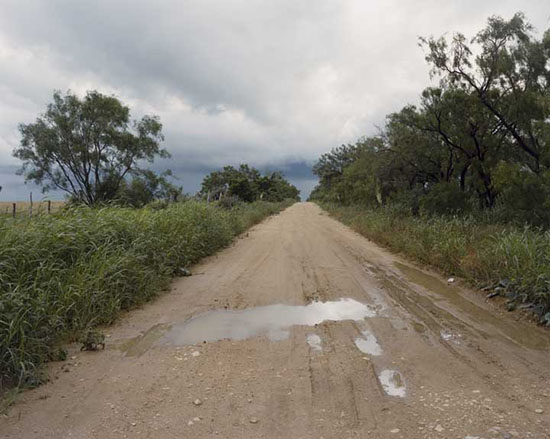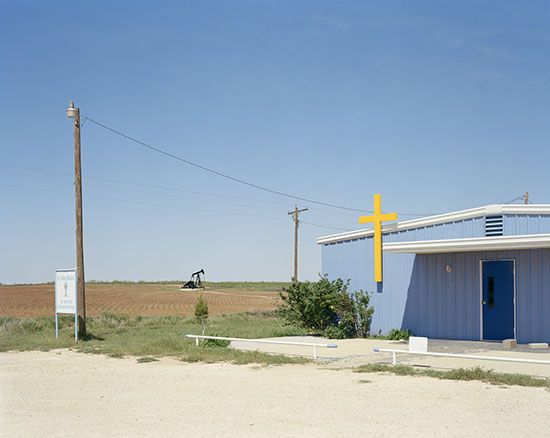 Landscape Stories: How do you choose the subject of your projects? How are earlier works related to the new one?
Peter Brown: Again, it's mostly intuitive, though I certainly think about projects before I begin them. I remember the writer John McPhee saying that every subject he'd felt compelled to write about over his long career had fascinated him before he turned twenty. And I think this is true for many of us. I've been interested in the West all my life and for many reasons, within the larger context of the West I've been drawn to the Great Plains.
I knew when I began to photograph in a serious way, that vast regions of the West had been photographed time and time again — the Sierra, the Rocky Mountains, the deserts of the southwest, the Great Basin, huge chunks of California — anything around Santa Fe... All this country had been covered thoroughly by countless photographers, and while I enjoy experiencing those regions, photographing them seemed unnecessary. I saw other photographers' work everywhere I travelled, and though I figured I could wedge myself into a niche of my own, whatever I came up with would probably feel like a series of footnotes.
I saw at the same time (this was the early eighties) that there had been little serious work done in the vast middle of the country: the flat or rolling lands of the Great Plains. And that fact interested me. Other photographers had worked this area in the past of course, mostly in the thirties during the dust bowl: Arthur Rothstein, Dorothea Lange, Russell Lee, Jack Delano, John Vachon etc. In fact most of the FSA photographers had shown up at one time or another. Wright Morris did wonderful work in the forties and early fifties (work that with its writing component had a big effect on me.) But apart from Robert Adams, there had been little serious work done since. So as an idea, the region was relatively wide open and undefined, particularly in color. The necessary requirement of course was that I had to be attracted to the Plains, which I was: to the space, the light, the color, the small towns and the tenacious people who lived there. And so, from my home in Houston, I began my journeys north... I've had two other photographic interests that preceded this work and have gone on concurrently for many years.
The first has to do with light — mostly interior light, and the second, my extended family. I think all of my work comes from an interest in America as a place and an idea. And this base has been informed by the many generations of ministers, missionaries, theologians and social activists in my family who preceded me.
The interest in light I have always assumed came from my church background — some oddball connection to the celestial — but I really have no idea if this is true. I've been dazzled by light my entire life. It makes an appearance in a marked way in my book Seasons of Light, as is does in a series of largely unpublished photographs of my family. Most of these have been taken in the small town of Heath, in rural northwest Massachusetts.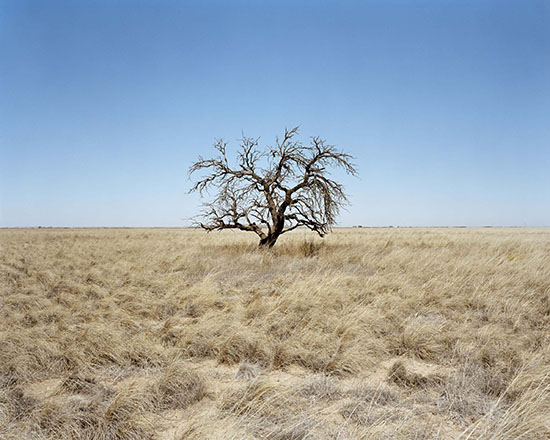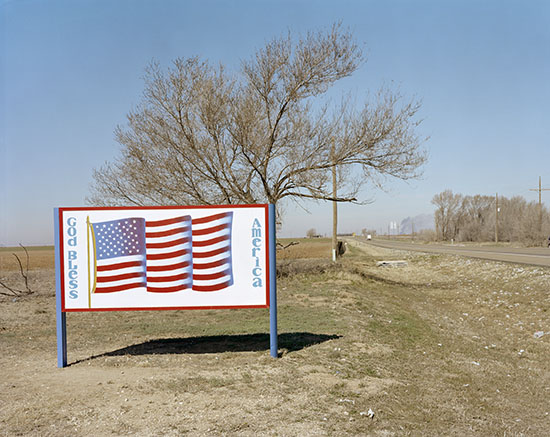 Landscape Stories: Your images deal with working-class people and environments in the United States, and have a melancholy side to them. How did you come to this theme in your artistic practice?
Peter Brown: I worked summers when I was a teenager on labor crews. I worked as a ranch hand in Wyoming after I graduated from college for a couple of summers and I worked labor crews again during graduate school. I also worked as a hardware store salesman and sold brushes door to door for a while.
All this was to make money, but much more to see and experience new things. My family was academic: I grew up in universities and theological seminaries and political causes were addressed everywhere. My father, a minister and theologian, had gone on Freedom Rides in the South; we organized against and went to jail briefly over the Vietnam war; we worked with the Farm Workers in the Central Valley of California, and much more. I'd always been fascinated by life outside the various educational institutions I grew up in, wanting to understand the people I ran into on my travels who had different backgrounds. I am happy to have had the childhood I had, but also have felt a little constrained by it, wanting to expand the boundaries of my world — and so I've travelled a lot.
Certain regions and people have appealed to me. And when I became a photographer, it seemed only natural to work this alternate (to me) realm. I remember in grad school at Stanford, the head of the art department semi-jokingly telling me that the best photographs on campus were to be found at the Faculty Club — that I should take pictures there. And perhaps I should have. But it seemed too much the world I'd grown up in and it held no interest. I knew it well, and in many ways I'd had enough of it. I ended up photographing the labor crew I was working with instead. But Lorenz Eitner may well have been right... Dorothea Lange at the end of her life said that the people in America who needed to be carefully photographed were the well off. And Tina Barney for one certainly has done well with that idea...
The "melancholy" side I really know nothing about. I don't think of my work as melancholic, though perhaps it is... I guess there's a bittersweet quality to a lot of what I photograph. The one constant on the Plains apart from weather is the transient nature of the people who live there. They're there for a bit and then they move on, generally for economic reasons. And they leave remnants, and the remnants are there for a bit, and then they decay and disappear. But those things represent lives and with the lives gone there is a sweet sadness, one side of which could be described as melancholic. But the other side is heroic to me — and that heroism doesn't die. My friend Steve Fitch has photographed the Plains for many years and his book Gone, a series of interiors of deserted homes and community buildings gets at this in very moving ways.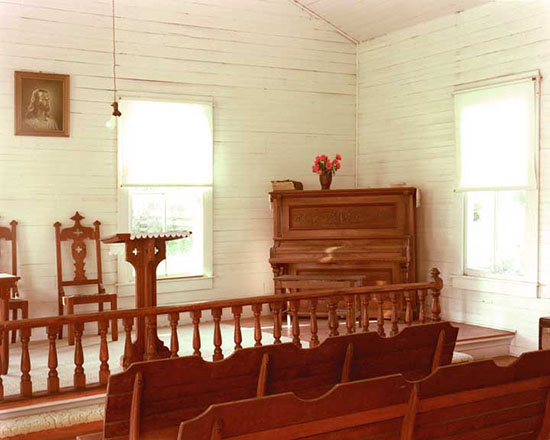 Landscape Stories: Referring to "West of Last Chance"... There always seems to be a sense of narrative in your images... How much do you explicitly think of a narrative for your images?
Peter Brown: I've already written about this a bit. I remember a line from Cartier-Bresson that I heard early on: that the best portraits put a question mark in front of a person's face. The best don't answer questions, they pose them. And this is something I try to do in my work. In my portraits particularly I'm showing what I see, and I hope through the person, his or her expression, and the details that surround the subject, that something of a life is revealed. It's hard not to imagine things when you see photographs of people. I wrote a long piece years ago on Nick Nixon's ongoing series The Brown Sisters, portraits of his wife and her sisters. And I ended up imagining, from little material, what the lives of these women might be... Link if you want... One thing that sparks a photograph for me is a sense of narrative: when I find myself somewhere and something tells me that a photograph is within my grasp, one signifier if you will, is a sense of narrative — that there's a story before me that may tell itself. And my book, Season of Light is about "reading" photographs — and letting them be. The different types of narrative that can be drawn from an image...
There are stories within each photograph in West of Last Chance, but let me write about just one: Benny Clawson of Yuma, Colorado, who you see here is third if not fourth generation to that area — and in eastern Colorado this will generally take you back to the original pioneers. His grandfather began this "point" or arrowhead collection. The photograph was taken in Benny's trailer and the collection filled every room. What you see is maybe a quarter of the points he owns.
The interest to me is in the juxtaposition of these points and their surroundings. The collection looks as though it should be in a museum. And indeed it almost was. A dig from the Smithsonian was going on in the nearby town of Wray many years before and Benny travelled over to take a look. Eventually he spoke with the chief archeologist and told the man about the collection that his family had gathered over three generations. The guy was intrigued and drove over to take a look.
He persuaded Benny to let him take the points back to Washington for evaluation. There they were sorted and framed and my understanding is that the Smithsonian offered Benny $250,000 for the lot. And Benny, who had never thought of selling them, refused. Still, the museum thought that eventually he might change his mind, and they were shipped back to Yuma framed, where they are to this day. Benny, in his younger years drank heavily, and was employed as a tree surgeon, a dubious profession on the High Plains where there are few trees. And tree surgery does not mix well with drink. As a result, he did not have much money — so turning down a quarter of a million dollars was to me an admirable decision. The collection remains in the family and it continues to grow. When West of Last Chance was published, I sent him a copy, and from what I hear, he was astonished to see his photograph in the book because he had no memory of the photograph ever having been taken.
I could go on... He threw a bucketful of rattlesnakes at three big city hunters one morning when they pounded on his door, waking him up a little too early; he was left hanging from a telephone line when the loader on his truck, driven by his wife, stranded above Main Street in Yuma. Photographs not only describe stories, taking them often produces offshoot narratives that are just as compelling as the one offered by the picture. At the moment I took this photograph Benny's eight year old granddaughter was playing a computer game on a laptop right behind me.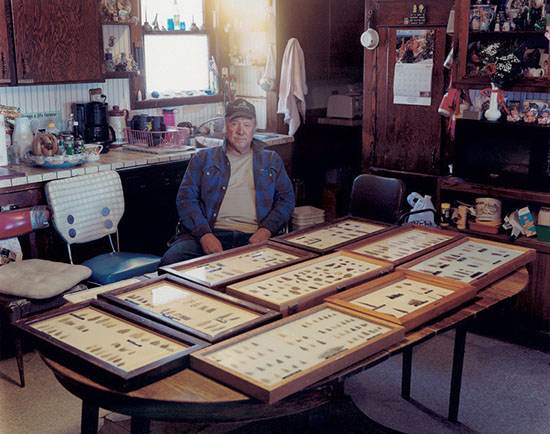 Landscape Stories: How did you choose the locations that you photographed in this series and what motivated you to include people in these images?
Peter Brown: I originally set out on the High Plains simply to make photographs as I've said, and as I photographed I began to think about how I might link them together. In my first book on the region, On the Plains, a trip began to establish itself in my mind: from open prairie, to a very small town — then on to a larger town and finally off again into open space. It was a very simple linear idea, but it enabled me to put anything I thought was of interest into the book.
And with the framework established I began to make images that both fulfilled the documentary aspects of the thought, and also resonated with me on more personal levels. People are part of any altered landscape and so they were included. I enjoyed talking and working with them and portraits are an interesting challenge always.
West of Last Chance was a bit different because I was working collaboratively with Kent Haruf, who supplied the text for the book. The two of us labored long on the sequence and chapters, and the places photographed were sometimes discovered, sometimes suggested by me and sometimes by Kent. Kent grew up in rural Colorado and knows the land, the towns and the people well. He is a superb and celebrated novelist (The Ties That Bind, Where You Once Belonged, Plainsong, Eventide and Benediction — the last of which will be published this spring) and he is interested in many of the things that I'm interested in on the Plains.
I learned a lot from him and he was very helpful in getting doors opened for me and my camera. The fictional town he writes about, Holt, is set in the flat lands and sand hills of eastern Colorado and because of this we spent a fair amount of time in that region.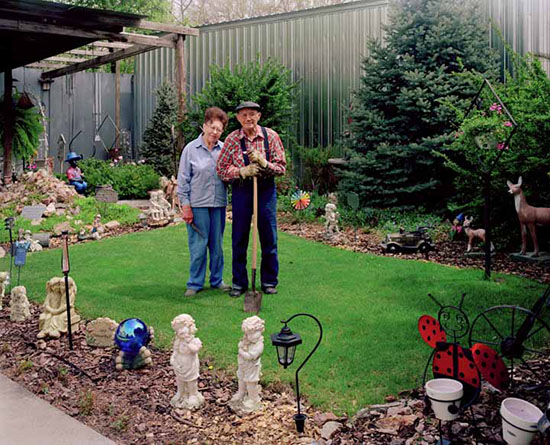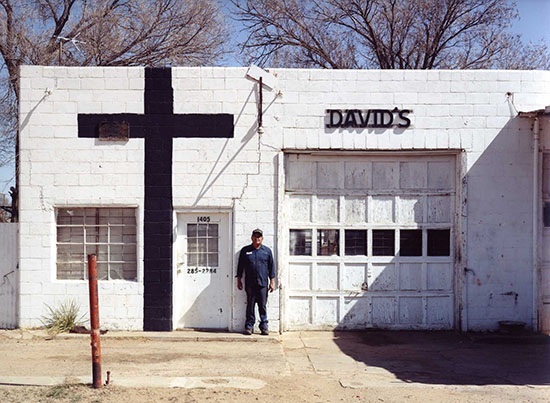 Landscape Stories: What's the piece of work that best represents your research and in which you see yourself in, the most?
Peter Brown: I could say that there might be two — both a bit romantic perhaps, but still legitimately of the country: one is shot in the Sand Hills of western Nebraska, and as you can see, it's a beautiful place at a wonderful moment. The prairie is as seductive as it can be, and the scene was transporting.
I felt moved almost spiritually into the landscape. The wind was light and sensual; the smell of the grass and water was wonderful; the light was clear and there were red-winged blackbirds flying everywhere. There was an abundance of water — a precious thing on the High Plains; the little cottonwood tree was perfectly placed; the windmill made sense where it was; the color of the pond was almost unearthly and the clouds were where they needed to be. It was heaven on earth and it always reminds me that such places and such times are possible. Ten years later I went back and the little lake was almost dried up, the cottonwood had died, the birds were gone and the place was almost unrecognizable. And such is life on the Plains. And one might simply say, such is life. The nice thing is to have the photograph — as memorial and as harbinger for the future. The other is The Cake Palace, a bakery in Tahoka, Texas, and a bakery that I'm happy to say still exists twenty years later.
It's beautiful; it's a little blustery; it's confident and it's funny. Plus it's well kept and optimistic. All of these things I look for in a lighter side of myself. The combination of the two represents a better way of being that I appreciate and celebrate in both the natural and the humanly created world.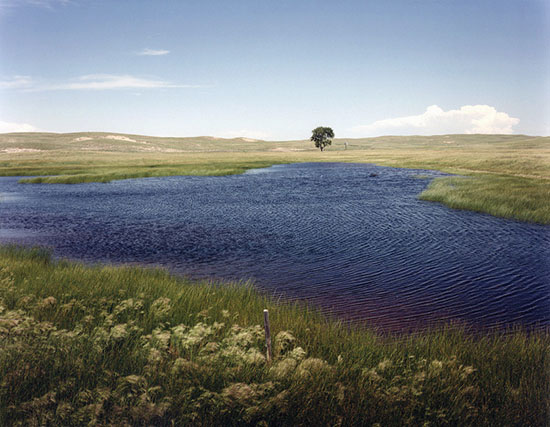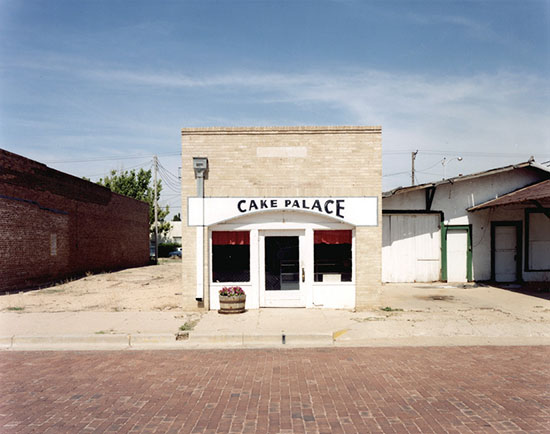 Landscape Stories: What are you currently working on in your photography? What's in store for you in 2013, photographically or otherwise?
Peter Brown: I am currently in major transition. I'm typing this on a new wireless keyboard for my new computer. I'm using a new monitor, with new software, huge storage disks and new peripherals. I've bought a big new digital camera and I'm trying to move away from my beloved Deardorff, which requires prohibitively expensive film, developing, proofing, scanning and printing. So I'm switching to this digital camera, which I'm trying to convince myself is the view camera's equivalent. I'm using it as I would my old camera, on a tripod, moving slowly etc — but I'm missing the size of the Deardorff's screen, the dancelike motions that one makes with a view camera — and I truly miss the swings and tilts and shifts and rises and falls.
But I'm getting accustomed to it all and am diligently doing my exercises down in the rice and cotton fields and in the small gritty towns southwest of Houston.
I've also done some recent work in deep East Texas, a region far removed visually from the High Plains. And I'm having fun, as everyone else is, with the camera on my iPhone. It's terrific to have a good camera in my pocket at all times. And it reminds me of my beginnings when anything and everything was open as subject matter.
And though I draw no parallels, it reminds me also of the joy Walker Evans discovered in the Polaroid SX70 at the end of his life.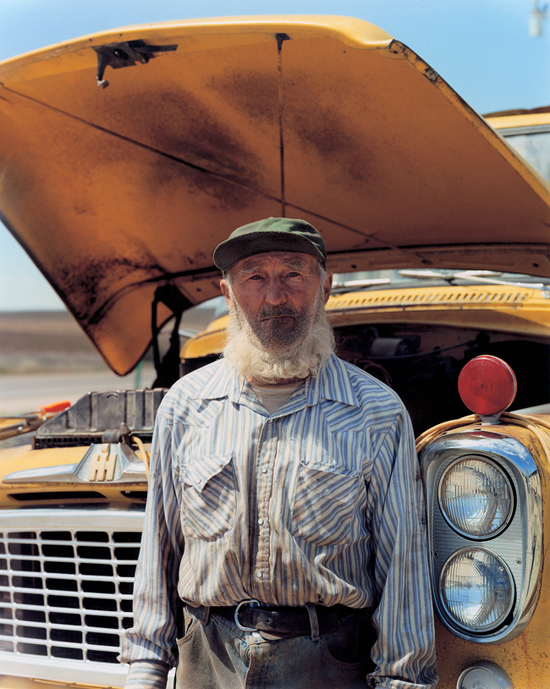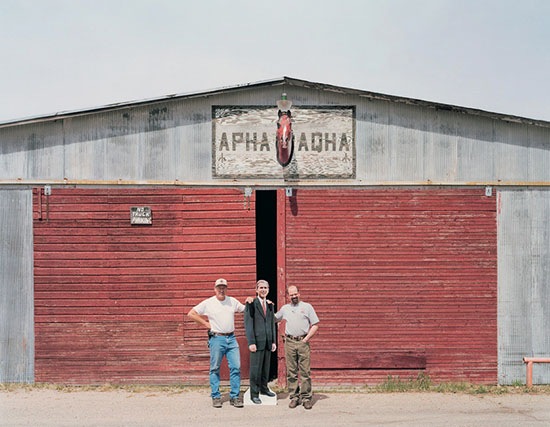 Landscape Stories: Tell us your strangest "landscape story"
Peter Brown: I think the strangest story involves the grizzled old guy on the back cover of West of Last Chance — Tom Cirbo. He lived in the very small town of Matheson, Colorado and just died this past November at eighty-eight. I was driving around Matheson back in 2006 looking for a church interior to combine with a piece on church suppers which Kent had written, and I passed a remarkable looking man working on the engine of a bright yellow pickup truck.
He was outside a doublewide trailer and across the street from what seemed to be an abandoned Catholic church. It was one of those moments that should have been a stopper, but it wasn't. The guy was just too phenomenal looking and I froze up and continued to drive out of town. But I kept thinking about him and circled back after a couple of miles, knowing that I wanted to take a picture of him, and knowing also that I didn't want to scare him off. So I stopped on the other side of the road and set up the big camera to photograph the church. I figured he'd be intrigued, want to know what I was up to etc... and sure enough after three or four sheets of film were exposed he came over and asked me what I was doing. It turned out that he'd lived in Matheson most of his life, that he'd been an alter boy in the church, and that when the church had disbanded, his brother had purchased it and had used it as storage for decades.
And indeed, the church was filled with all sorts of junk. We talked a bit and he asked me if I wanted to see his John Deere tractor collection. I was surprised and said sure and we walked back across the road, behind the trailer. And there, spread out over sixty or eighty feet were at least a dozen vintage, beautifully restored bright green John Deere tractors. They were eye popping and of course I asked him about them. He said that in the past he'd had them parked out by the road but that people had kept stopping by, wanting to buy them, which had irritated him so he put them behind his house instead. He told me that he was a iron hauler — that he salvaged metal that farmers or ranchers wanted to get rid of and sold it for scrap. He'd always liked tractors, he said and he'd been able to buy a few and fix them up. But I had to think that this was a lot of tractors to come out of a small scrap business... But we kept talking.
The Iraq war was well on its way and he told me that his solution to it was to carpet bomb the entire country, just reduce it to rubble — not even tell the American soldiers — just flatten the whole place in a surprise attack that did not stop until everything in that country was dead. That would show the world not to mess with us. He seemed serious. He even used the phrase "stone age." At this point, more than a little surprised, I asked if I could photograph him — and he clearly was pleased. Off we went, and after we were done with the photography and half a dozen sheets were exposed, he told me he had some pictures in his home that he wanted to show me. With some hesitation I agreed to take a look. We went inside the dark trailer and there on the walls were many photographs of him — almost all with bar girls wrapped around him at casinos. He said he liked to gamble and had been going to Deadwood, South Dakota for the past few years and had had a great time. He also said that a photographer from the Denver Post had been through a number of years ago and had photographed him but he didn't say for what.
There he was above the stove, looking younger but just as formidable. But the bar girls and this old grinning guy were quite a combination. There were at least ten photos, and in each he seemed to have won a jackpot of one sort or another. I told him he was a lucky man and he allowed that this actually was correct, but he said that his luck was "fixin' to change" and that he'd have to get back to hauling scrap, which was why he was working on his truck. He wanted to talk more, but it was time for me to head out again in search of the elusive church interior. (I did eventually find an interesting shot in the Matheson Community Church.
The minister had just finished the service and the members of the Christian rock band were putting away their instruments — but it did not jibe with the historical time of Kent's piece...) I told Cirbo goodbye and said I'd send him a photograph if he made it into the book. And of course he did. We even got his permission to put him on the back cover in exchange for a decent sized print and a few copies of West of Last Chance. But in trying to assure myself of his address I Googled him and the first thing that came up had to do with the Colorado Lottery — and there he was: Tom Cirbo of Matheson, one of the first statewide winners: $1,675,000.
I couldn't believe it. But then in thinking about it, I could. The web page is unavailable now, so you'll have to take my word for it. Online records no longer go back to 1991. But that did answer some questions for me: the tractors, the gambling, the girls, the photographer from the Denver Post — and the annuity, which was a fifteen year annual check, of which 2006 was the last... It was time for him to get back to work.
A postscript to all this is that when The Denver Center for the Performing Arts put on adaptations of Kent's novels Plainsong and Eventide, they used Tom Cirbo's clothing as a wardrobe model for two of the main characters. So that's one story — though the story behind the cardboard George Bush isn't bad either... There are lots of stories.
Each photograph has at least one.
Interview curated by Gianpaolo Arena