Landscape Stories: Let's start with a question about 5 John… John Cassavetes, John Fante, John Lurie, John Baldessari and John Fahey. How much a certain american (counter)culture has given a form and nourished your photographic research?
Sabrina Ragucci:I might add John to your list! You've arranged these in the order i met them in high school as if they were my friends. The first was John Cassavetes with Shadows. I was interested in Cassavetes not so much from a visual standpoint, but from an existential and literary one. Even today I remember some epiphanic scenes because it seems it does not happen anything special. For example, in A Woman Under Influence, the scene where Mabel (Gena Rowlands) is jumping and waiting for the bus that brings home her children from school, or the moment when, in the sand pit, the colleagues of Mabel's husband, Nick (Peter Falk), are leaving together to the couple's house, to celebrate the release from the psychiatric hospital of the woman. In those trucks that leave shrouded in dust, there is a simple and painful exaltation. I've always loved film and photography that reveal, without the need of striking gesture and mythical scene. About John Fante: I preferred John Cheever. His writing was crossed by the light, even when he was narrating grave stories, there was always a gap, which was not consolation, but the need, somehow, to move forward.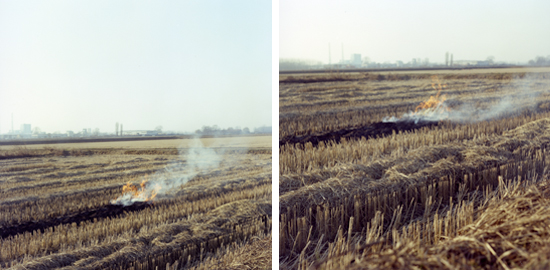 Landscape Stories: How important was for you to enhance a cultural imaginary through art, literature and cinema?
Sabrina Ragucci: Aware that questions rarely relieve anxiety.
Text:Landscape Stories: Photography can be documentation, description, narrative, allegory… In your opinion how important it is for a photography to hide evidence, to be allusive or to have a strong element of ambiguity?
Sabrina Ragucci: Photography works in this way: it hides evidence, it speaks to those who already know. Quoting Barthes, the photograph does not hide but doesn't speak. For this reason artists use it as if it were a sculpture. What remains is an object. What interests me is when it reveals, makes real the reality and says something about itself.
Landscape Stories: During this period, Palazzo dei Diamanti in Ferrara dedicates a solo exhibition to the work of Michelangelo Antonioni. The director from Ferrara is very loved by artists and photopgraphers, in part for his vitreous, cool and cinematographic vision of the city, in part for inviting us to reflect on the relationship between real and possible, between visible and invisible. Are these suggestions important for your photographic interpretation and in which measure?
Sabrina Ragucci:All questions in the films by Antonioni are also quotes from the world of art and literature, from Pollock to Cortazar, so I want to answer with another suggestion that recalls the intentions of my work. Kracauer argued that the works of Franz Kafka could be described as adventure the novels in reverse, because in them is not the hero to rule the world but the world itself to overcome off the hinges during hero's wonderings. In this sense The Passenger was a key film for me.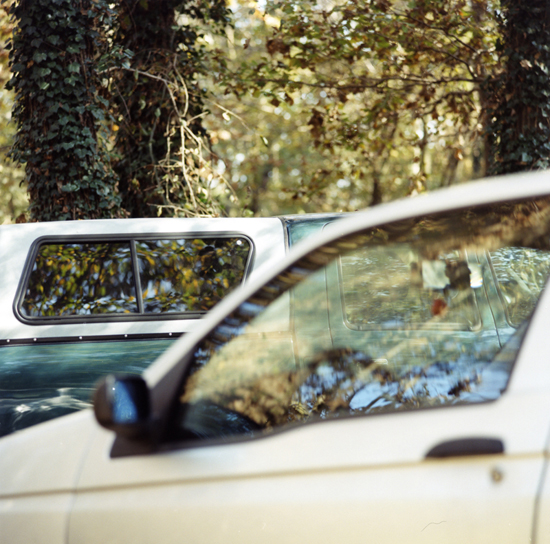 Landscape Stories: The British musician Robin Rimbaud (aka Scanner), in 52 Spaces (cd Bette 2002), commissioned by the British School of Rome, reads in its own way L'Eclisse (1962): http://youtu.be/Wm199mmZAoU. Antonioni filmed a quiet, uncertain and unreal Rome; Scanner reinterprets sounds in the movie more than the pictures. Occasional dialogues, fragments and background noise of the city are handled and wrapped by a sense of alienating otherness. So a work that dig deep into the memory of the sound, a voiced archeology not only physical but also psychological. In this I read a gap, a difference between a forgotten past and the flow of a digital future. In your recently published book The Collared Dove Sound, there is a similar linguistic subtraction between the visible and invisible? In this how the relationship with the absence, with what is not there or lives elsewhere, defined the images of the book?
Sabrina Ragucci: That's what I tried to do with The Collared Dove Sound: fragments of images already inserted in the tradition: from Antonioni to Ghirri. The sound – the song of doves – in my case it was only mentioned in the text, but real during the time of research of the images. In the words of Ghirri photomontage has already happened, is in the real world, reality consists in the invention: mine and another, that of the writer in the same place at the same time. In this case, I treated a location invented in the literature by Giorgio Falco, Cortesforza, that could be placed in an accelerated present; the only human presence in the book are those narrated by the writer and Giorgio Falco himself, photographed by me during all the time devoted to work, approximately five years. And suddenly the fragment is no longer like that, unlike Ghirri; I assemble a story on the basis of a mosaic of images, a story that contains at the same time what it is and what is not. For example, what we can not see but there is everywhere: politics, the 'Ndrangheta, pollution, biography, but also the anxiety of the order.
Landscape Stories:Recently I for the umpteenth time I picked up The Swimmer (1964) by John Cheever: http://www.newyorker.com/online/2011/02/14/110214on_audio_enright. Reading it, I have remebered some scenes form the movie with Burt Lancaster: http://youtu.be/yIegoQAayFs. Then this photo by Stephen Shore: http://stephenshore.net/photographs/B/index.php?page=10&menu=photographs. How can photography and writing coexist? In what way their connections can reinforce thematic analysis and the plot of the story?
Sabrina Ragucci:Words live daily with images. The photographers that we can define our fathers (loved: Eggleston, Shore among them) had the certainty that they were not necessary, they rejected them, but in some cases they have been wrong. Critical essays are not hardly ever missed in their books. In any case, the words have often overwhelmed the visual discourse. When I do not understand an image, I read and so I stop looking. Images are often associated with inadequate words. I recently heard an artist that I admire talking about photography: "The photographic portrait should describe a person's soul." If, for example, I allow myself to simplify the literature to this point I would be considered – rightly – ignorant. Moreover, the accessibility of the medium (not of the result), helps the misunderstanding. At the end we are forced to explain to critics what we wanted to do and they have translated, interpreted the language. For this reason, I write a functional text to images, I do the opposite of Sophie Calle that I really appreciated as a student, but I do not know if my text reinforces, maybe it even goes the other way. The intent is to create a circular story that neutralizes the need of other words. I often work with Giorgio Falco: "When we put ourselves in action, acting, we create reality. "To answer to the question, at least in part: about the combination of writing and photography I am interested specifically in the book form, possibly even virtual, not an exhibition. In an exhibition, however, the images are all that is needed.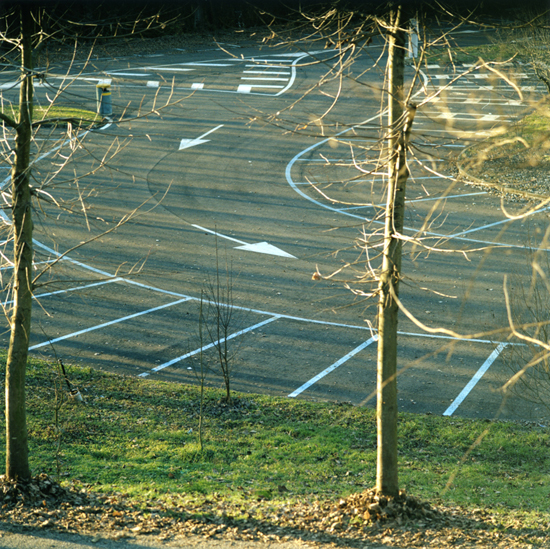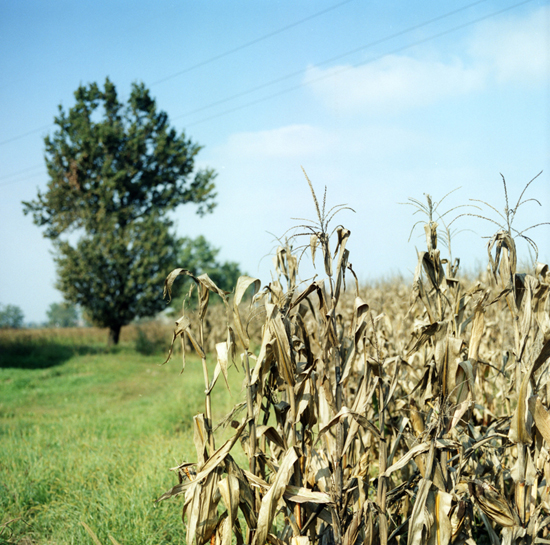 Landscape Stories:How photography is helpful to understand reality, to overcome the suspended uncertainties, to dissolve doubts?
Sabrina Ragucci:It does not dissolve doubts. Unlike those who argue that photography is a chance to see better, I confirm that there is something like an excess of reality, its getting bigger is no longer tolerable, I say that definitively in the diptychs: I get close, I move around: things do not confirm themselves, change. "Everything that exists, it seems, is visible to us because we perceive it through the reflected light of the appearance. Nothing else is visible" (Gerhard Richter).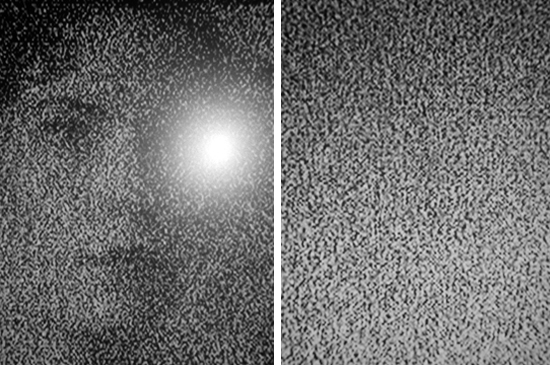 st)
Landscape Stories
:**Starting from your experience, what is the limit up to which you can teach photography? What are the strengths and weaknesses?**
Sabrina Ragucci
:"Telling the truth, what I can receive from another soul is not instruction, but propulsion" R W Emerson
st)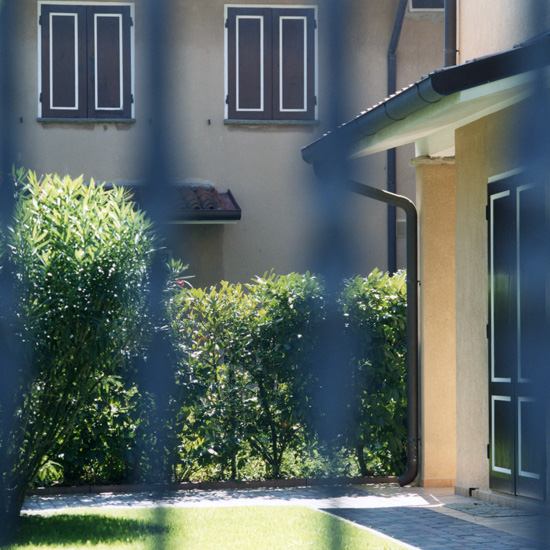 st)
Landscape Stories
:**What are your favorite photo books of the recent years?**
Sabrina Ragucci
:Many of my generation, Italian, American, German, Dutch and British authors, published by Steidl, Mack, or selfpublished. Answering in this way I'm not doing a mistake of course. Among italian published book i consider very interesting Gomorrah Girl (2011) by Valerio Spada.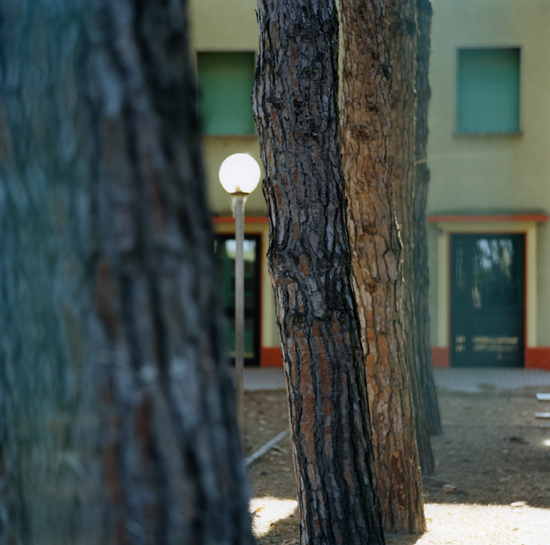 st)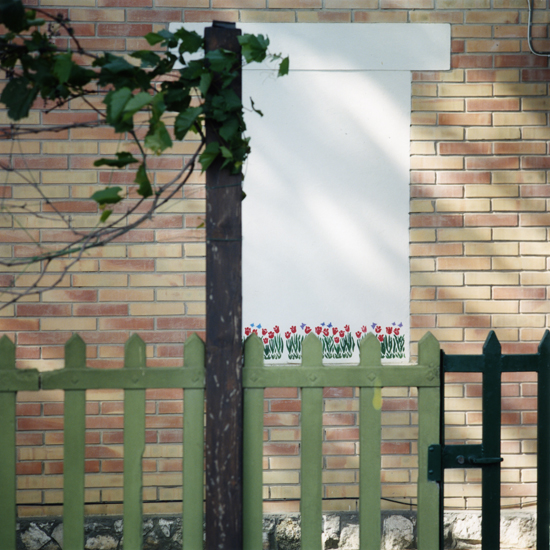 st)
Landscape Stories
:**What are you currently working on? What projects do you have in mind for 2013?**
Sabrina Ragucci
:HI should publish Italian East Co(a)st, a work started in 2006 and exhibited at the Biennale of 2011. Perhaps, with Giorgio Falco, we will make with it something definitively inclined to literature. In the end I have an idea really desire to realize but it will not be published in 2013. [sabrinaragucci.wordpress.com](sabrinaragucci.wordpress.com) Interview curated by Gianpaolo Arena Translation curated by Sergio Tranquilli