Landscape Stories: What does photography mean to you? Why do you take photos?"
Daniele De Lonti: Production of images is a language with ancient roots: man has always been triyng to shape the perception of the world and in this operation, over the time, he has developed different techniques and, between these, photography. I believe that photography allows, thanks to a simple technical acquisition, to devote much attention to the meaning in the production of images. I photograph because photography is so simple and complicated at the same time, and because an initial attraction has turned into a passion.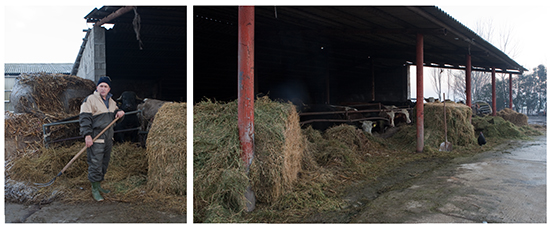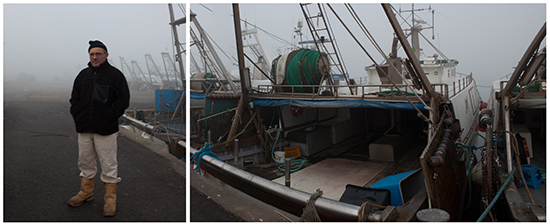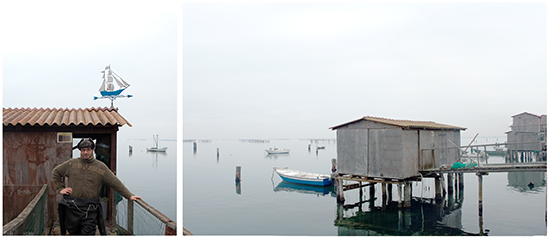 Landscape Stories: Has been your photographic research influenced by your cultural and artistic imagination? In which way your intellectual curiosity has fueled and shaped it?
Daniele De Lonti: I would say that our way of structuring thinking is fueled by artistic and cultural dimension in which we are immersed and the need to give form to our survey on our thoughts is the spring that feeds our curiosity. The result is that the produced image, as well as the reproduction of the external world, tells of the inner world of its author.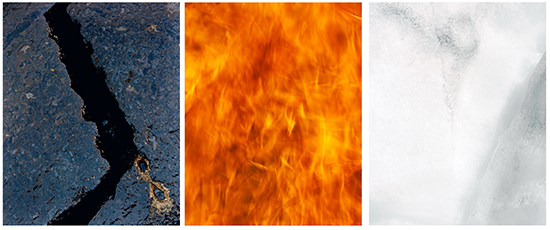 Landscape Stories: In your experience how relationships with commercial photography, research, collections have been developed? What are the limits represented by a client often lacks a culture of photography?
Daniele De Lonti: I do not think I can answer to this question: my experience is too limited compared to a complex world that requires mediation which is not always right to submit to.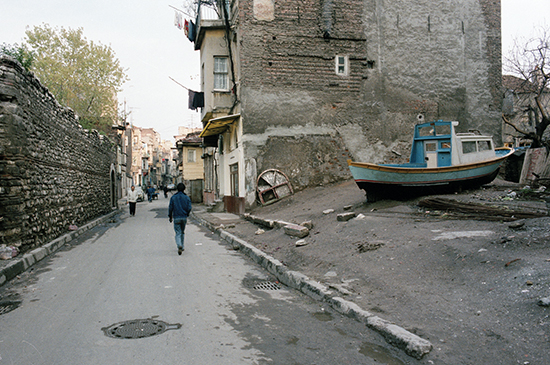 Landscape Stories: How much photography has helped you in understanding the reality and yourself?
Daniele De Lonti: A lot. Image production has played a therapeutic role in my being, allowed me to explore my silence and feed my thoughts. Images come from a basic idea, but, working on them, they take shape and define their boundaries. The produced image so lets see a poetic echo to the questions posed by the thought and resolved in the silence of the work.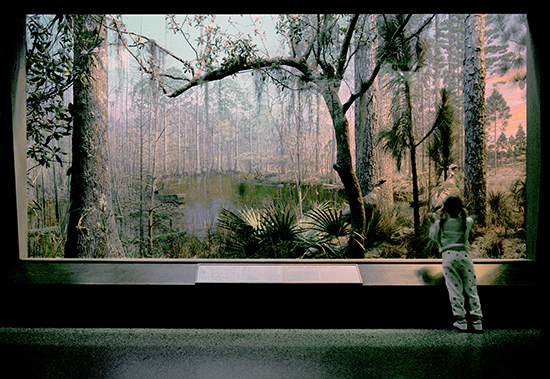 Landscape Stories:'About your book "Viaggio in Italia" (Journey to Italy) … Your work contains portraits of places very identity of our country. How do you manage to identify projects and places that you consider interesting for your search?
Daniele De Lonti: You have to consider that this project is, for me, a wandering in Italy, it allows me to cross the peninsula in May, perhaps the best month for the climate in the Mediterranean area. I move in advance of the Tour and, when I find a scene that satisfies me, I stop and look forward to the passage of cyclists. I do not determine the path, and I find a different Italy that otherwise I would not have gone through. The idea came to me when I remembered a day in Colorno with Luigi Ghirri: a day with a clear sky and the facade of the palace in full sun, we were sitting quietly at a table waiting for the passage of the tour. While we were waiting, the road has been slowly filling up with people creating a human corridor and, after a few hours, finally the riders in the group passed. Everythig have happened in a few seconds, then the crowd has thinned out. We still were sitting there watching the facade of the palace of Colorno still bathed in sunshine.
From this fragment of memory comes this project, it is my personal tribute to Ghirri.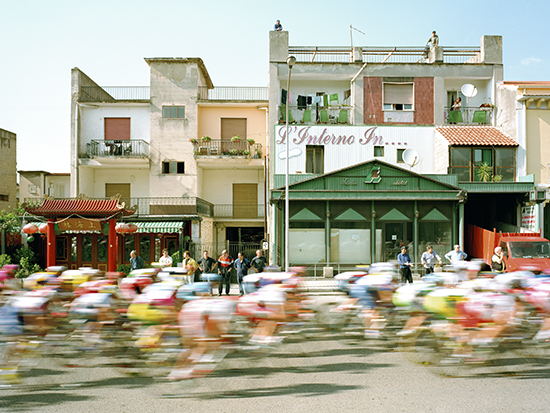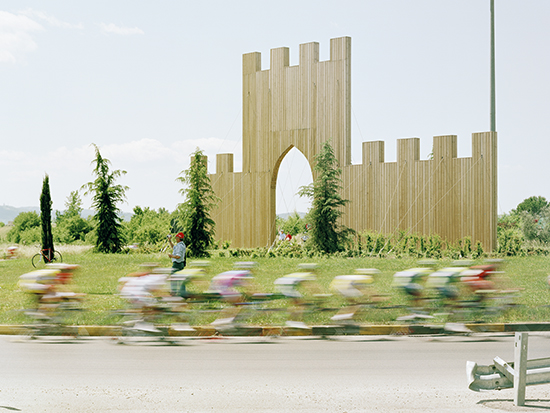 Landscape Stories: Working in Italy and live in this country means being surrounded and immersed in beauty, history and memory. What does it means to work in Italy for you? How much you are influenced by the ambience and the places in which you grew up?
Daniele De Lonti: It also means being surrounded by the arrogance of mediocrity, from the suffering due to the scarring of beauty. To the other two questions I could not answer: I was born and live in Italy.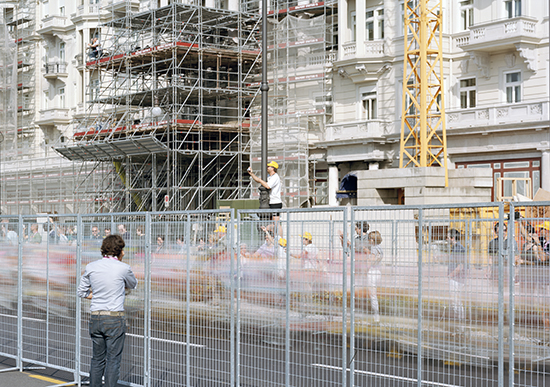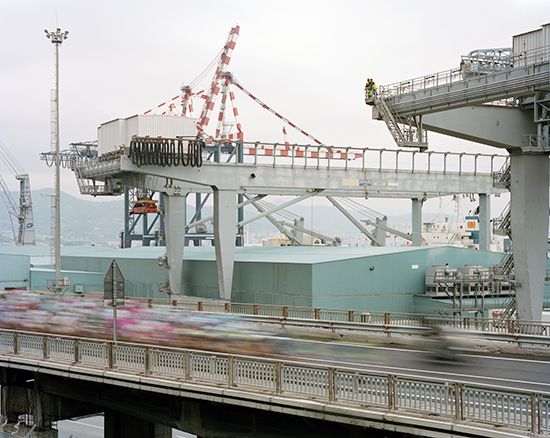 Landscape Stories: Teaching and photography: problems and potentials of the Italian situation …
Daniele De Lonti: I do not know so well the Italian teaching contest. From my little experience I can say that I found the students very interested in using the image as a personal investigation, releasing images from the limit of the literal transcript. The fantasy of the deep encourages to look at the world with different eyes, to read each image as part of what makes us.
Landscape Stories: You have worked for several years in close contact with Luigi Ghirri. How much his personal and professional influence has been important for your artistic career.
Daniele De Lonti: I like to think that I have adopted Louis Ghirri as a father, beacuse as a father he taught me a lot and as a teacher he was a master silent.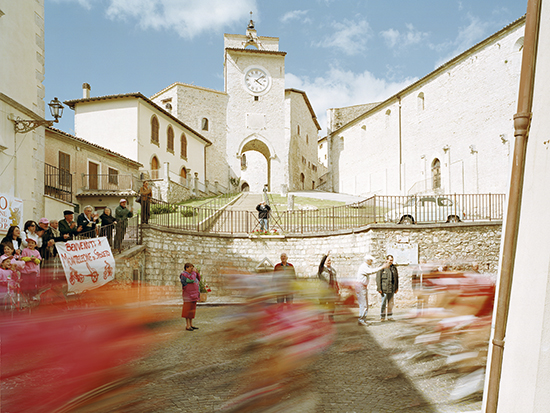 Landscape Stories: In Italy there were collective projects such as "Viaggio in Italia" (1984), "Archivio dello spazio" (1987-1997), "Linea di Confine" (1990), "Venezia-Marghera" (1997 e 2000). They were able to aggregate photographers also very different and create opportunities for discussion, very important for the development of a vision of the identity of the territory and the landscape. In your opinion how those experiences have changed? What idea do you have of Italian photography today? What are the Italian photographers that interest you the most?
Daniele De Lonti: There was a period in the late 90's when collective reading commissions of territory analysis found a widespread interest, it has fueled the hope of many young writers and characterized the production of those years until the establishment of a museum of photography in Cinisello Balsamo and several public collections. I think that today many things have changed. I think it is more appropriated talking of Mediterranean roots in the production of western images instead of an Italian photography. The specific that interests me is not the result of the use of photography as a technical tool but the production of images able to stimulate the thought.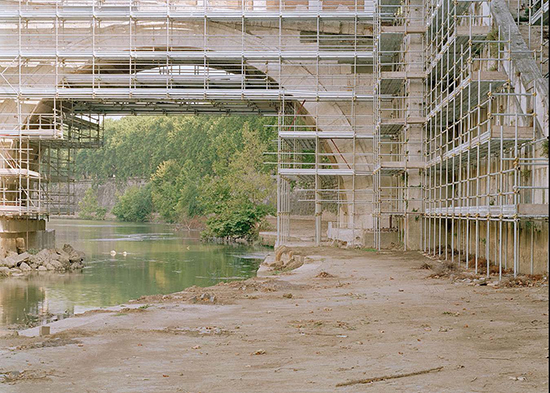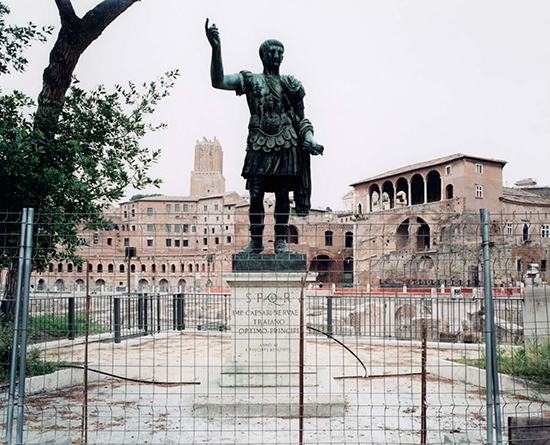 Landscape Stories: What are you currently working on? What projects do you have in mind for 2014?
Daniele De Lonti: I just finished a folder with a series of pictures made in the planetarium of Milan, a research on the maps about the infinite that I called DE SIDERA. Recently I am fascinated by the shape of the mountains that can be seen on moonless nights. Luigi Ghirri used to talk about his work as a great personal diary; Frank Gohlke to a similar question, during a workshop for Linea di Confine, said "I'm my project."
After all these years of work I think I have understood the meaning.
Daniele De Lonti on LS 1o | Sports
Interview curated by Gianpaolo Arena
Translation curated by Sergio Tranquilli