Landscape Stories: We can find in your european projects a lot about the American dream. Why do you think american photography is so important? Which are your favourite american photographers?
Yann Gross: Well, I actually only did one project strictly about the dream of the American lifestyle. It was one of the first projects I did and my preoccupations are actually more about the way people shape their identity and develop a sense of belonging to a community. Of course, American photography from the 70's et 80's, but movies also from that period, influenced the way I shot the series Horizonville. I had no money to travel, so I tried to escape from my daily countryside routine, took a moped and did a roadtrip (a very American thing) in a valley next to my home. I transformed this dailylife with the pictures, with a reference to the American iconography (myself, I had never been to the US before that series but I knew the work of Ed Rusha, Walker Evans, Diane Arbus and Edward Hopper).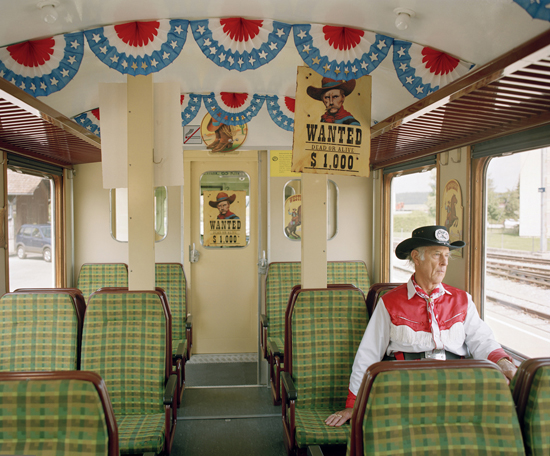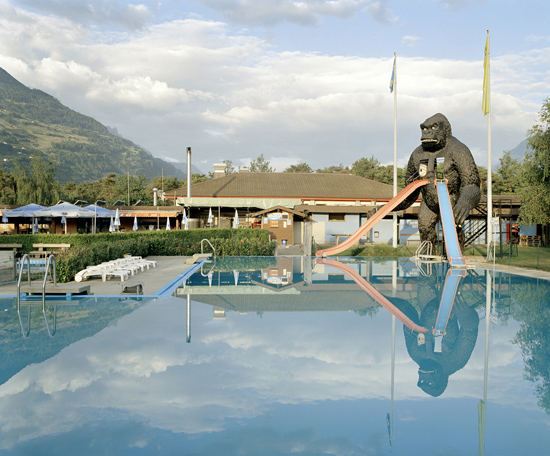 Landscape Stories: Could you tell us something about your education as visual artist? What do you think is essential in teaching photography now? Could you tell us something about photography schools?
Yann Gross: Art schools are good because you learn faster and if you lack discipline, it's a good place to go for you. They aren't essential but they help a lot. It depends also a lot on the character. Entering the photography world is like entering the jungle. By getting a guide, you will reach your destination sooner and you will see what is supposed to been seen. By starting an adventure alone, you may get lost or reach the destination later, but you gonna see a lot of different things. Advices of experienced people is always helpful, especially when you are at an early stage of your activity. You don't need to agree on everything but at least, you have to develop a critical sense. Art schools is a place for exchange and you can use great infrastructure, so I would definitely recommend them. I went to school at ECAL in Lausanne and later taught there for 3 years… Then, I left because I needed to go back to the "jungle" for a while.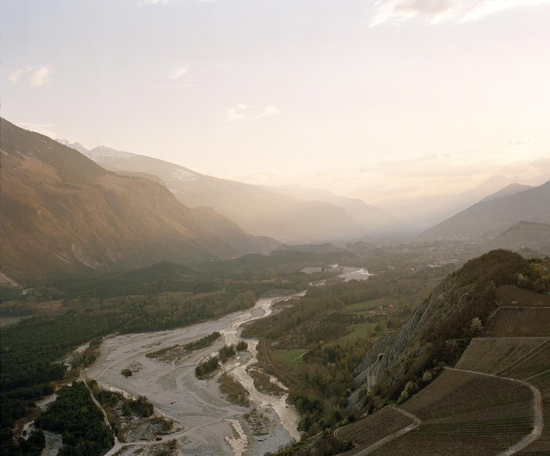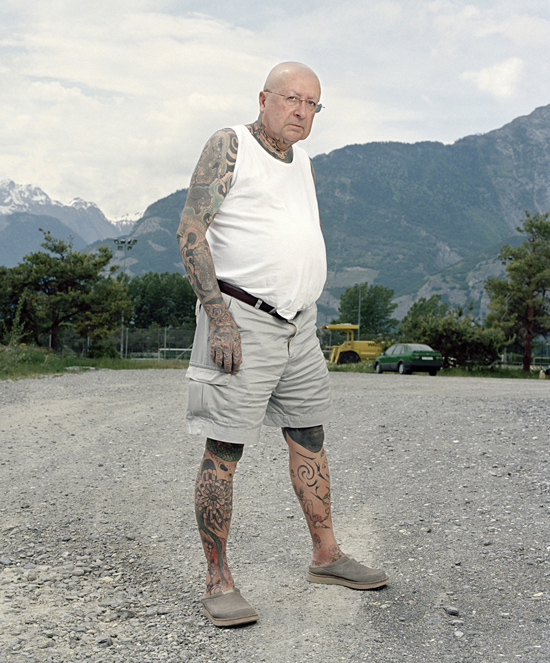 Landscape Stories: You often talk about identity and escapism. What does it mean for you?
Yann Gross: I love outlying places, where people can create a space of freedom and look for happiness. There's a lot of poetry is these offbeat situations. And somehow, almost everybody has a goal and wants to reach something in his life. So how we define our identity and how do we find our place in the world? I'm obsessed by this question. In his book "Tristes tropiques", French anthropologist Claude Lévi Strauss wrote : "All that is over: humanity has taken to monoculture, once and for all, and is preparing to produce civilization in bulk, as if it were sugar-beet. The same dish will be served to us every day. " I agree with his statement and he was a visionary. Especially nowadays, as the Internet has reached the most remote places of the world. But still, I think there are several ways to grow the sugar-beet Lévi Strauss talks about and depending on the ingredients, the "monoculture dish" still has a different taste.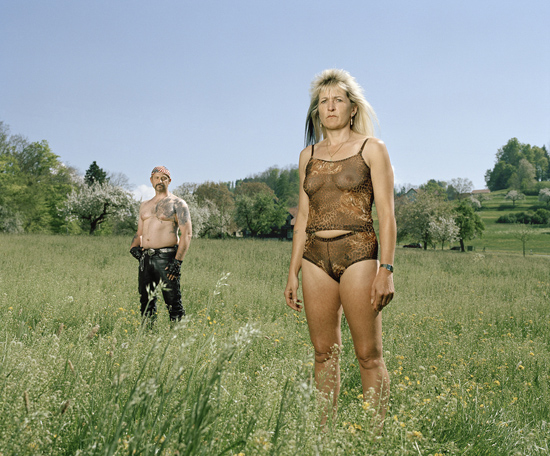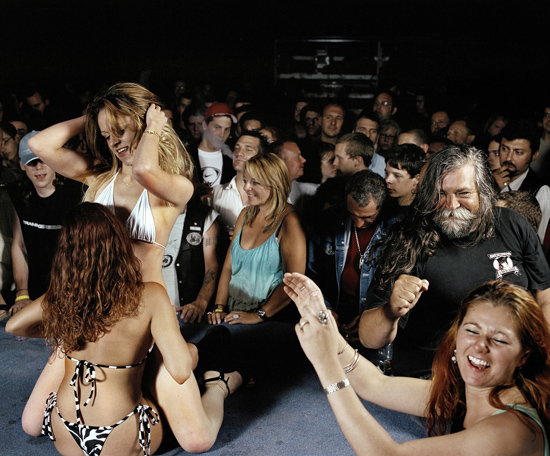 Landscape Stories: You've worked in Africa, now you're working in South America. How your approch to the people and places changes from Europe to that countries?
Yann Gross:It doesn't change much, it's all about time anyway. The most challenging part is to learn a language and understand the habits and customs of a place. I usually take 3 or 4 years to develop a project and I actually don't take pictures only, I combine it with other activities. It's all about collaboration: in Uganda, the youngsters wanted to developp the skateboarding scene, to reveal the skateboarding culture to the country and build a bigger skatepark. In Brasil, we project to start an indigenous web TV and I organised audiovisual workshops. Soon we are going to release some video clips of the first indigenous Brazilian rap band.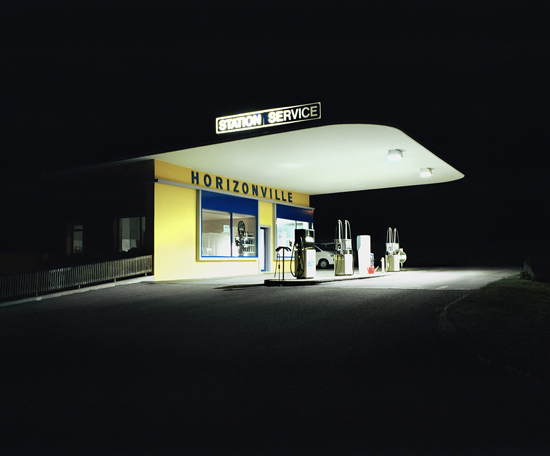 Landscape Stories: In your opinion how tecnique is important in photography? Could you please tell us something about the way you take photographs?
Yann Gross: If you are a painter and only have two colors on your palette,you gonna be limited at some point. I'm not a tech-freak but have experimented a lot during my studies to find an esthetic that fits to my preoccupations. The more I can avoid flash lights, the happier I am now. Working with daylight is definitely more challenging and beautiful to me, but I had to take many pictures to realize that.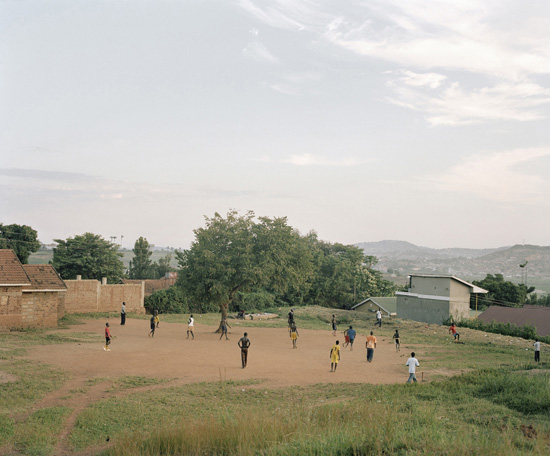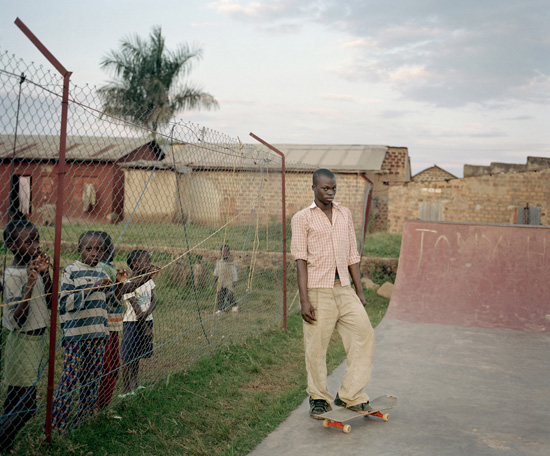 Landscape Stories: Recently you published "Kitintale." Has was the experience of being published? Which have been the most important moments in the construction of the book?
Yann Gross: First I published "Horizonville" with JRP|Ringier a great art book publisher. Publishing a book is expensive and it may take quite a long time between the beginning of the process and the printing of the final product. "Kitintale" is a self-published newsprint, a kind a teaser of what will come a bigger series in 10 years, as I am still working with the community of skaters. Working with a publisher is nice because he will take care of the distribution and get you more press than self-publishing. But on the other side, if you're not a very famous artist and your print run is low (between 1500 and 3000 copies), publishers can't invest money in your project because it is not sustainable. So, you have to find ways to collect funds for it. "Horizonville" took 18 months to be published, "Kitintale" 18 days… There are pros and cons in both cases, anyway.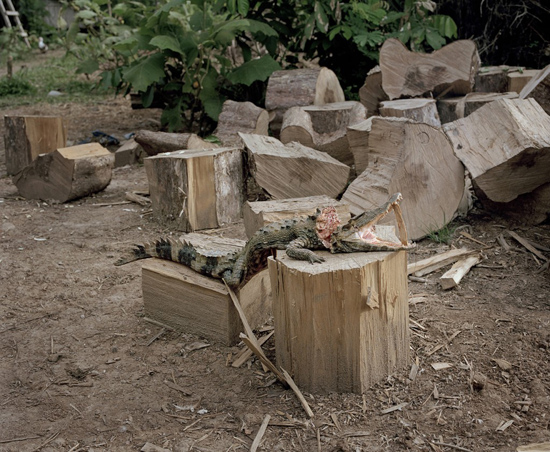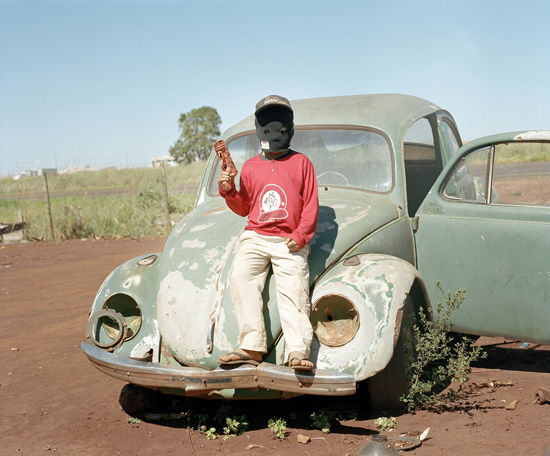 Landscape Stories: Thinking to your more conceptual works "La Barbe" or "Lavina". What could you say about the impotance of the idea? How do you chose between a conceptual or a storytelling way?
Yann Gross: I wouldn't say these series are "conceptual", they are just more formal. I think it depends a lot if there's a need of a story to be told or if an image can work alone by itself, without any combination or sequence. When I work on my avalanche project, I'm just fascinated by the shape of the avalanche and the phenomenon, I'm not interested in documenting the process of the triggering. So, I focus on what needs to be shown, the avalanche.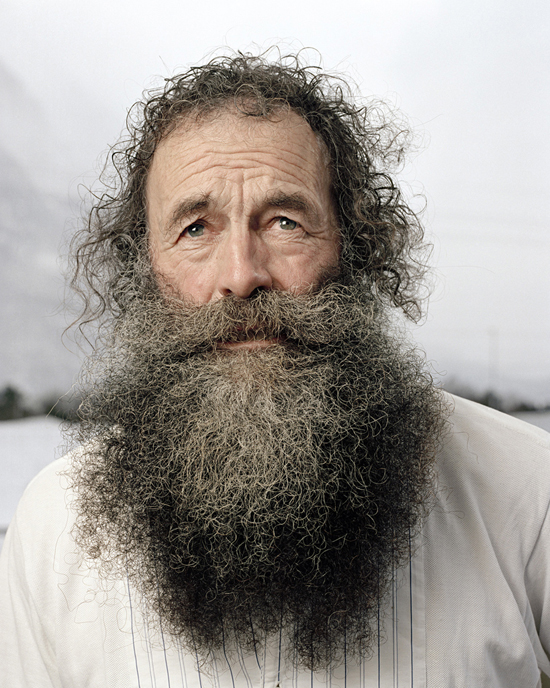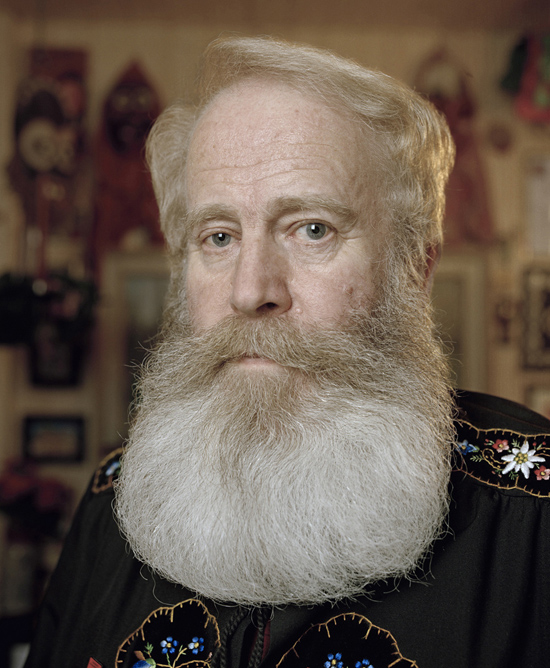 Landscape Stories: Sometimes is possible to see an 'exotic lifestyle' in your pictures. Could you tell us something about the way you choose your subjects? For example in Horizonville you say that you've been inspired by David Lynch's movie «A Straight Story». From which influences derives your dreamworld and what inspires you in your every day life?
Yann Gross: An important step in the world of images is the small but great cinema of the village where I grew up (low tech but cheap). I discovered amazing movies there when I was a kid. Directors like Takeshi Kitano, Carlos Sorín, Aki Kaurismäki, David Lynch or Emir Kusturica made me dream. It was a great window to the world. But now daily life, travels and people I meet along my way is definitely the most inspirating thing. When I'm moved by something/someone I see, I start digging and continue my research to see if there's an interesting story to tell. My work is documentary but I usually organize the photographs, I don't snap around but try to build images I have in mind.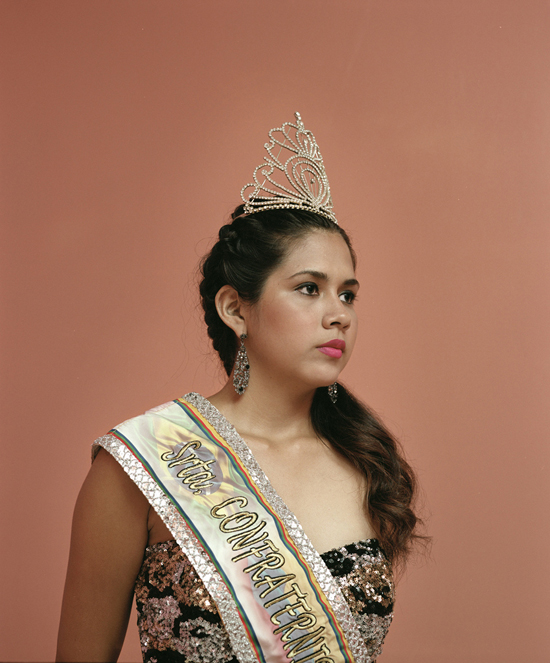 Landscape Stories: Do you attach some importance to the social, economic or political aspects of what you photograph? For example, there is in "Lavina" a particular interest in the condition of the Alps?
Yann Gross: Only focusing on esthetic or references doesn't interest me much, so somehow yes, there's a backstory for each series I do. I think the aspects you mentionned will be more present in the series I'm working on at the moment (the Jungle Book). Regarding the "Lavina" series, it was a more reaction to the classic mountain photography, which looks beautiful but is quite boring to me. I'm very familiar with the tourism industry in the Alps as my family comes from a village next to St-Moritz. The Alps have been a playground for tourists for over a century now, so there was no need to have a statement like "every thing is domesticated", we already know it (and Walter Niedermayr did a great work about the alps). But yes, somehow there's a statement about the condition of the Alps as I didn't camp on a peak for 2 two months waiting for an avalanche to come down. I worked whith mountain guides who trigger avalanches with dynamite in order to prevent accidents in ski resorts and other inhabited areas.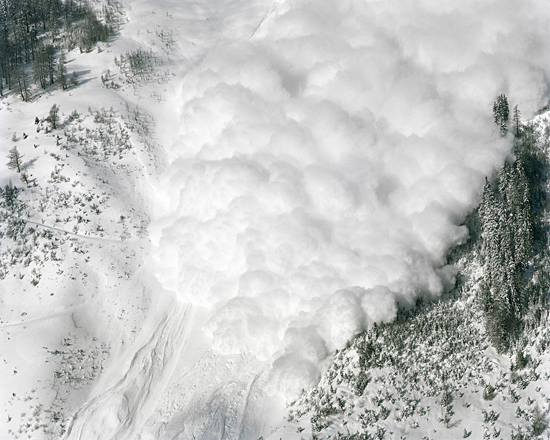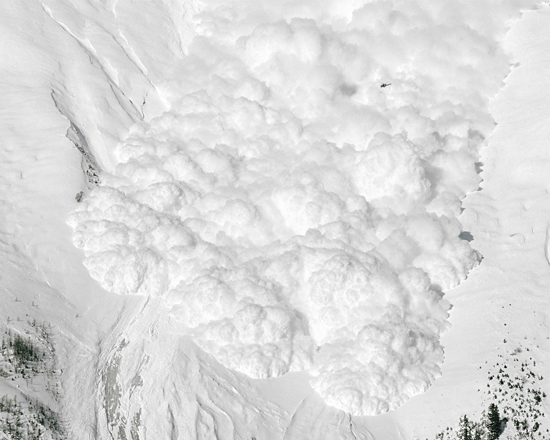 Landscape Stories: You've become member of Piece Of Cake collective. How was it? There are a lot of collective projects emergings. What do you think about collective projects?
Yann Gross: Naively, I would say "together we are stronger". Being a photographer is a lonely path and somehow people need to connect to each other. Collectives are great to create a dynamic in a group. But keeping it going on the long run is very challenging, because each individual of a group has a different susceptibility and may have other interests at some point. Actually, Piece of Cake isn't a collective, but a kind of network. We don't work together and don't have joint projects. We meet twice a year in order to exchange about our work and our perceptions of photography. It's a bit like going back to school, a lab where you can show your experimentation without being judged on your work. Of course, we also try to support one an other and we are connected virtually the whole year. If one of us needs advises or has an issue, other members will show support.
Interview curated by Marina Caneve