Landscape Stories: How did you first come to arts? What was it that drew you towards photography in particular? Who are your favorite artists and why?
Andreas Weinand: To become a photographer had always been my dream. This was the only profession I could have imagined since my childhood. It was a study trip to Berlin in 1977, organized by our school one year prior to the abitur, that opened my eyes to the possibilities of the artistic means of expression. We visited the exhibition "Tendencies of the 20th Century". Looking at George Groszs "The Pillars of Society, 1926" or Christian Schads "Self-Portrait, 1927" really matched my senses. Discovering these and other artworks awakened the confidence to find a way to express my feelings, which had been buried so far. There is a variety of artists which are important for me. In photography Diane Arbus is still my absolute favourite. I like her straight visual approach which is interested in both, the human vulnerability and curiosity. In painting it is Jan van Eyck. His "Man in a Red Turban, 1433" is one of my most esteemed portraits. In literature it is Chervantes "Don Quijote". Sancho Panza is such a great philosopher.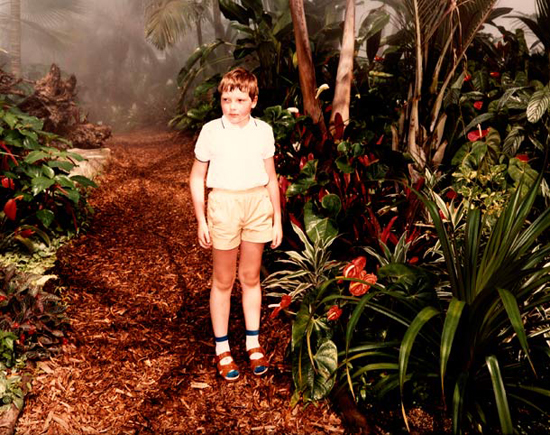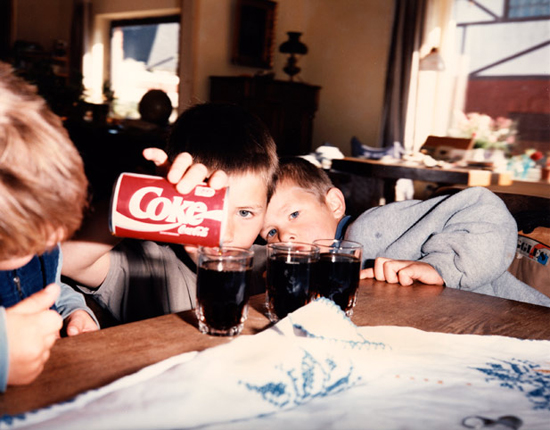 Landscape Stories: Do you see any tendencies in photography now? Who are the photographers that most excite you today? Which emerging artists are you looking at?
Andreas Weinand: Today nearly everybody is able to take snapshots with a mobile phone or easy going digital cameras. This omnipresence of depicting everyday life is a contemporary phenomenon that causes questions about the core values of photography. I see this with enthusiasm. I am interested in photography that addresses vital questions.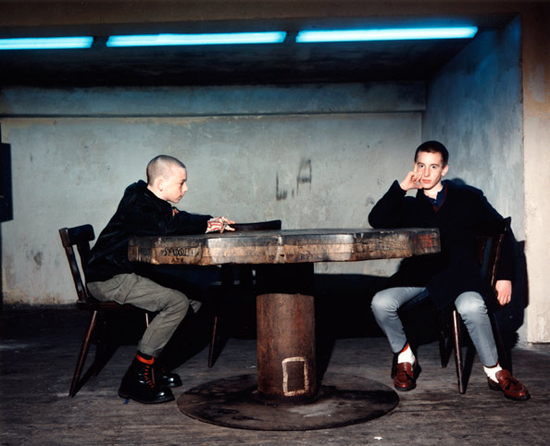 Landscape Stories: You have some ideas you'd like to realize. How do you develop your projects? What is your methodological approach and intent?
Andreas Weinand: Initially I start with an unbound interest in a subject. Think about how to specify it. I do not have the title in mind so far and cannot describe by words how it will work out. The idea exists as a feeling. It develops on a subliminal level. Gradually I get more deeply involved in the topic, discover new aspects and specify my perception. Finally I visualize a level of content which I could not have imagined in the beginning.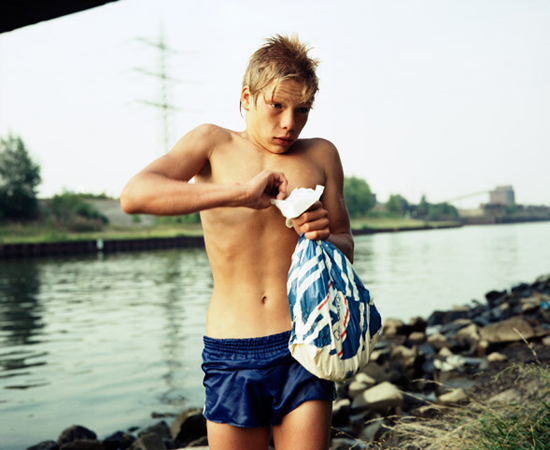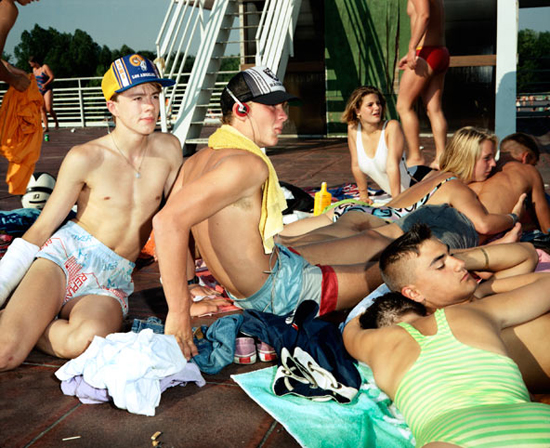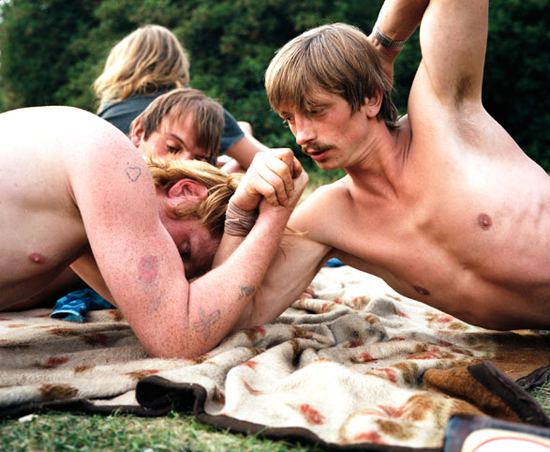 Landscape Stories: Were you involved in punk rock scene? What kind of music did you listen to? And now?
Andreas Weinand:Born in 1958 I was too young to be a hippy and too old to become a punk, although it definitely matched my feelings. I always aimed to live my own style, got inspiration from many fields. Düsseldorf, where I was raised and went to school in the 70's, had a vibrant art and music scene. Joseph Beuys, the FLUXUS movement, electronic music like KRAFTWERK and Punk Rock had been around. Frank Zappa I liked very much, Iggy Popp and others. Discovering FREE JAZZ at the Moers Festival in 1978 was a milestone. I had just bought a camera and found myself photographing at the stage where the Art Ensemble of Chicago was performing. That really blew my mind away and pointed me towards art.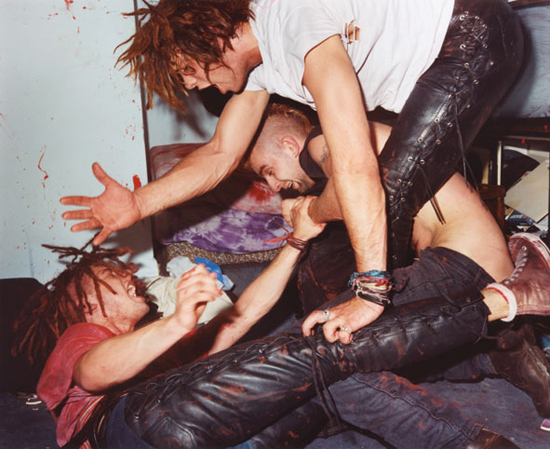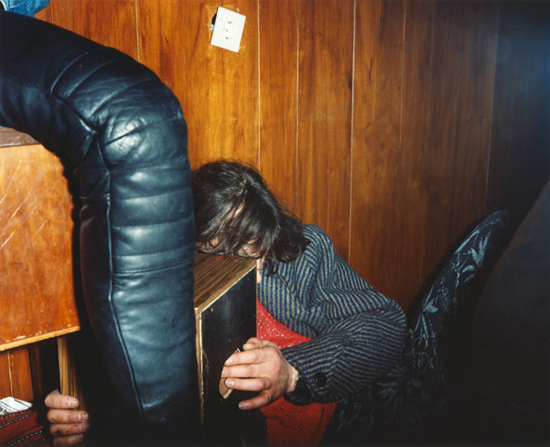 Landscape Stories: Do you think that it is important to interact and communicate verbally with your photographic subjects before shooting? Do you ever go back to subjects whose portraits you took in the past to take another one?
Andreas Weinand: Yes, for me it is absolutely important to interact with the people I want to photograph. In situations where I feel that it is impossible to ask, I communicate on a non verbal level. But this is the exception. I prefer to work on a project over a longer period and get familiar with the people. With Melanie from COLOSSAL YOUTH I kept contact over all the years. She is a grandmother since four years, which means that Fee, the baby from the family photograph is a mother herself. I continued to photograph Melanie with her daughters. Especially Fee and her child Amelie. I also proceeded to film and photograph Margret and Walter from THE GOOD EARTH. Collecting and combining photographs from different periods of life is an important aspect in my photography.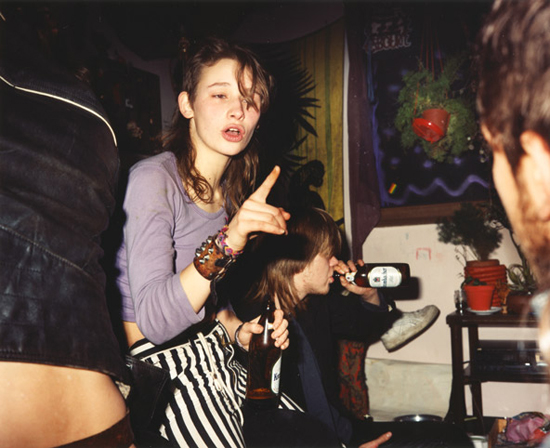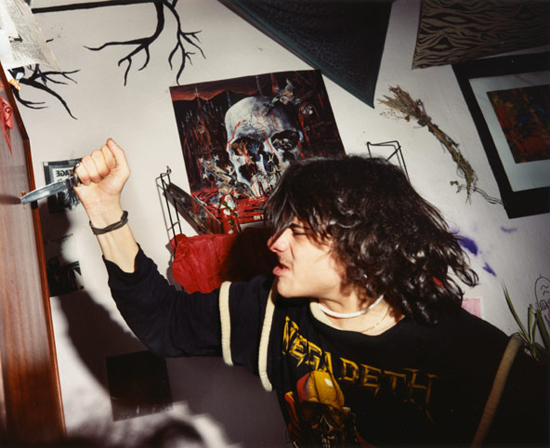 Landscape Stories: All the people in your pictures behave very naturally. How do you achieve this? How did you come to this state in your artistic practice? Do you have specific ideas on how you want to photograph your subjects or do you let them lead the way?
Andreas Weinand: Thank you very much for this compliment! It is my approach to let people and scenes look natural. Just as I see them, as a frozen view. This is my conception. I carefully work this out. I have to get into a certain perspective at the right moment. I always follow my genuine interest, let my intuition work. Since I started to focus on portraits I have intensified speaking directly with the protagonists. I do not like to construct specific scenes and attitudes by means of instructions. I let the situation come up although I am aware of the fact that my presence, everything I do has an impact on the scene. It is my challenge to creatively deal with this.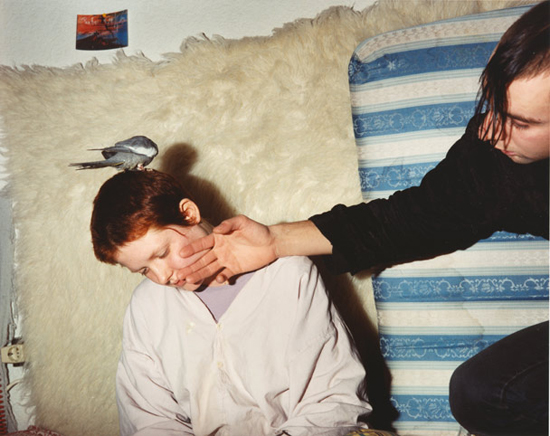 Landscape Stories: How photography is helpful to understand reality, to overcome the suspended uncertainties, to dissolve doubts?
Andreas Weinand: Taking photographs in a documentary way is about framing and selecting. I can put emphasis on a certain concern or ignore it. The images can be both grounded in reality or faked up stories that pretend to be true. One has to find out. Photography is part of our ongoing reflexion and communication about life. Uncertainties and doubts are unavoidable and essential in order to find one's own state of mind.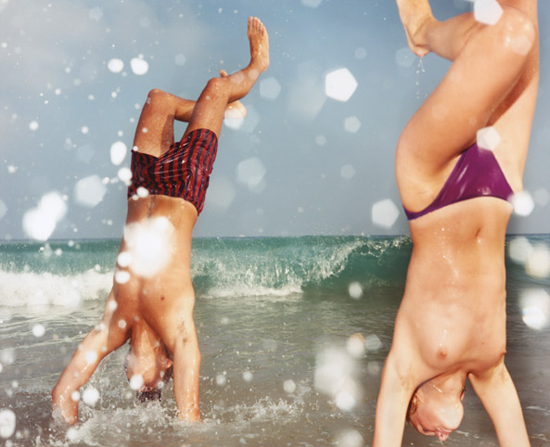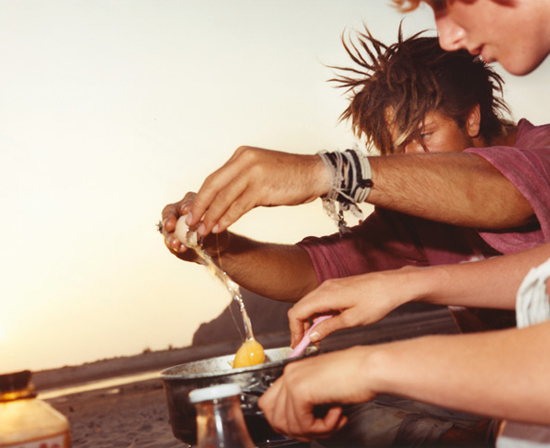 Landscape Stories: Starting from your experience, what is the limit up to which you can teach photography? What are the strengths and weaknesses?
Andreas Weinand: Primarily I understand teaching as a communicative process. It is to encourage students to believe in their individual abilities, give space for an open minded exchange of ideas and demand for commitment. It is to enable new experiences in both thinking about and looking at photographs and promote a deliberate use of the technical skills. Engagement and quality can not be forced. You can inspire and evoke creative abilities. Promote an enduring investigation by means of a respectfully guidance.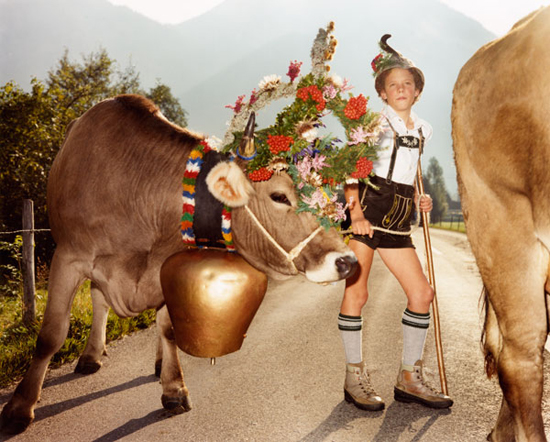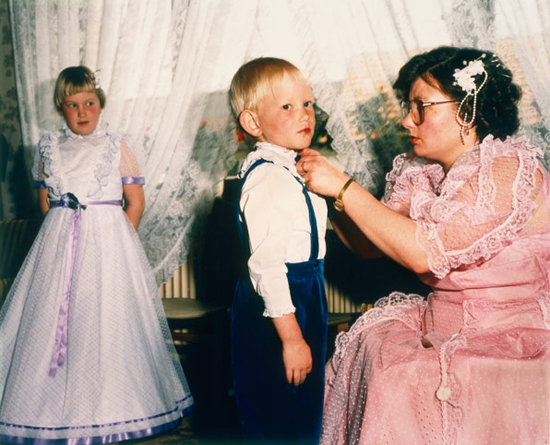 Landscape Stories: Could you tell us something more abot your collaboration with the Berlin based editor Peperoni Books?
Andreas Weinand: I am very happy with our collaboration. Hannes Wanderer transformed my images by means of a compelling design in both books COLOSSAL YOUTH and THE GOOD EARTH. While working on the flow of the images we sit side by side and discuss until we are both satisfied. I trust in his years-long experience in book making and his knowledge about all printing processes.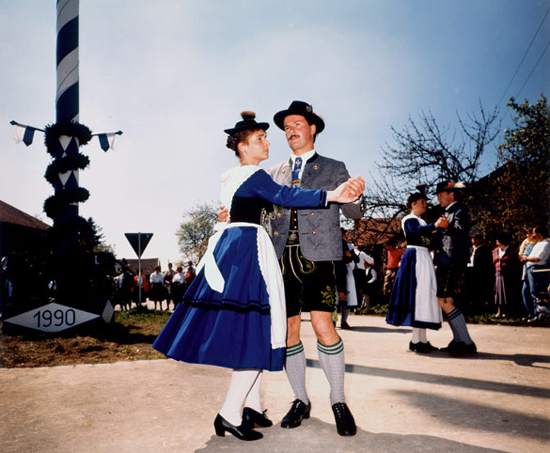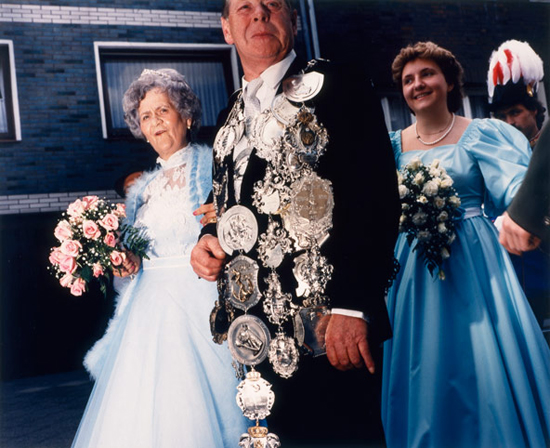 Landscape Stories: Do you have any preferences in terms of cameras and format?
Andreas Weinand: I still use my analog cameras although I also photograph digital. It depends on the circumstances. Projects that are really near and dear to me I photograph on negative film, as I always did. Preferably with my 6 x 7 cm Makina, which I have used for 30 years. I intuitively bring it into action.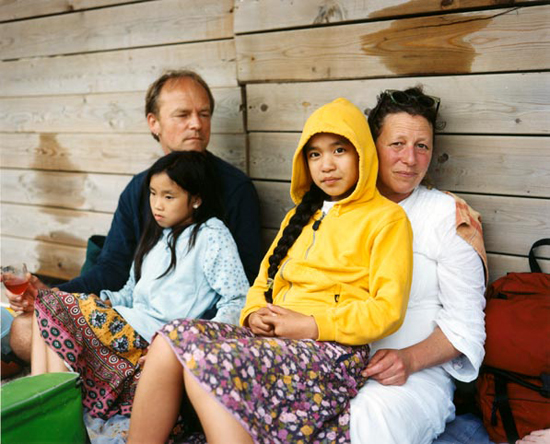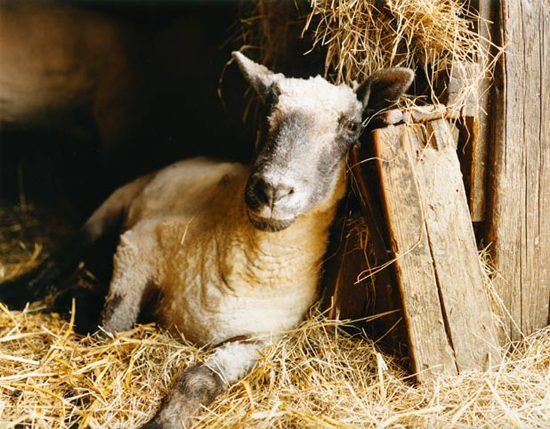 Landscape Stories: Can you suggest us 3 photography books that you liked?
Andreas Weinand: When I approached photography in the early 80's, Larry Clark`s books "TULSA" and "TEENAGE LUST" made me wish I had photographed at the time of my school days, when I did not know what to do in life. Nan Goldin's "Ballad of Sexual Dependency" I got to know by the end of the 80's when I already had found my way. 3 Milestones that should be approved as school books.
Andreas Weinand "Colossal Youth"
FLIRT portrait photography workshop con Andreas Weinand a Venezia, 5-7 Giugno 2015
Interview curated by Gianpaolo Arena