Landscape Stories: I remember once talking with a photographer about his photobook-project he told me that he wanted to design the book himself because this helped him to develop the photographic project. What do you think about the collaborative process between photographer and graphic designer? At which point of the photographic process does the photographer have to start to talk with the designer in you opinion? Is it possible to help photographers to develop their own works?
Sybren Kuiper: Graphic designers are there to help photographers to tell their stories in the book form. This can happen at any stage of their project. I work with photographers who finished their project and did multiple edits themselves already (but felt that they didn't bring their project to its full potential), but also with photographers that are only just starting and have only made a few photos, and everything in between. Most photographers don't take their photos with the narrative it will have in the final book in mind. How could they? So what happens more than once is that at the moment we arrive at a narrative structure for the book, we are getting aware of gaps in the story. There are not enough pictures to tell the story right. If possible, photographers go back to their subject to fill those gaps. Florian van Roekel went back several times to the offices he portrayed for 'How Terry Likes his coffee.'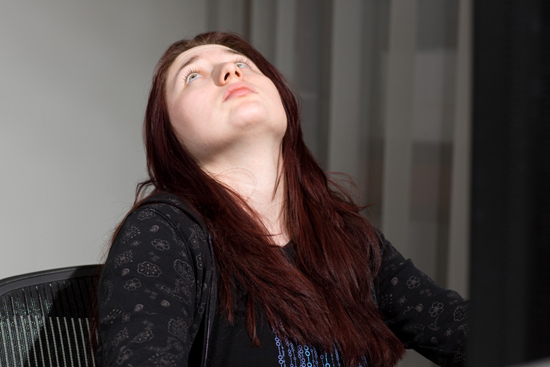 Landscape Stories: I often think about Macedonia by Cuny Janssen when I think about graphic design work. It is a great example of good design that reflects good photography or, even better, enhances it. Tell us something about this process.
Sybren Kuiper: A big part of designing photo books is about solving problems. The trick is to make your solutions not to look like they are there to solve a problem but as so they help the narrative. In the case of 'Macedonia', Cuny had moved on from only child portraits to photographing also landscapes. The portraits she gave me were vertically oriented and the landscapes horizontal. They were both equally important to her, so they had to be used in equally big size in the book. She didn't want photos going through the gutter (the spine) of the book nor portraits and landscapes to be in separate sections. Also, she would not give the impression that the portraits and landscapes next to each other were actually connecting in a very meaningful way. They were not illustrating each other. It really took me a long time to come up with the relatively simple solution of the tilted landscapes which solved all the problems. But…. to get the structure this strong meant that she had to make some sacrifices. All the vertical oriented portraits had to stay out as did the horizontal oriented landscapes.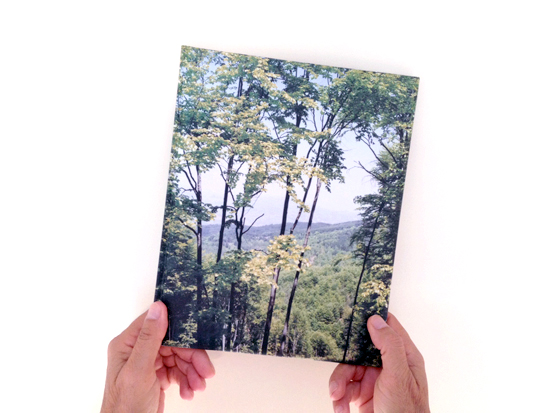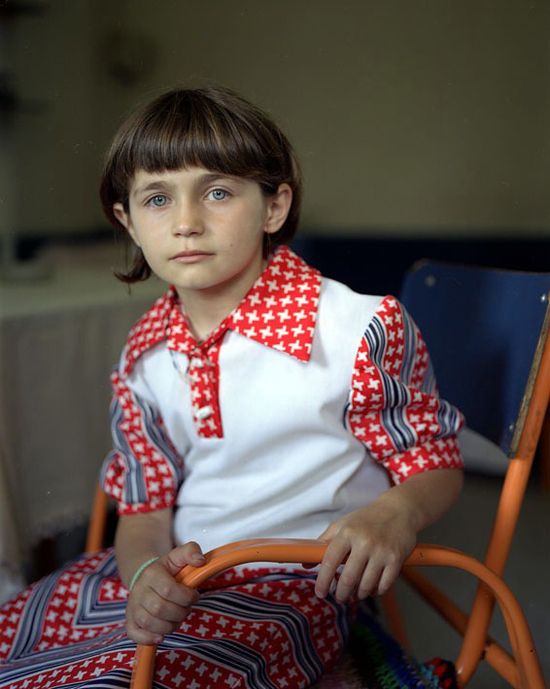 Landscape Stories: Cuny Janssen often tells the story of your first meeting in a supermarket. Please tell us something more about this story and your collaboration in the years, I'm curious about the last book that you made together too. Are there any other photographers with the same "long-term" relation with you?
Sybren Kuiper: 'Blu' is a much more classical designed photo book. No need for "extras" here, although there are some very strong editing choices, like the choice to pair the middle class children with the gypsy kids, as if they were from the same walk of life. I aim for a little hesitation and doubt there. I always feel that if readers have to look twice because they are not right away sure how to interpret what they see, that is a huge plus.
Landscape Stories: You worked of course with a lot of Dutch photographers, but the first time that I've heard about your work was from the Italian photographer Valerio Spada talking about the amazing design that you developed for 'Gomorrah Girl'. Do you have a particular affinity with Dutch photographers or do you prefer to experiment with other cultures? I guess culture can have a strong impact on this relationship…
Sybren Kuiper: I'm actually not busy with cultural differences, I'm only busy with tuning in on the photos and the story they want to tell.
Landscape Stories: Where do you find inspirations in daily life? Do you think your first studies have influenced your work?
Sybren Kuiper: Not sure about daily life influences but my study on Dutch Language and Literature has helped me a lot. A photo book is not only an edit of photos, it is also a balancing act between photos, text and context. I hate prefaces, because I hate somebody telling me how to look at a project before I have had the change to look myself. In the back of the book everyone can write what they want, so in my books the preface are in the back most of the time. I have no problem with that. There are always exceptions though. The text by Moses Isegawa that starts off Flamboya is an autonomous masterwork in its own right. Sometimes I even use text myself to propel or structure the photographic narrative. In Carolyn Drake 'Wild Pigeon' I proposed to use quotes from the text by an Uyghur poet (that was printed integrally in the back of the book), to start every section with. In 'Mist' by Niels Stomps I wrote the small quotes on the yellow pages that divided the sections myself and in 'A contrived past' by Korrie Besems I asked poet Ingmar Heytze to write a poem that I cut up in individual sentences to pace the rhythm right.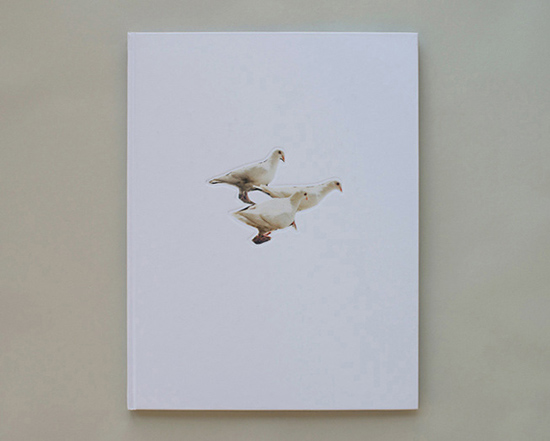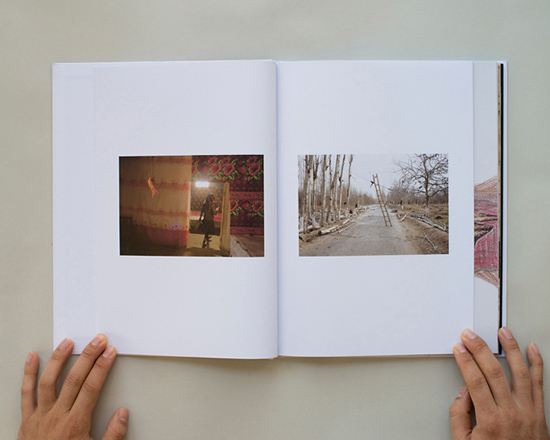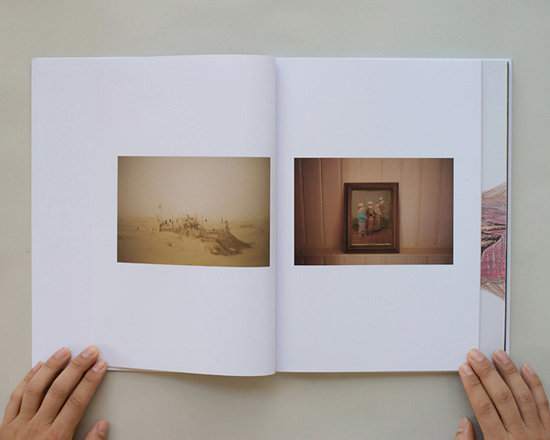 Landscape Stories: As a designer do you prefer to work with multi-layered photographic projects or "classical" works? I think about, for example, Niels Stomps or Vivian Sassen…
Sybren Kuiper: Not necessarily, although I like the challenge it poses.
Landscape Stories: With which kind of professionals figures do you work with in the production of a photobook?
Sybren Kuiper: Most of the photographers I work with are self-publishing, so it's their own hard-earned money that they put into the project. So we have to be really picky with what printer we work with. We don't have the luxury to work with the most expensive one, that's for sure. If there is any chance though, I work with Sebastiaan Hanekroot from Colour & Books to do the production and lithography.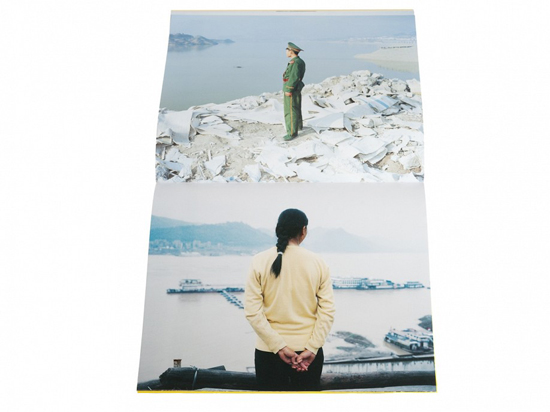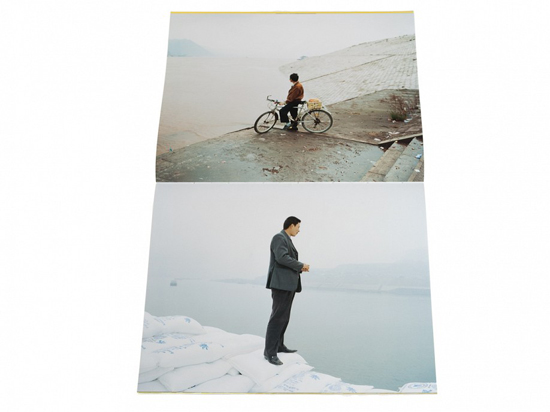 Landscape Stories: What do you think about digital photobooks? Do you think they have the same value of printed photobooks and have to be designed in the same way? Have you ever discussed this possibility with a photographer?
Sybren Kuiper: A digital book can hardly have the same physical presence as a real book. You are still looking at a glass plate. No touch no smell, no object in your hand. It is a totally different kind of intimacy. Less sensitive and even less sensual. But then again it might suit some projects better than a book and I would be really interested to see how you can stretch the limits of storytelling in that medium.
Landscape Stories: I've read that you are not a photobook collector but I'm curious: if you were to have to save 5 photobooks at the end of the world, which ones would you pick? And which kind of other books does your library contain?
Sybren Kuiper: I hardly ever buy a photo book and I'm sure that if the world ended I wouldn't grab photo books to save. Not that I don't admire other photo books or other designers, maybe I admire them too much and do I feel the need to keep the influence they have on my work as small as possible. I prefer the state of 'plausible deniability' if I don't know other books I can't 'steal' from them. But of course I know other books. A few books I think that were really well done are (to mention only a few): 'Why mister Why?' and 'Baghdad Calling' by Geert van Kesteren, both designed by Mevis and Van Deursen. 'Ramya' by Petra Stavast. Designed by Hans Gremmen and I think Kummer + Herrman did a tremendous job on the whole Sochi project of Rob Hornstra. And there are a lot more.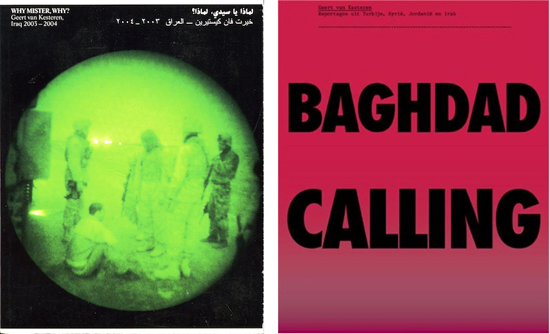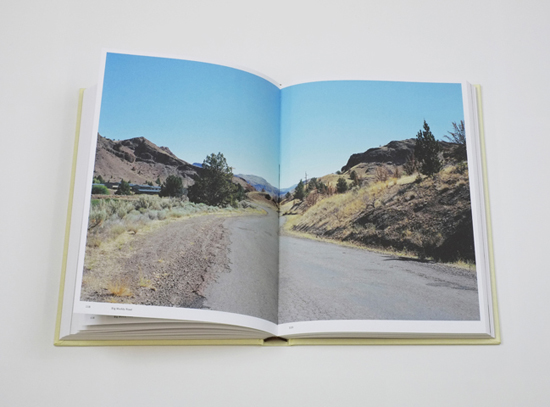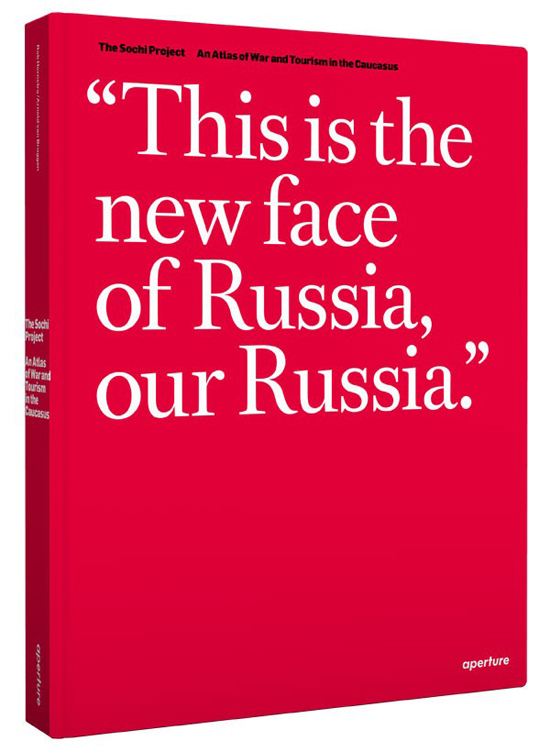 Landscape Stories: Can you give out some tips for a photographer coming to your studio for the first time?
Sybren Kuiper: Be open and stubborn at the same time. Know what you want but let go of your ideas on how to achieve that. Be prepared to be surprised by your own work, but stay ruthlessly honest when you are not happy with what the designer did. Only in that open discussion we will get somewhere. Ego's out.
Landscape Stories: Do you have any anticipations about your future projects?
Sybren Kuiper: Always.
Interview curated by Marina Caneve