Landscape Stories: Let's go back to the beginning. How did you get started in photography? How did you develop your skills as a photographer when you were young?
Michael Lundgren: The first picture I recall making was of a tree in a meadow behind my house. I was maybe 8 years old. We had this old Argus twin-lens camera and I wandered out there because in the autumn this particular tree looked like it was on fire. I remember framing it on the waste level finder. I remember the sound of the shutter release. I never found out if the tree looked like fire because there was no film in the camera! My first real training was at a place called the Community Darkroom, which was housed in the upstairs of a converted fire station on Monroe Avenue in Rochester, New York. It had a tiny darkroom with a few enlargers, a finishing room and classroom. It was my first real taste of chemistry. I took photography classes through high school and spent a lot of time in the school darkroom. I was not a social person and the darkroom was my sanctuary. I later studied photography at the Rochester Institute of Technology and at the turn of the millennium I moved to the desert and began my graduate studies at Arizona State University.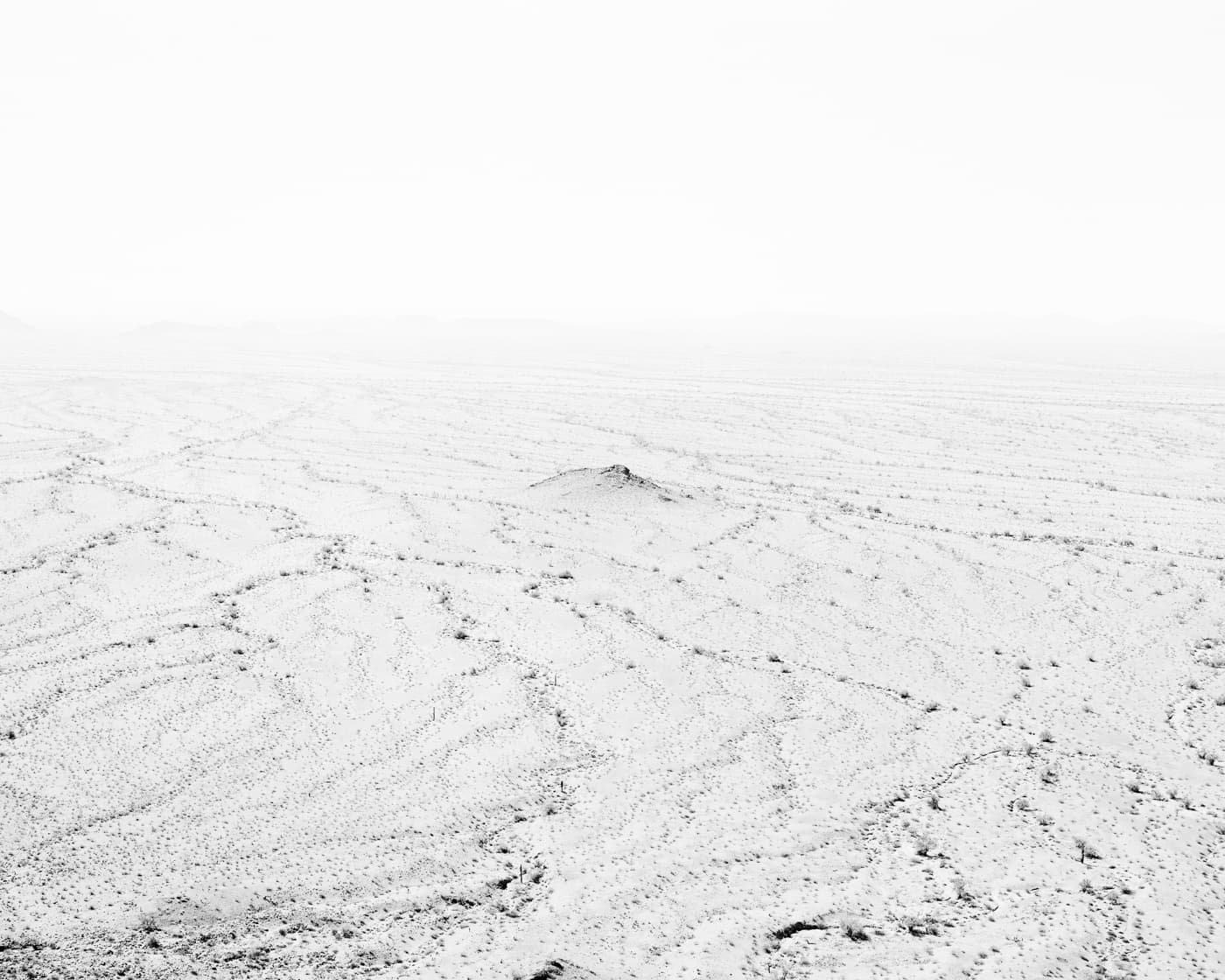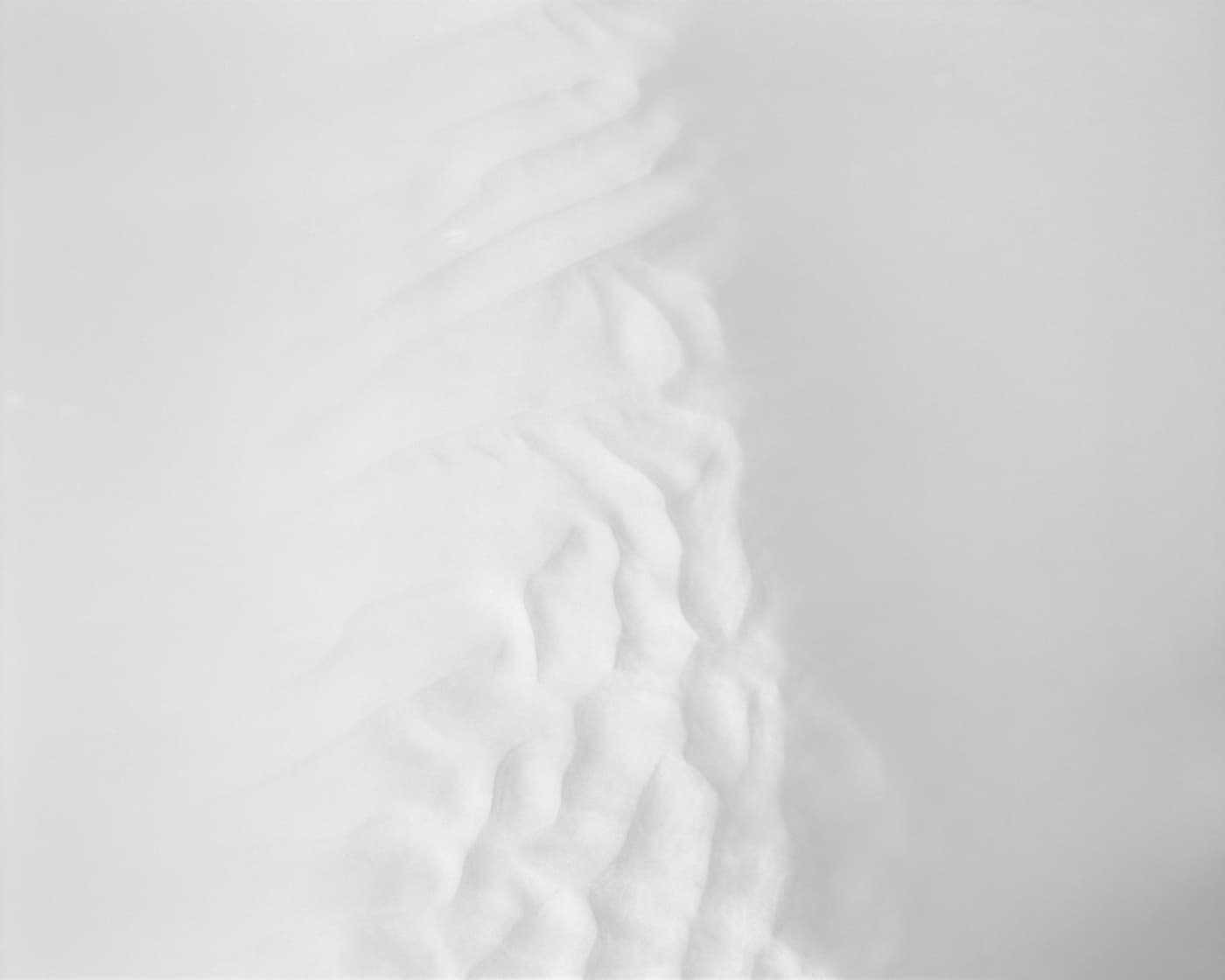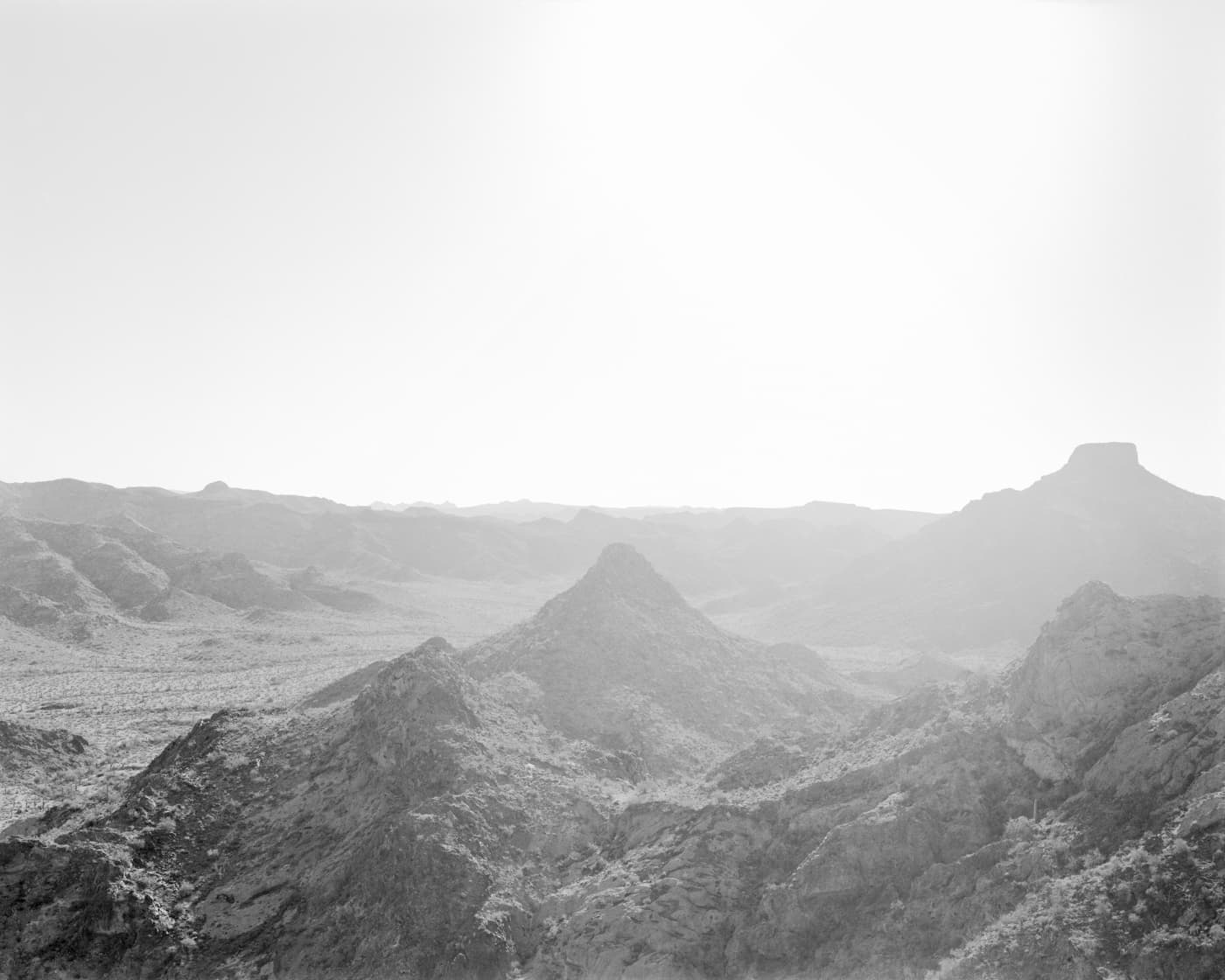 Landscape Stories: Could you describe your earliest experiences with photography, both as a viewer and an artist?
Michael Lundgren: I wanted to be out in nature. At first I was after the thing itself–this tree, this stream, this field. But looking at mainstream nature and landscape photography made me unsure of my own position. There was this rift between nature photography and landscape photography. If you wanted to be a nature photographer first thing you had to do was to not include any element of the human. If you wanted to be a landscape photographer the work had to be about the human. This really confused me. Was there a middle space? The majesty of an Anselised Landscape wasn't an option where I lived. The forest where I grew up was small, intimate, decaying and overgrown in the summer and sparse and quiet in the winter. When I was an undergrad I saw a large Minor White exhibition. I can't recall if it was in New York or at the Eastman House in Rochester but I remember being shocked by how corporal they were. Trees and sand and light and limbs––all akin to my own physicality. They felt factual and spiritual and sexual which was a new conflation to me. What does matter have to do with spirit?
I later found out that White was a follower of G.I. Gurdjieff, an Armenian spiritual teacher. My father was and still is a practicing member of a Gurdjieff group in Rochester that I also attended from high school until I moved to the desert. A basic tenet of this work is an effort to "be" in the present moment and an attention to the deeper question of these experiences. There was this resonance here to strive for a deeper meaning in my photographs. I began to see the process of being in the present as a corollary with the 'seeing' vision of the camera.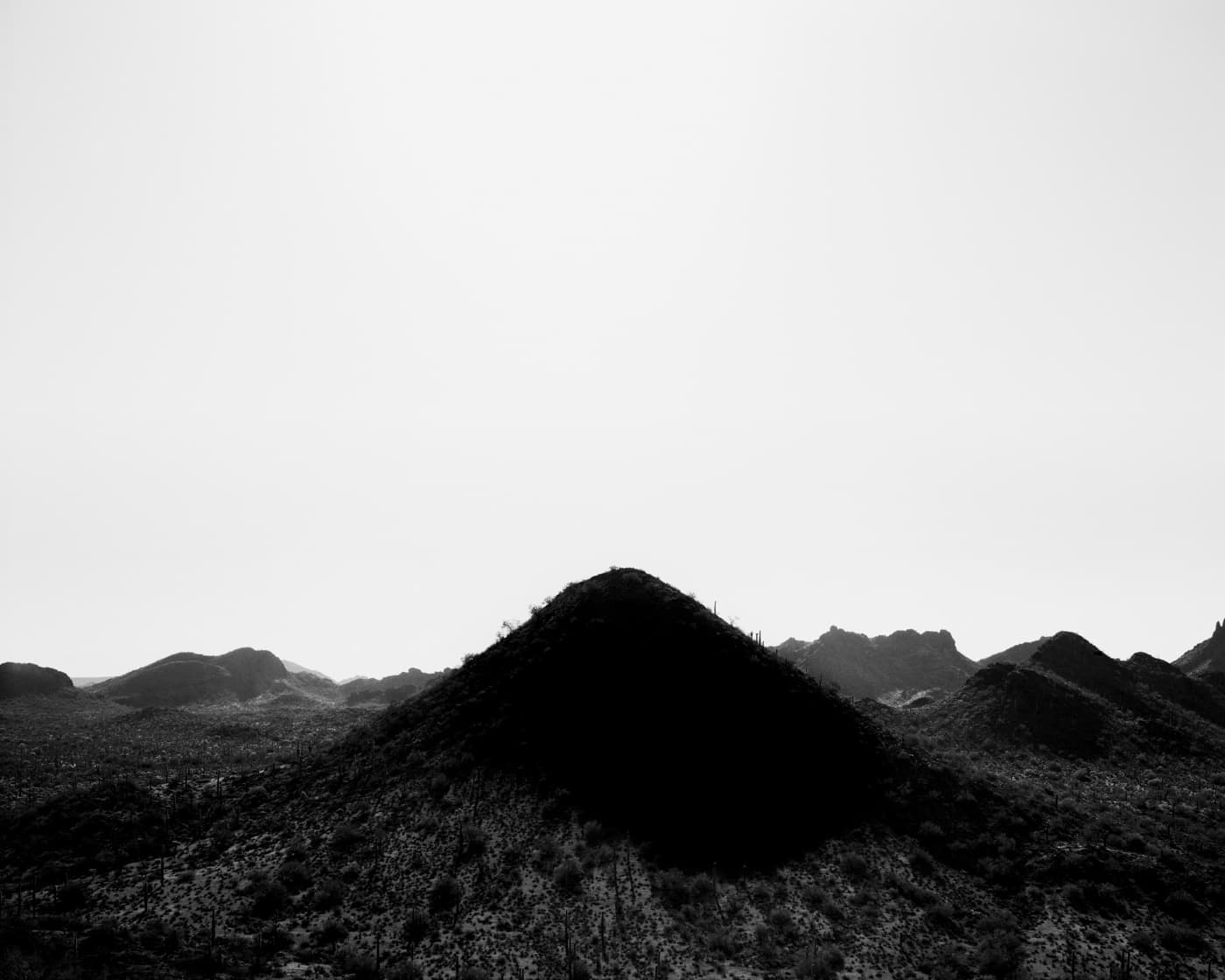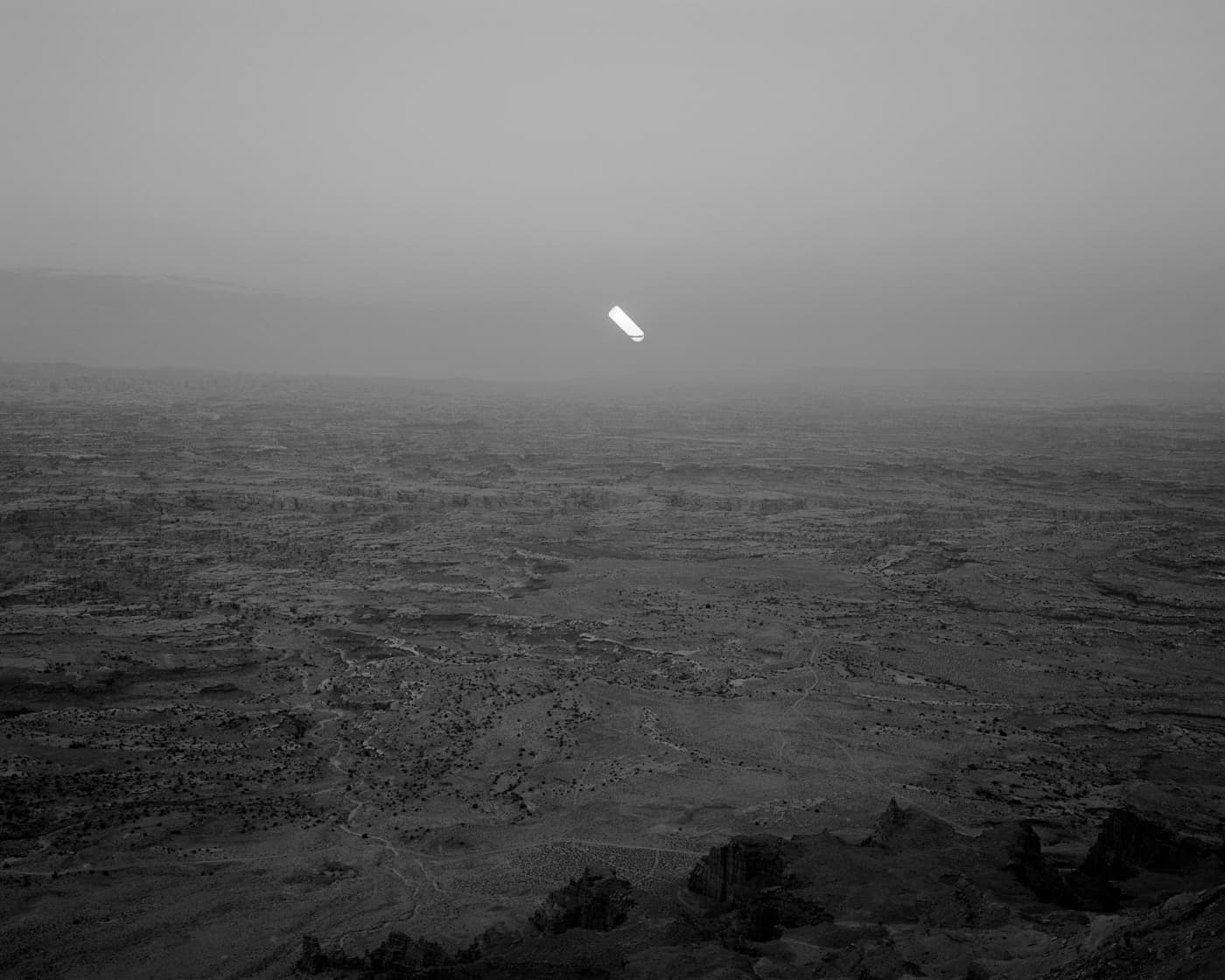 Landscape Stories: What poetry or artist influenced the most your beginnings? Which photographer has inspired you most?
Michael Lundgren: My earliest literary influences were writers like Barry Lopez and his books about landscape and culture, but before that I was fascinated with Native American mythology and stories that positioned human beings as members of the culture of the Earth such as The Education of Little Tree by Forest Carter and Black Elk Speaks by John Neihardt. These books educated my conscience but also paved a path for me into a visual response that was earth-born and essentially spiritual. Thomas Joshua Cooper was a primary influence then. In particular his book, Between Dark and Dark, this mysterious volume of photographs that pulled magic and abstraction out of the simplest of landscapes. I was drawn to their quality of darkness. The prints pushed against the traditional full tone print that I had been taught to make. There was an edge of sight quality to them–as if you looked at them from the side they might fall into blackness. Yet they were so detailed and optical these differences produced a fissure, an obscure clarity to contend with. I began to think that a picture should hold more than one nature within it.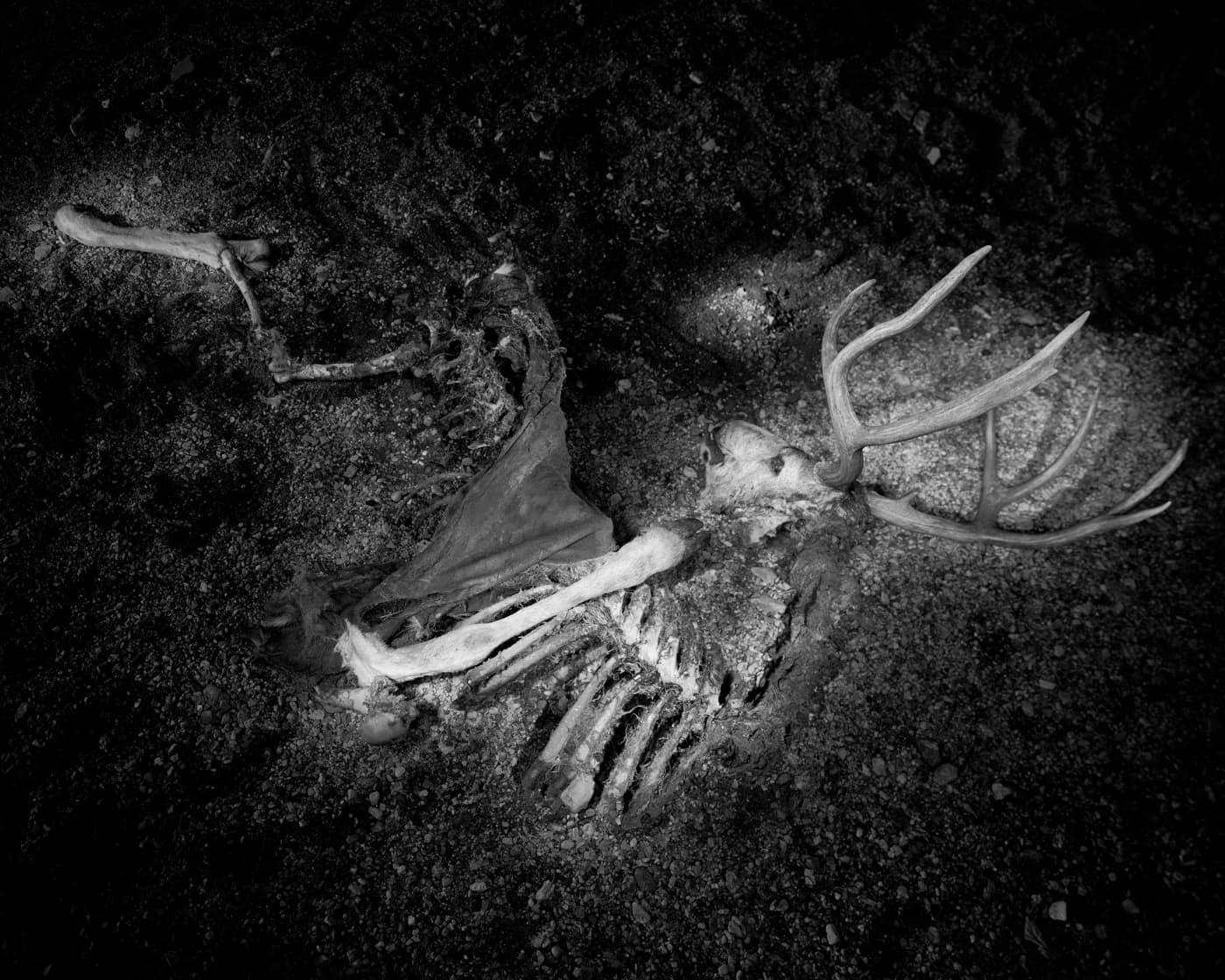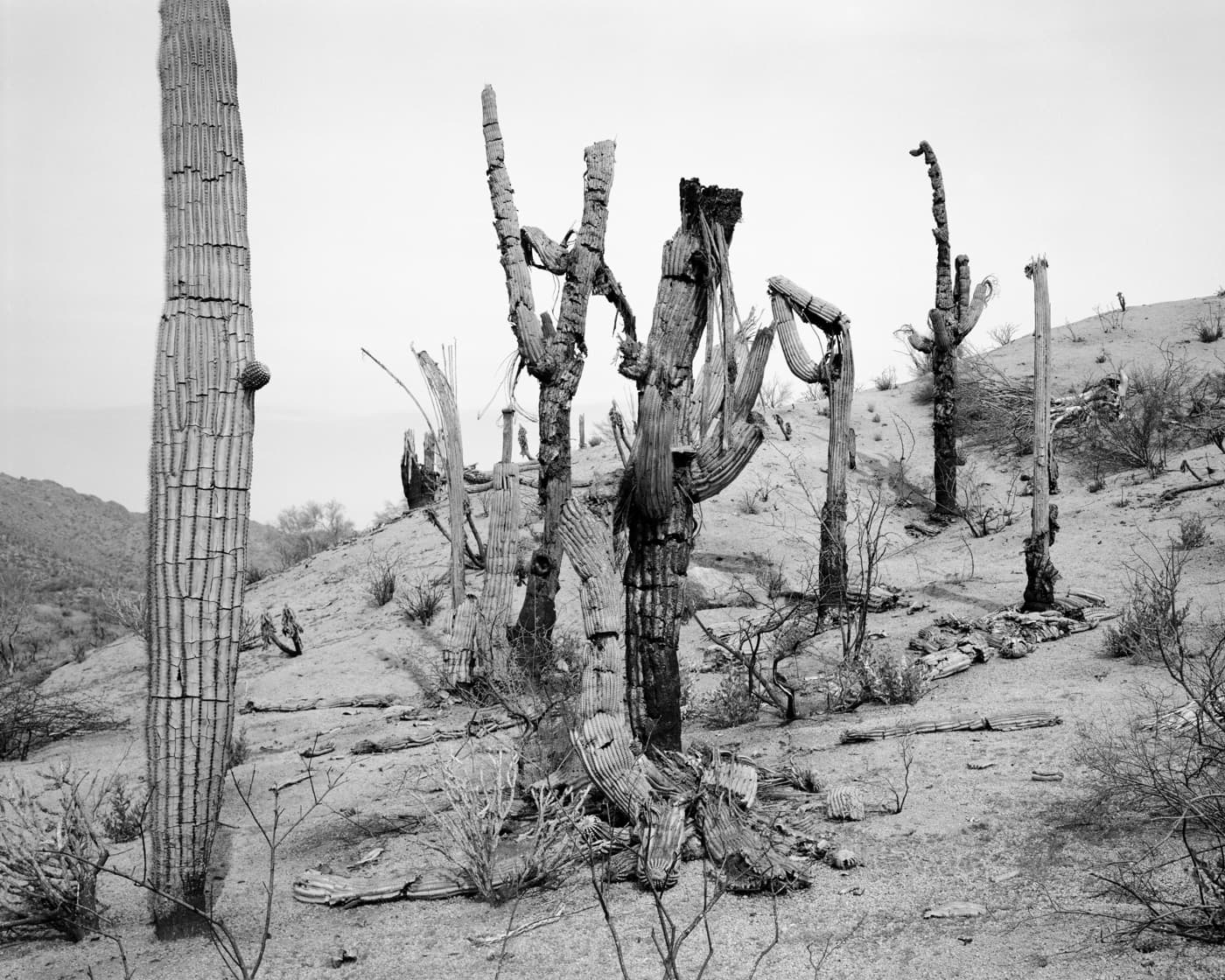 Landscape Stories: How deeply are you influenced by the surroundings and places in which you grew up? How do you think, in some way, these places influenced your work? How do these concerns affect the way you work?
Michael Lundgren: We had acres of forest and fields around our house. And outside was suburbia. I knew quite young that I was lucky. I spent my formative years out in those small wild spaces. I fell in love in a way that is maybe less available if you go to nature on vacation once or twice a year. I have to thank my parents for finding a way to make nature a home for my brothers and I. Something was crystalized within me in those woods.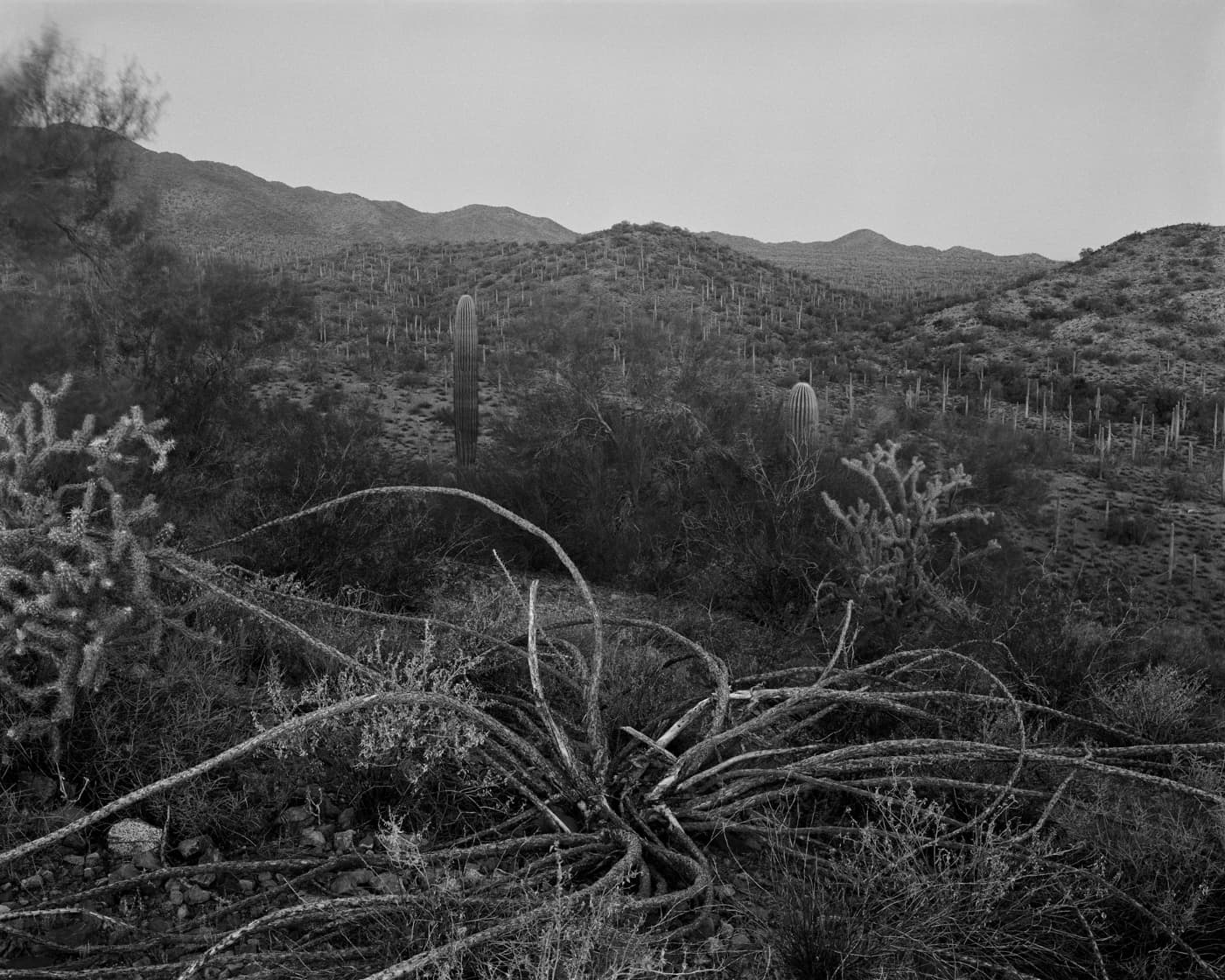 Landscape Stories: Concerning your work "Transfigurations"... It was published by RADIUS BOOK in 2008. How did the project begin? How did your collaboration with Rebecca Solnit and William Jenkins start? Is there something in the title that guides us along as the sequence unfolds? Can you talk about that a bit more?
Michael Lundgren: The title comes from an ongoing search to understand photography as a transformative medium but it shifts for me. What would it mean to transfigure something? There is a spiritual reference in the word as if the change might be towards something of a finer nature. The work undergoes a reoccurring metamorphosis of tonality, scale and an oscillation between the rational factual world and something more conditional and mysterious. There is this idea of the double world–the world we all know and understand and then this alternate world that photography seems really good at alluding to.
This book came out of my work as a graduate student. I hoped to make a body of images that repositioned the landscape away from the politics of human devastation into transcendent and elemental territory. The photography took me 7 years and the book is an edit from hundreds and hundreds of 4"x5" negatives. William Jenkins' afterword seats the images as descendants of modernism which I'm grateful for. Rebecca Solnit wrote this heartfelt poetic essay that serves as a mirror to the work itself. Rebecca and I had worked together along with Mark Klett and Philip Fradkin on a book about the San Francisco earthquake and fire in 1906 and she was touched by my personal work. One thing I can recommend regarding these collaborations is to reach out to the people you admire. Build connections and don't be afraid to ask them to work with you on something.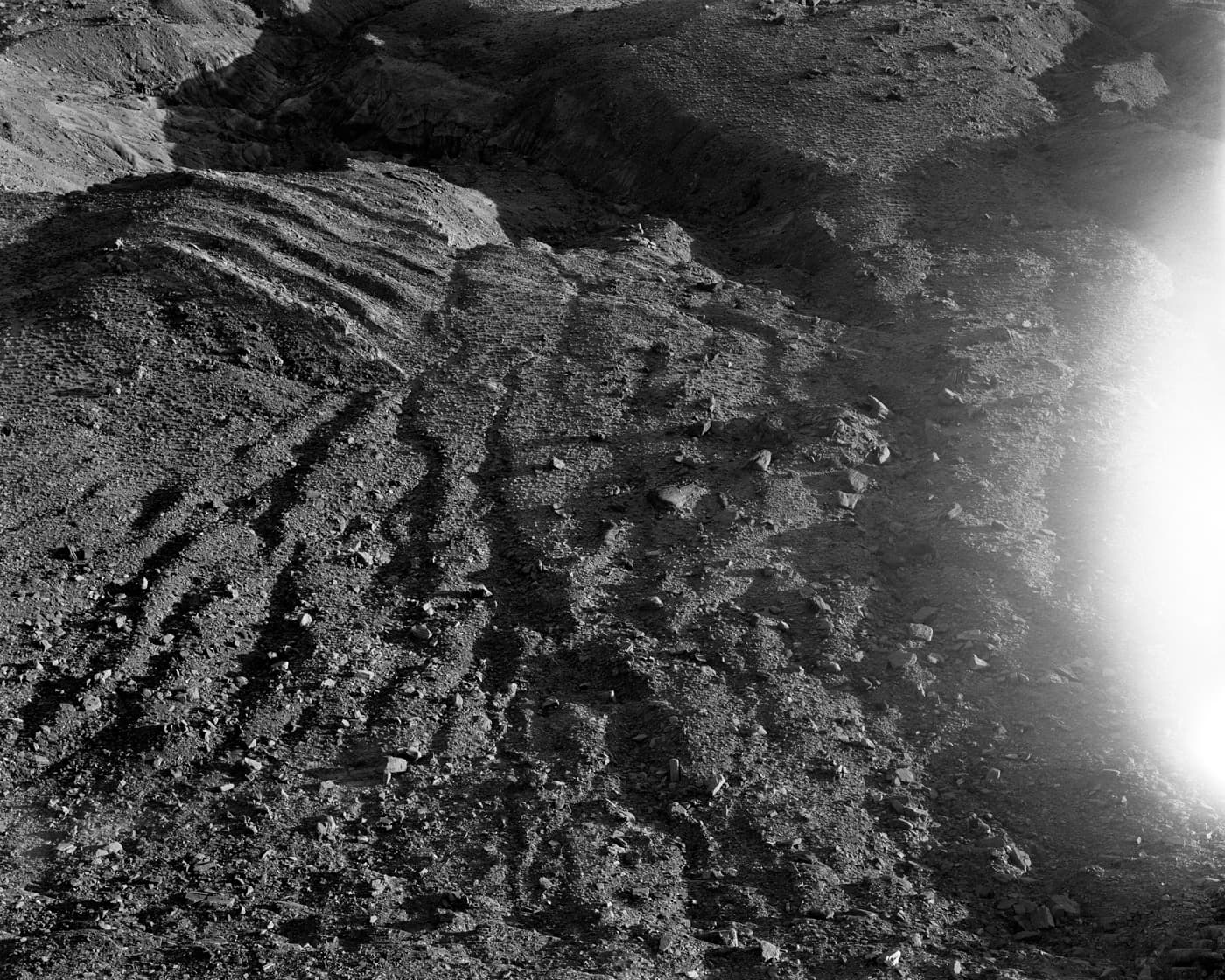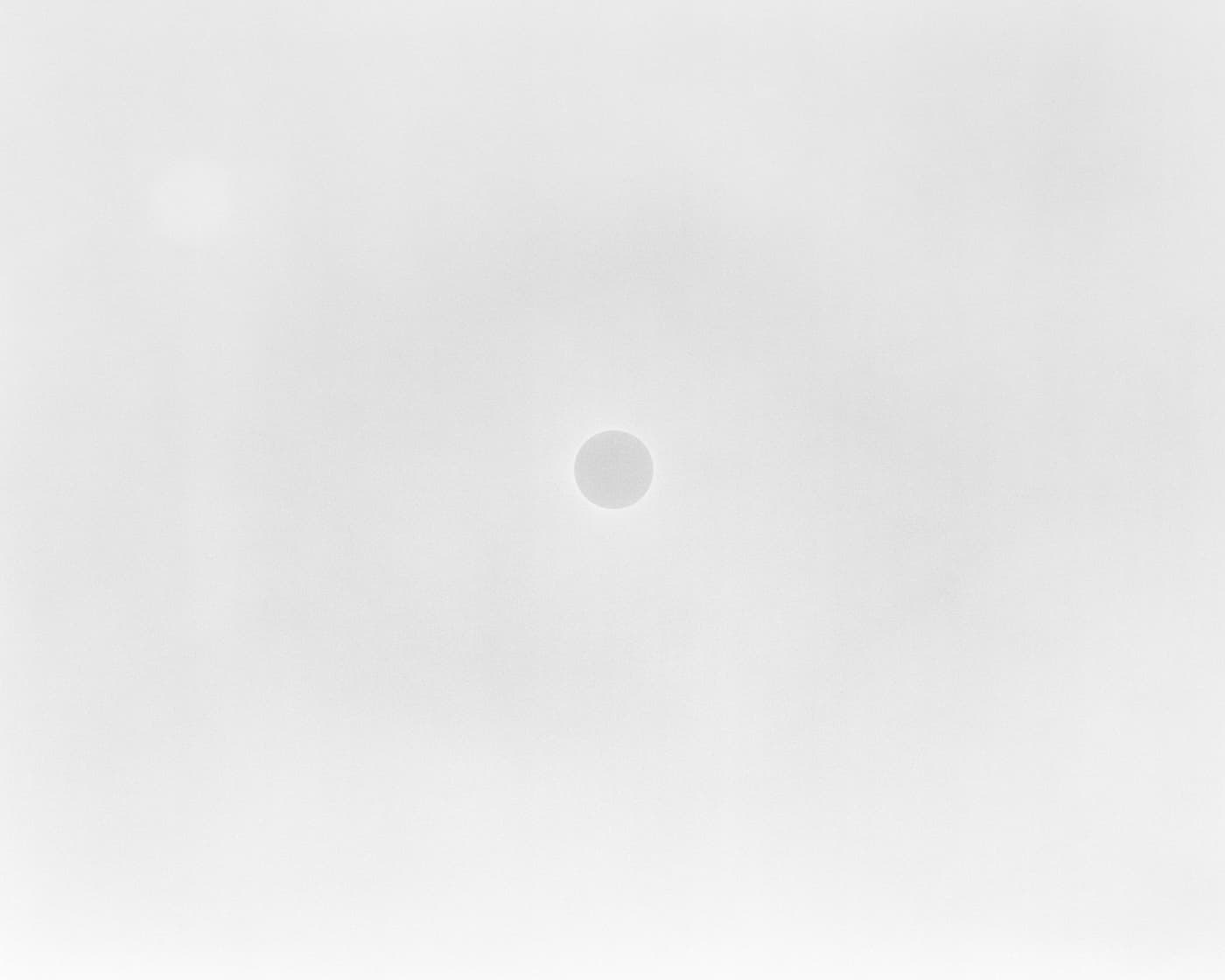 Landscape Stories: "We are a landscape of all we have seen". — Isamu Noguchi
Could you describe your experience of photographing a place you have never been before? What are the relationships among your artistic intentions and your desire to uncover truths?
Michael Lundgren: I'm uneasy about the word truth. I try to see a larger process that is more a stream of thought than a specific intention. New images are made and they alter the reading of their precedents, which in turn calls for an evolution of the line of questioning. It's like an overlapping spiral. Although I'm fed by what I've never seen, the spiral is full of echoes. The images I make, the places I see, the books I read––they build a center of gravity that influences my intentions. My desire is to bring forth an experience that confounds rather than resolves because the world itself is complex. The warp of each body of work is continually changing and the final form is arrived at over the course of years.
When I walk into a landscape I've never been to I do so as if I were being watched. It just happens that way––the posture of my body changes. There is a quality of openness but also wariness. What else is here? What else is looking at me? Paying attention to the place seems like a form of compensation––an entrance fee of sorts. There's a hope and an attempt at no-mindedness but at the same time I'm holding these prior images in the back of my mind. Not in the way so much as like a dream that you had the night before and you keep on coming back to throughout the day.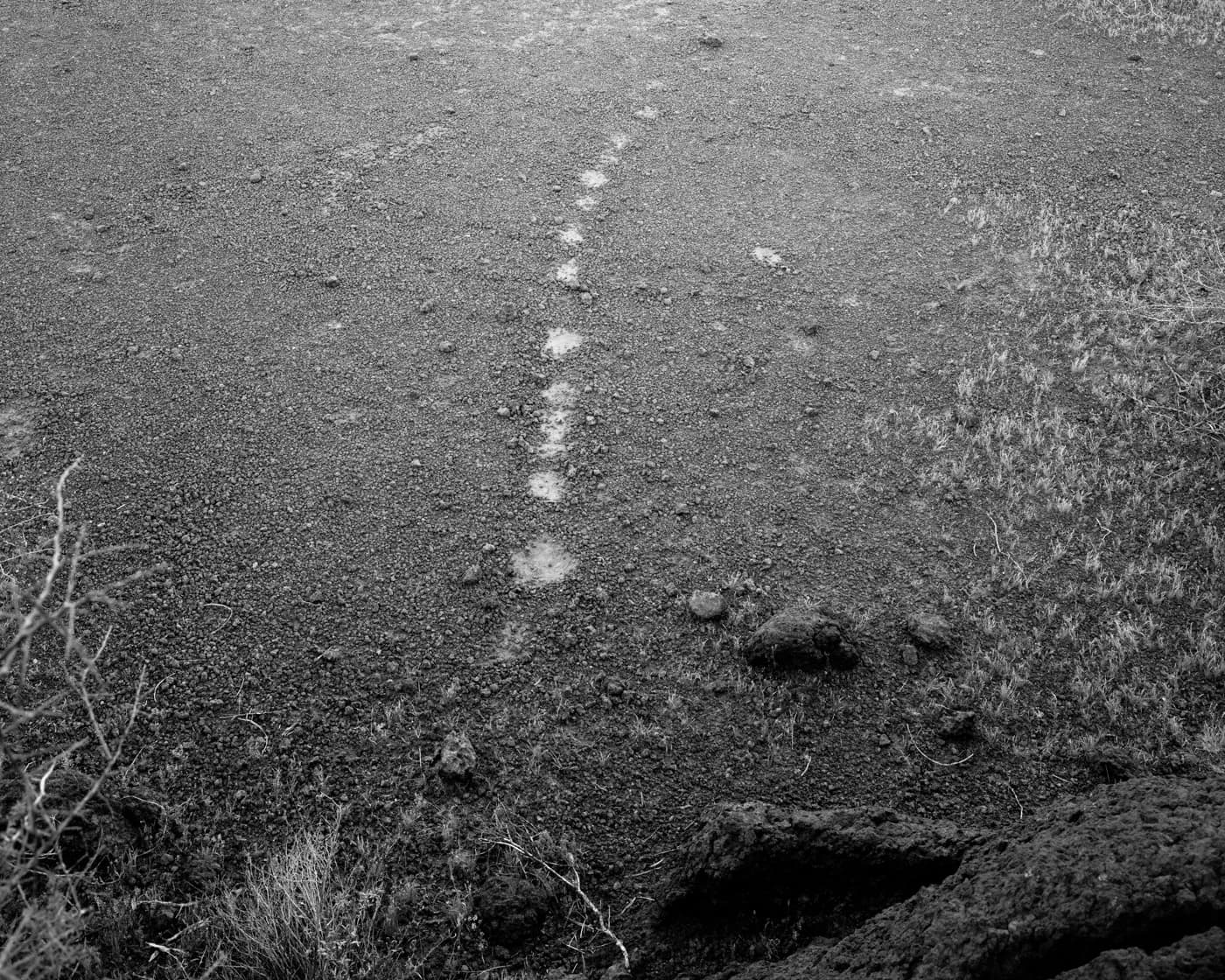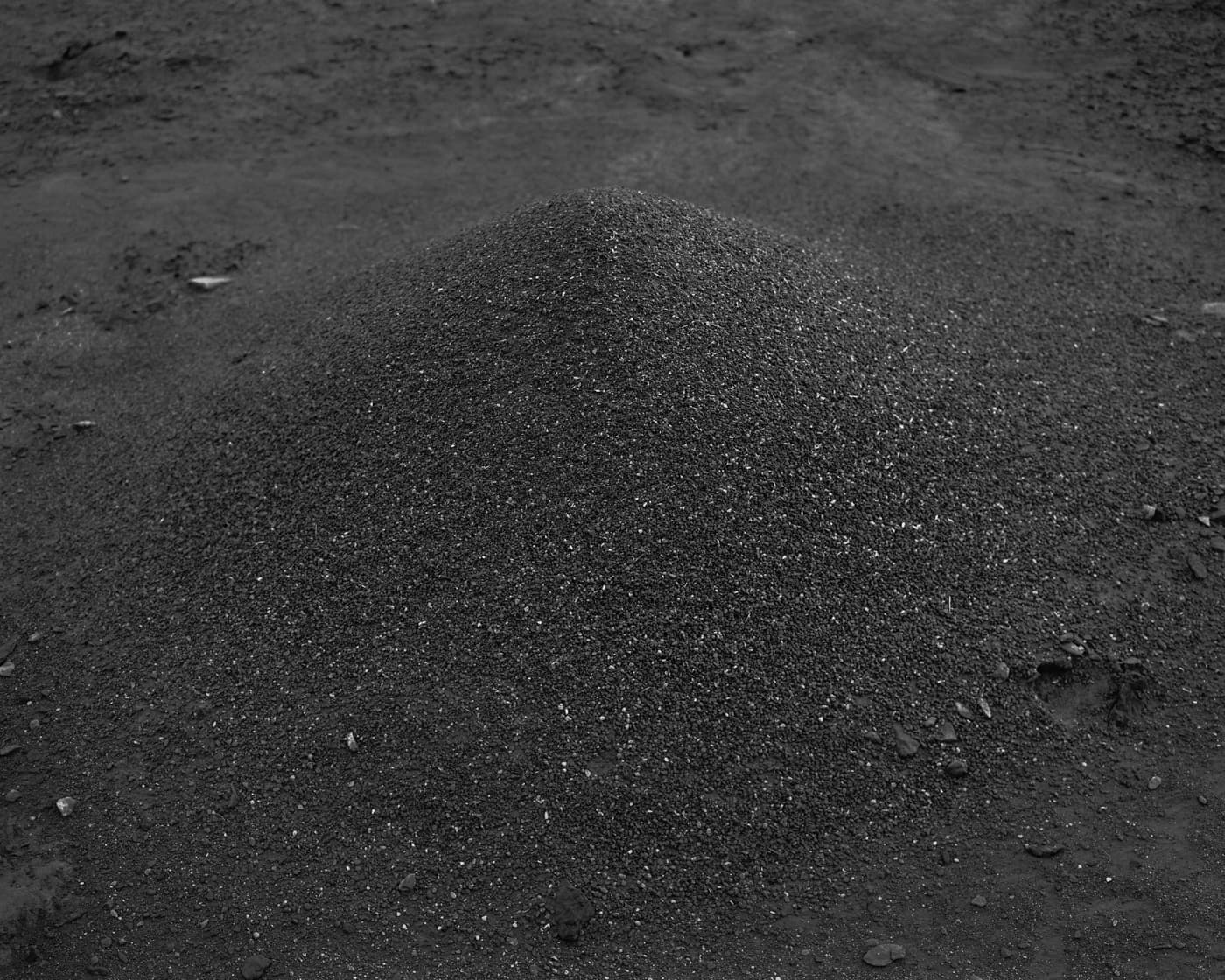 Landscape Stories: Could you tell us how your projects come to life? What leads you and guides you when looking for images and places to be later used in your work?
Michael Lundgren: Sometimes it feels like this– I know what I'm looking for, but I haven't met it yet. And then sometimes it feels like I have no idea what I'm looking for but I'll know it when I see it. And then also there's this feeling that its easier to know and describe what you are not. There are these images I've made before that maybe I don't need to make anymore. Sometimes I make them just to feel that way again.
If I were to simplify things you can be a farmer or a hunter-gatherer. You might have to choose between the two sometimes but I lean towards the latter. Though I know the lay of the land quite well it is the unexpected that haunts me. I think of Richard Long picking up a stone, tossing it forward, picking it up again down the line and tossing it again. Maybe he finds the same pebble. Maybe it's different now. I carry a stack of tiny prints with me. I thumb through them in the camp light. I want there to be connectivity to the pictures over time.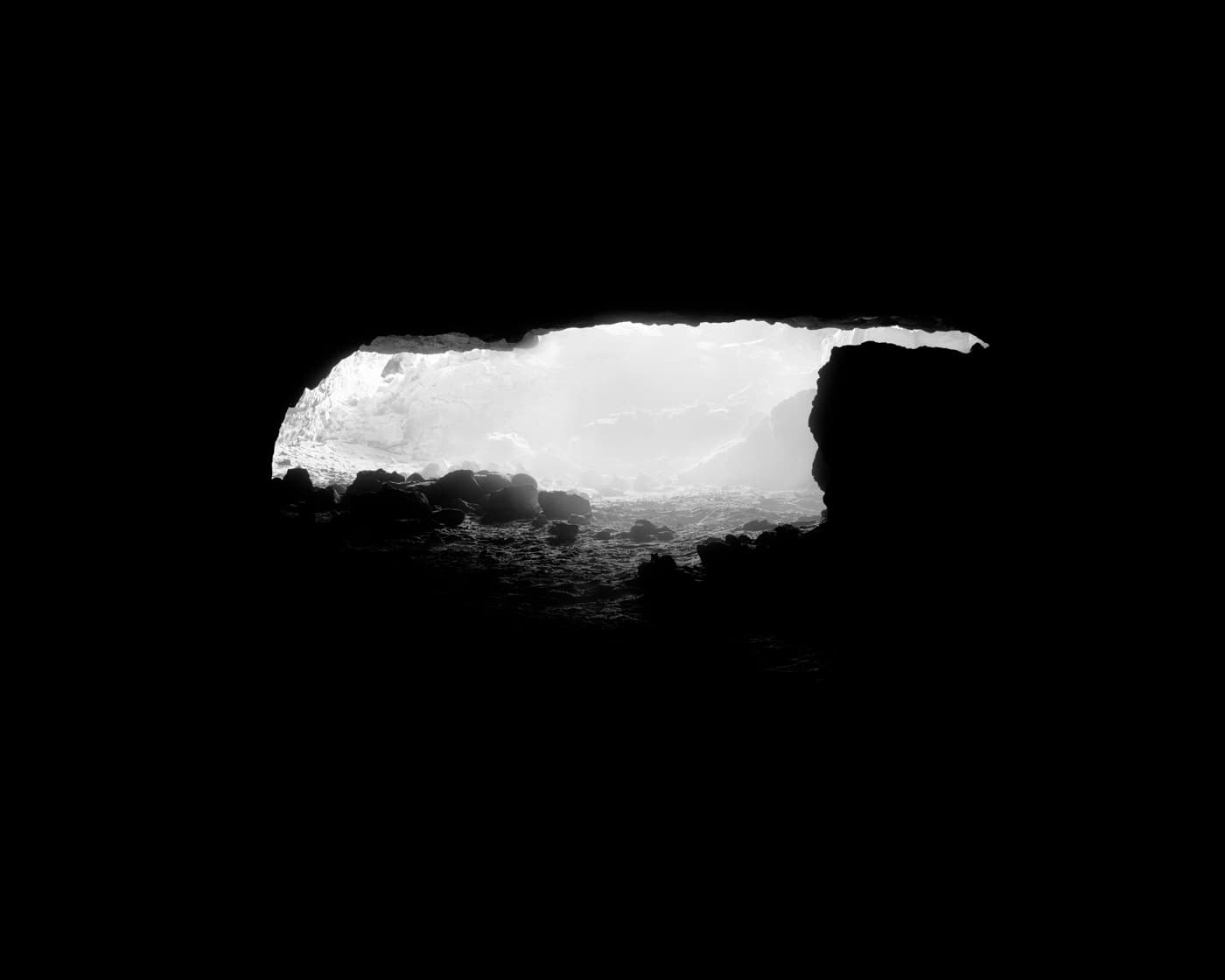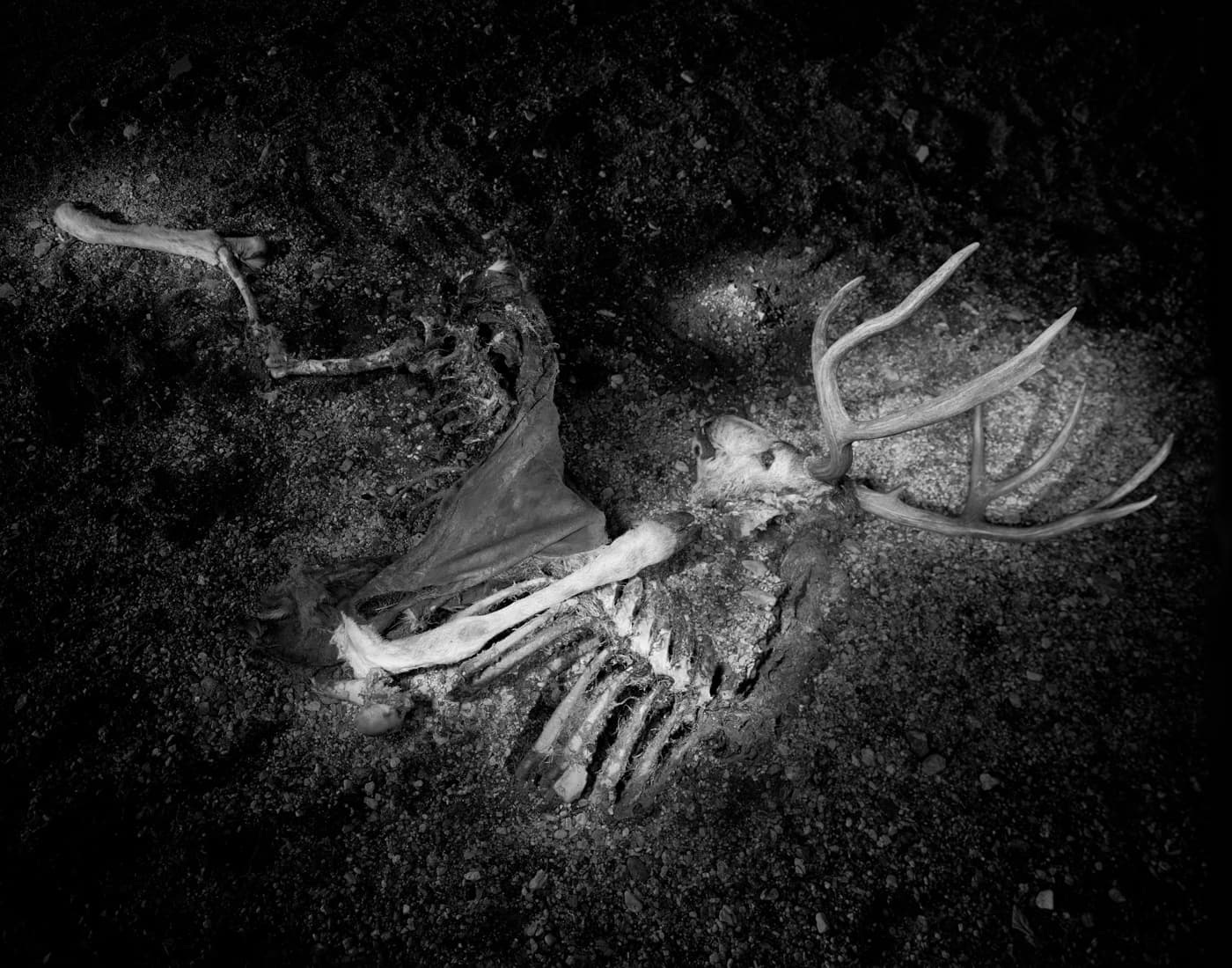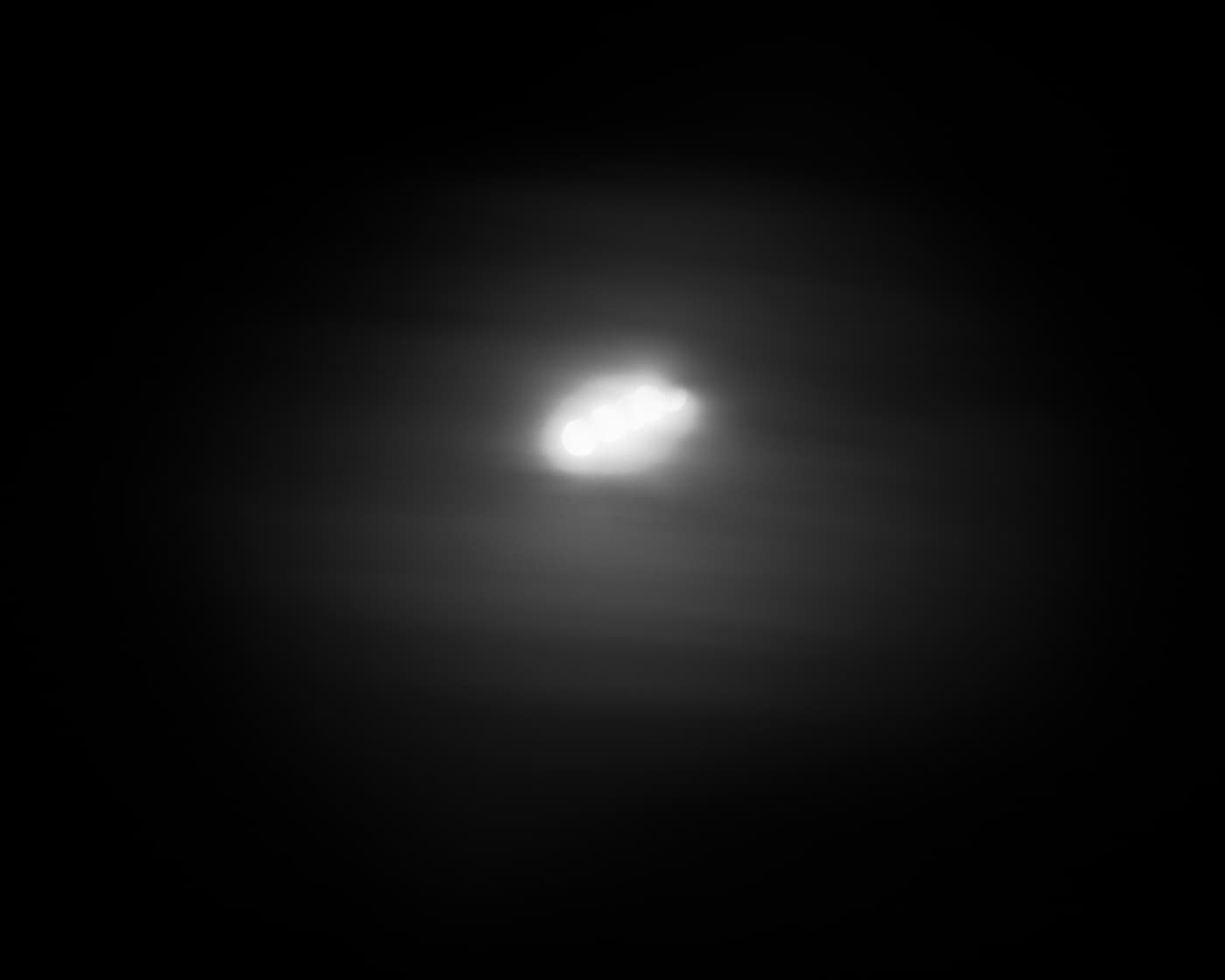 Landscape Stories: "Geomancy" is a monograph of your photographic work made between 2016 - 2019. You started with the help of a Guggenheim Fellowship. How does the project evolve since the beginning? How do you choose the places you photograph?
Michael Lundgren: There is a period of crossover with my books. With the sequence nearly complete new images are made that sit outside the plot of the work. They hold their power through time for me and often become the seeds of the next book. I had begun working towards something very different at that time. I wanted to create a book that bridged my first and second one. Could I take some of the transcendent light and space of Transfigurations and collide it with the evidentiary archaeological quality of Matter (also Radius Books). Over time I became fascinated the complicated cultural histories of the regions I was working in. I wanted to see if I could have that history hover within the images in a fairly ambiguous way.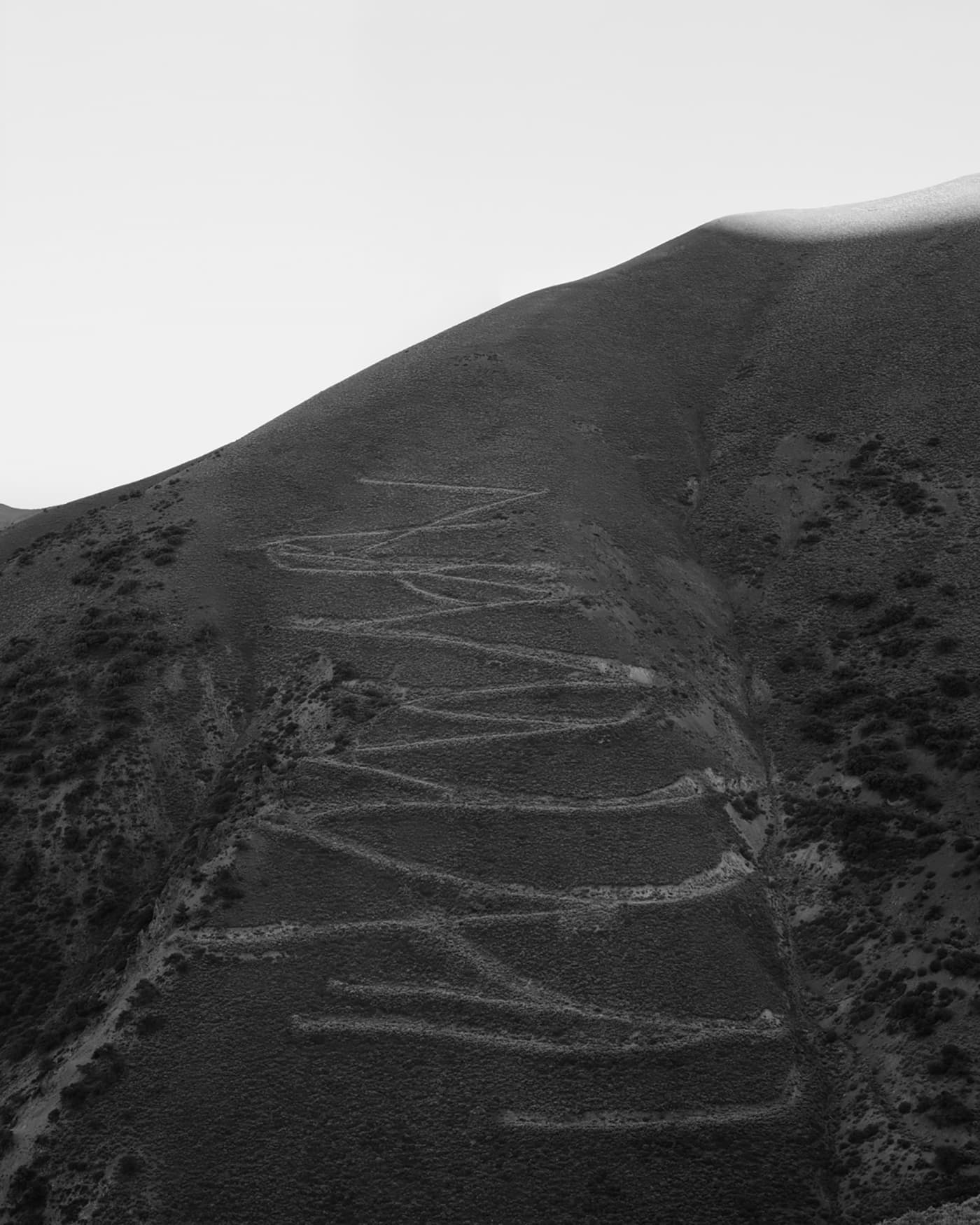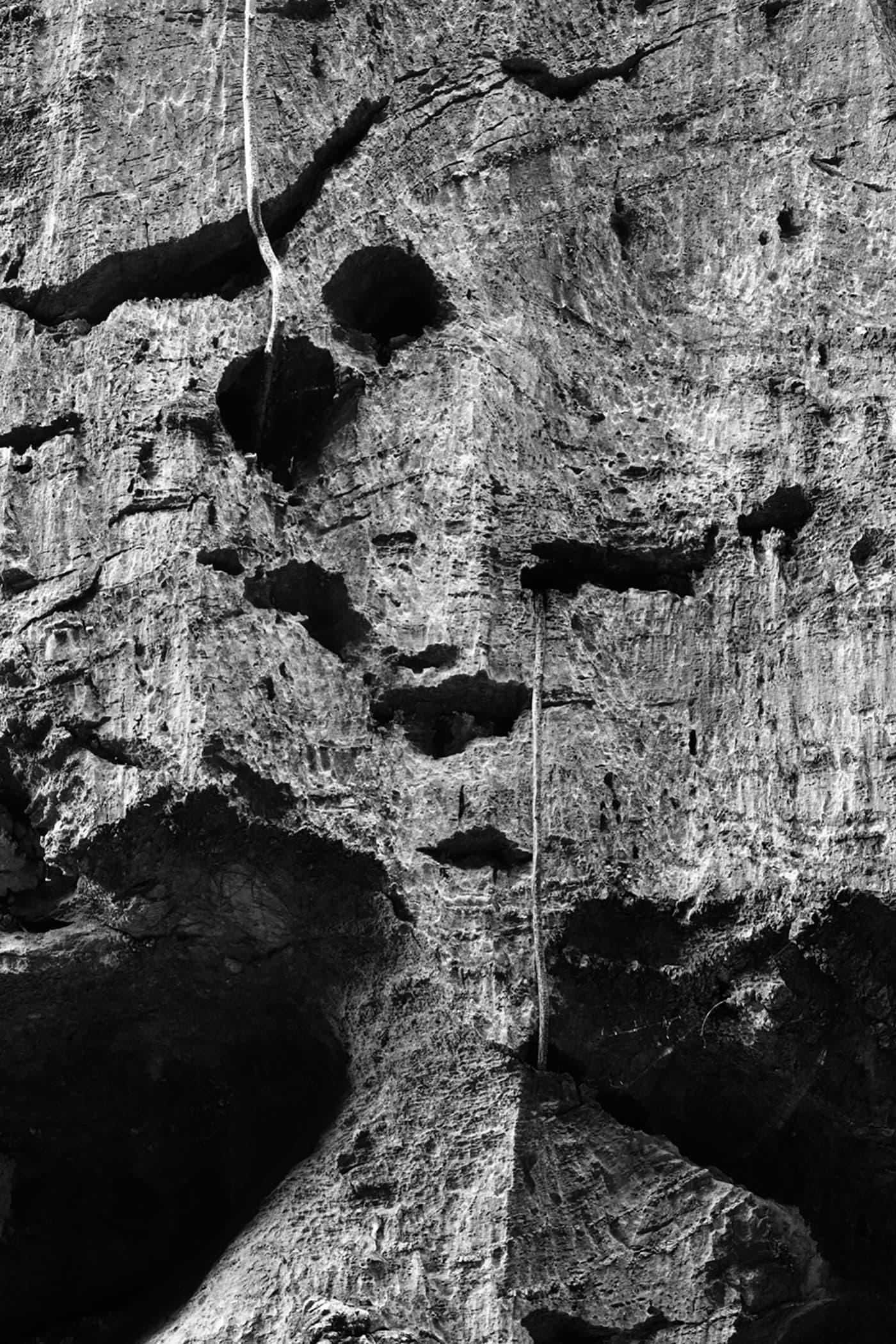 Landscape Stories: This research and the photographic processes present a challenging constellation of images dealing with landscape and his exploration in contemporary photography. How do you conceptualize it in your work? What brought you to investigate those things in such depth?
Michael Lundgren: As a culture we're pretty ignorant about the history of the Americas. Epic civilizations were here before us, some of them destroyed by us. The traces of these older cultures can still be found in quite subtle manifestations. And before these civilizations there were mega fauna extinct by humans that would surely astonish an elephant. And then there is the geology and organic life and insane phenomena everywhere. The surface of these territories is a Palimpsest, something that has been written on, or painted on over and over again. Geomancy is an attempt to activate these layers of meaning.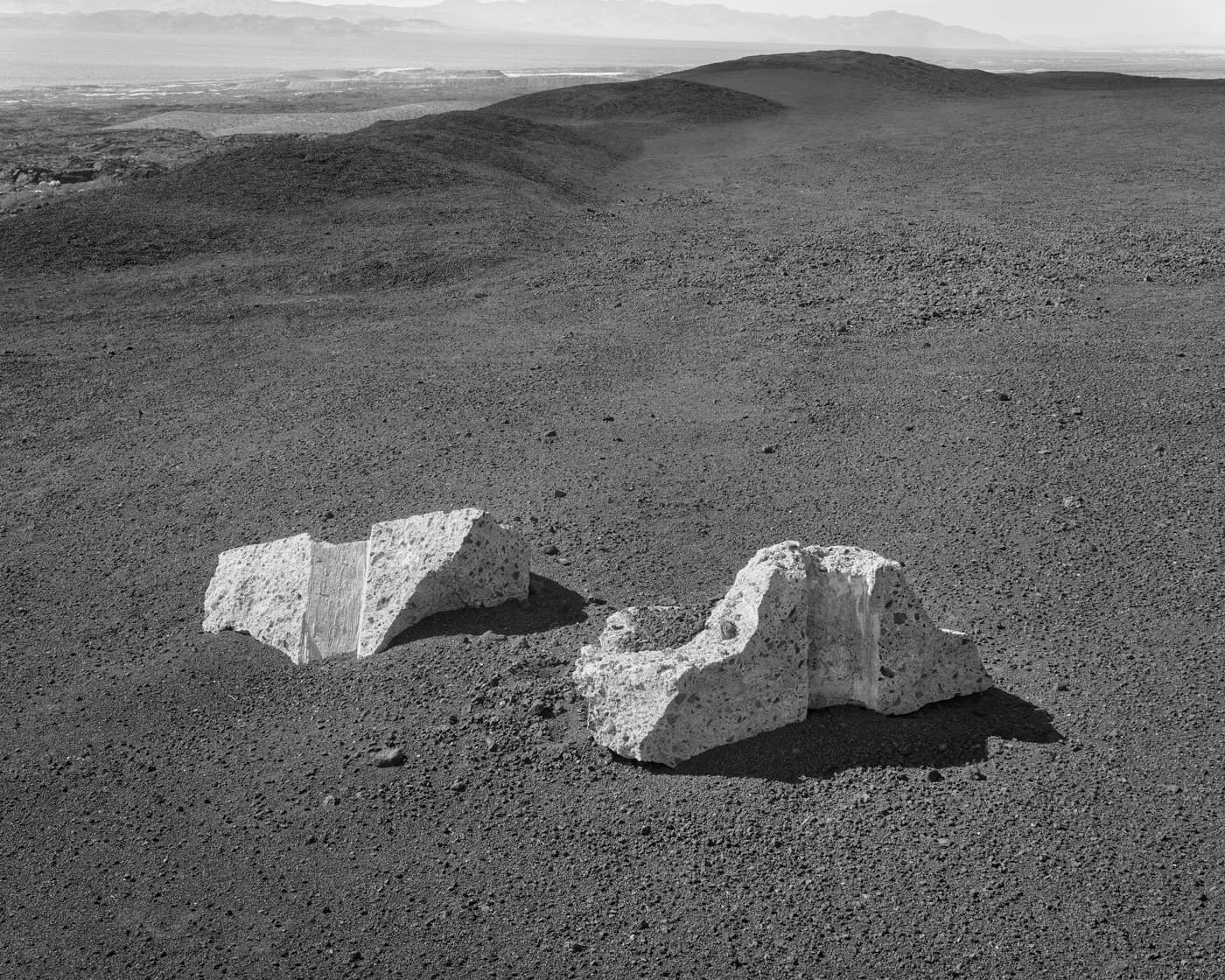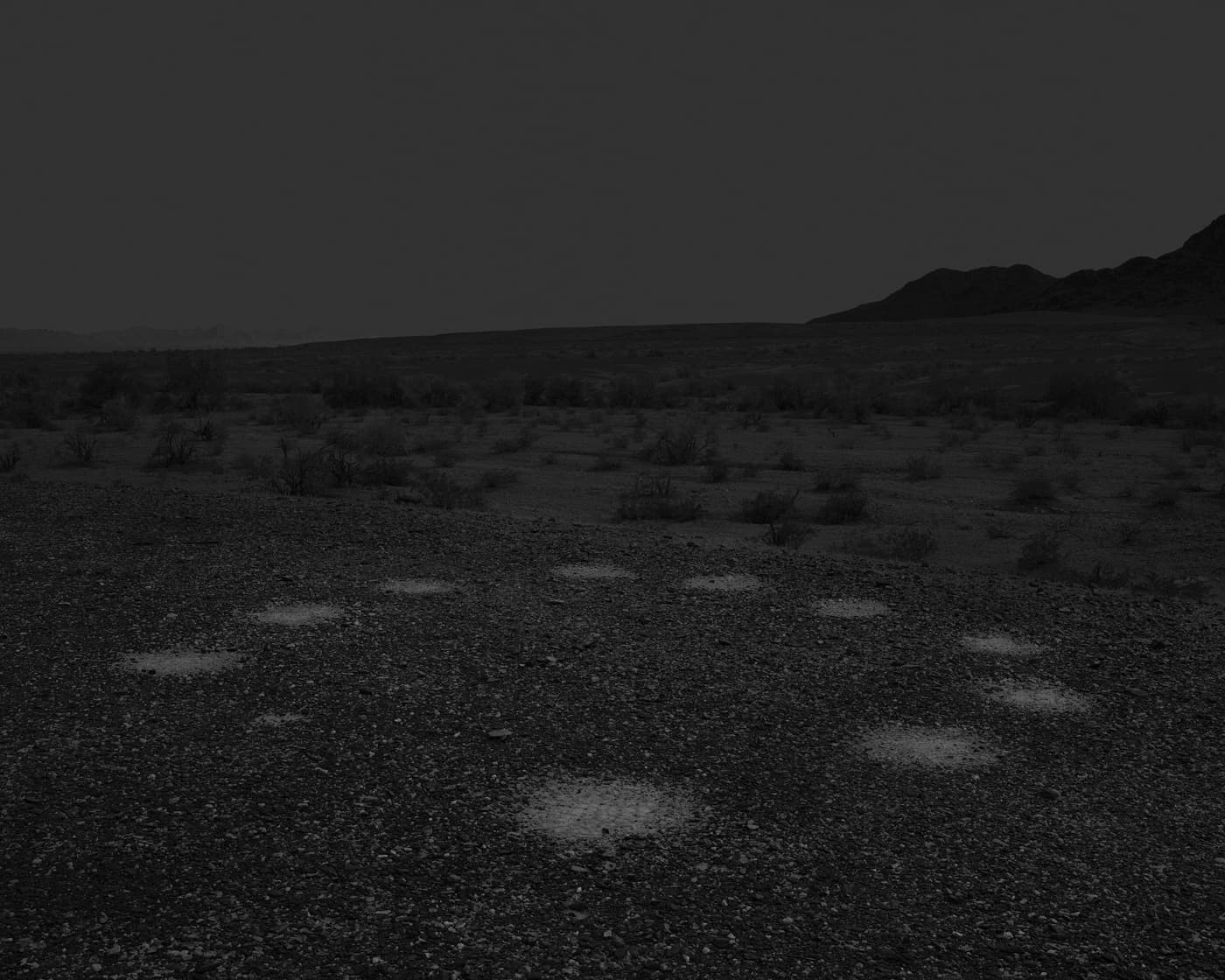 Landscape Stories: Referring to your last book "Geomancy"... It is being published by Stanley/Barker in 2019. How did your collaboration with Stanley/Barker start? Could you tell us something more about the creation of the book? Do you mind explaining for our readers why you chose to make this book, and what you hope to accomplish with it?
Michael Lundgren: I wanted to make a book that felt like a divination, something from the occult, something whose origins might even be suspect. The word geomancy means 'earth divination', or more simply put–– To Invoke the Earth. Perhaps if we did we would be in a very different situation now. I hoped that the photographs would show that the Earth itself has memory. And that it might be good to pay attention to it.
In 2014 Greg Barker did a feature on my work in Hotshoe magazine. We stayed in touch over the years and a few months into my Guggenheim fellowship I sent Greg a link to the work. He asked who was publishing it. I said– you? These relationships take years to develop. Some current developments in my career can be traced back close to 20 years! You have to really want to do this. Regardless of finance or accolade.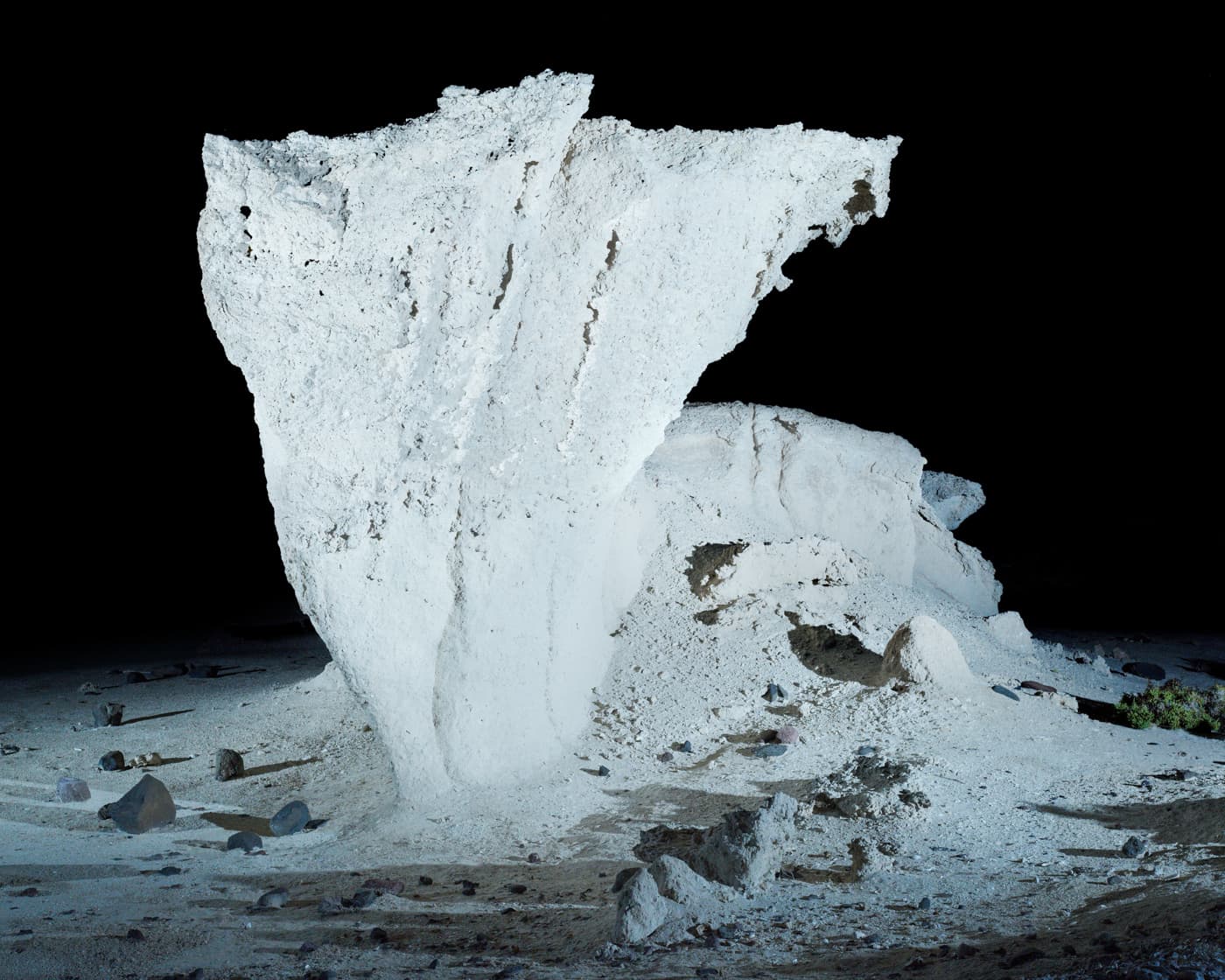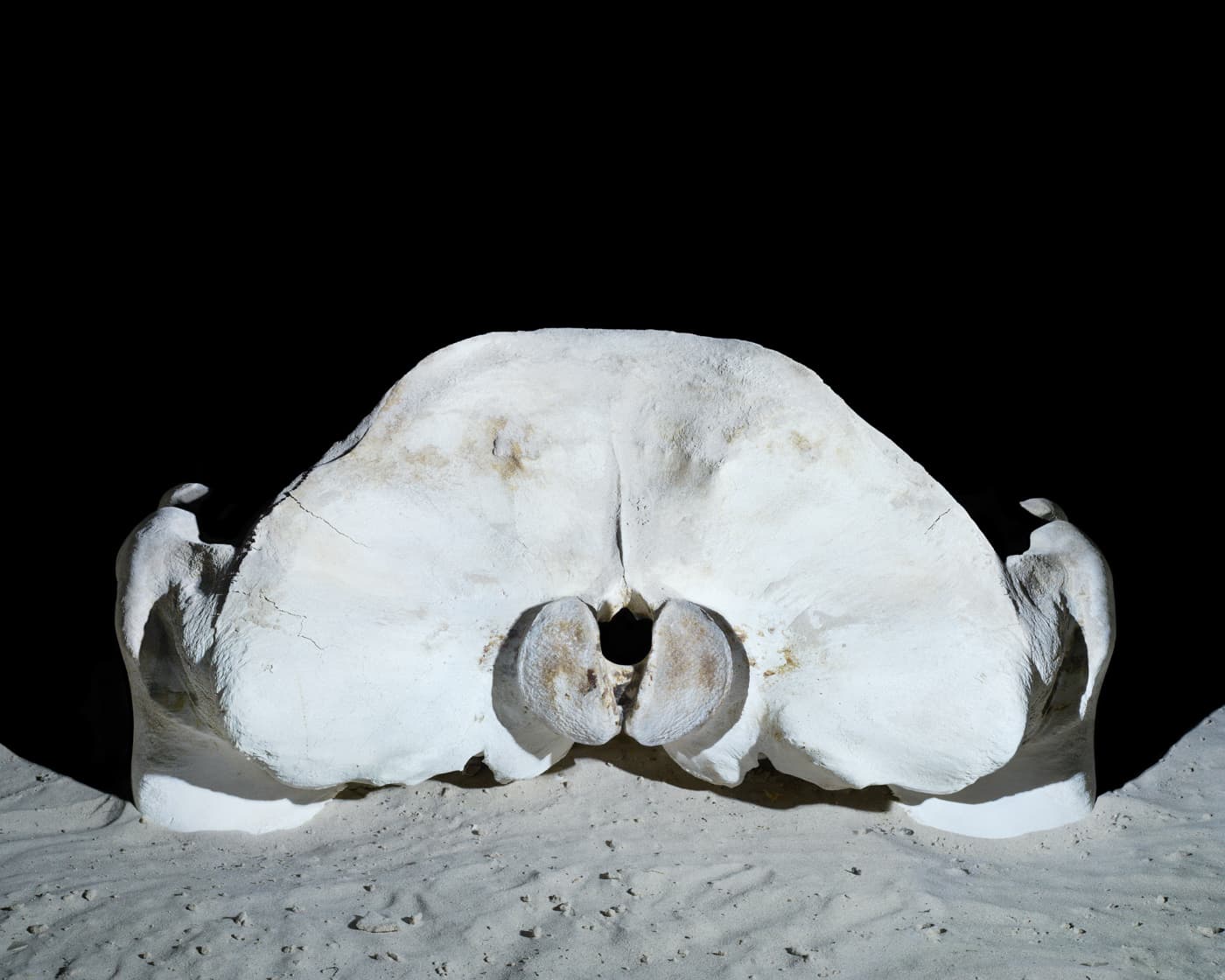 Landscape Stories: Your work is part in black and white and part in color. How do you think of color in relation to black and white work?
Michael Lundgren: Sometimes the answer to this question is simply that I felt it one way or another in the moment. But really there is consideration to this decision. I love the way black and white images pull you out of your present. Whether or not color does this is up to the skill of the artist I suppose, but black and white serves to erase time if done well. It also builds an eerie relationship with the color images, which are quite different than most color palettes. This work lives mostly in a cyan world. Perhaps it's the feeling that many of these places were once under water, or that they may be again someday, but blue and cyan feel like the underworld to me. In color theory it is said that we become accustomed to color temperature and our eyes gradually adjust to its cast. I try to build the movement of color towards certain places of change or shock while the black and white helps to neutralize the journey and actually makes some of the color images feel like they were monochrome.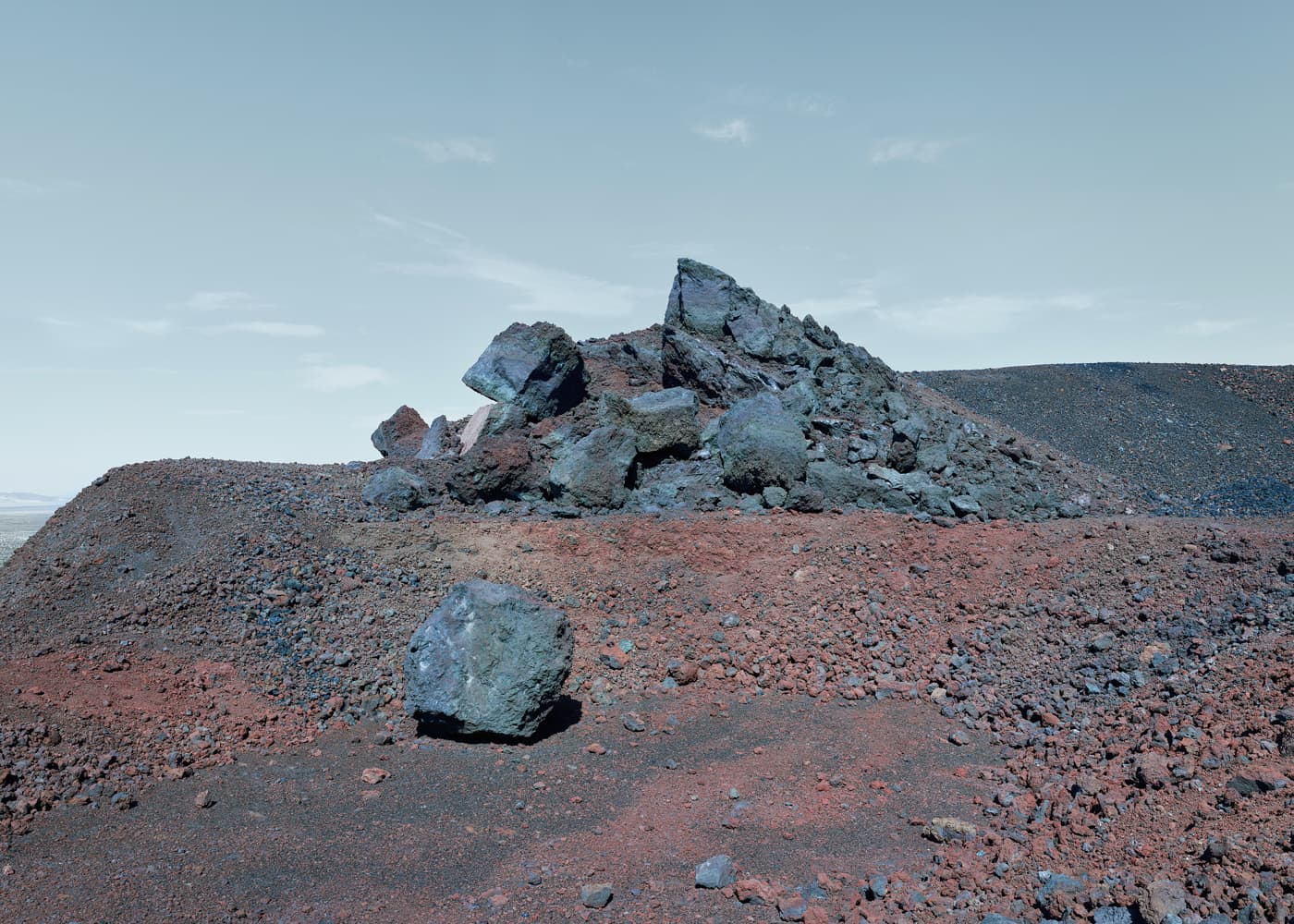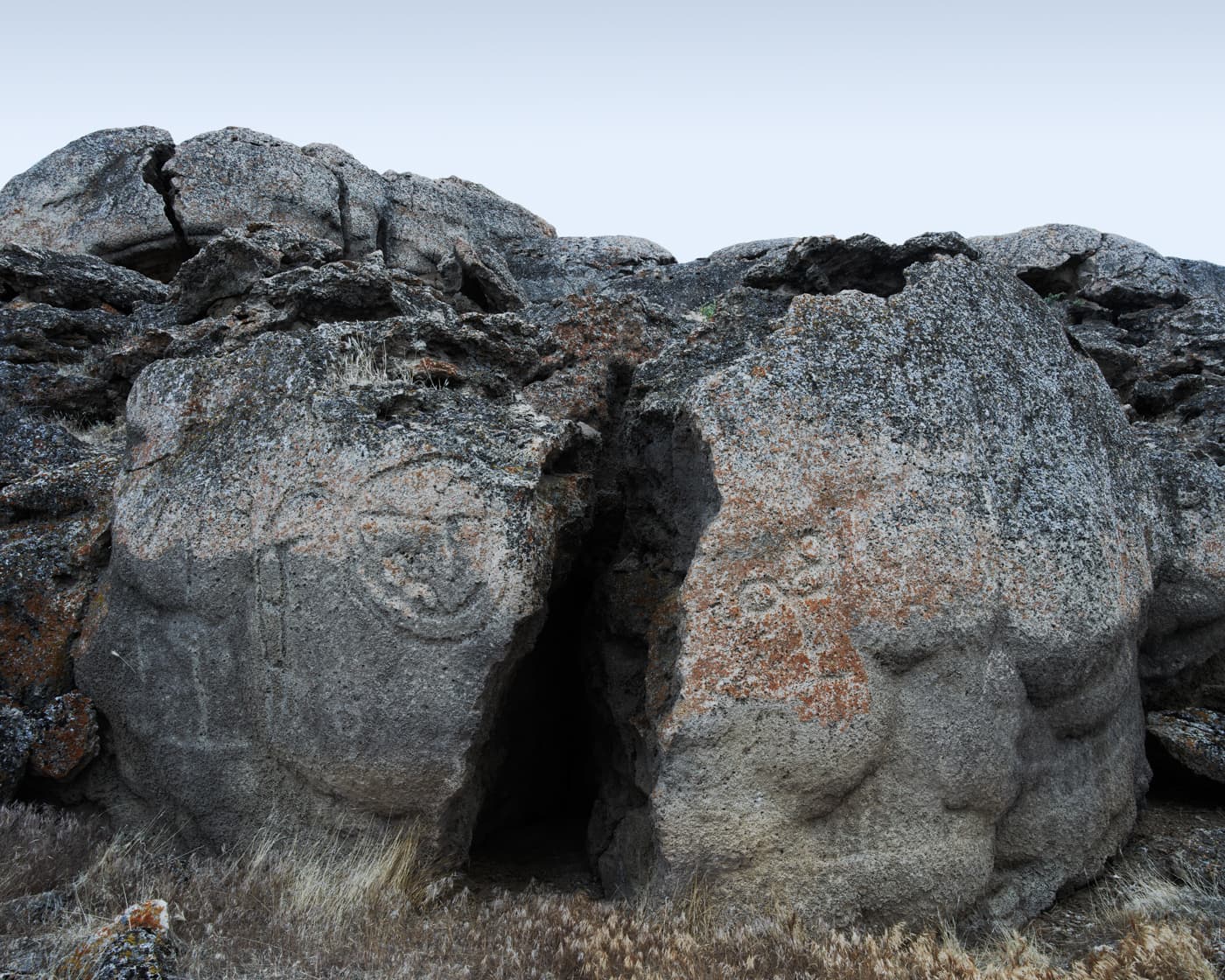 Landscape Stories: The reality of images has become ambiguous nowadays, reality and/or fiction. How do you think the degree of blending between the representation of a fact and its reconstruction/manipulation will change? How will we perceive what's in front of us?
Michael Lundgren: It is true that in our time we have lots of reasons to distrust images but in the end haven't images always been a blend of fact and fiction? I'm interested in the way this ambiguity can be harnessed. The word image and imagination have the same root. I don't have an answer for the last question but it is true that the world of images may create a matrix for how we see and understand basic things in our lives. Best to be careful with them because they are dangerous.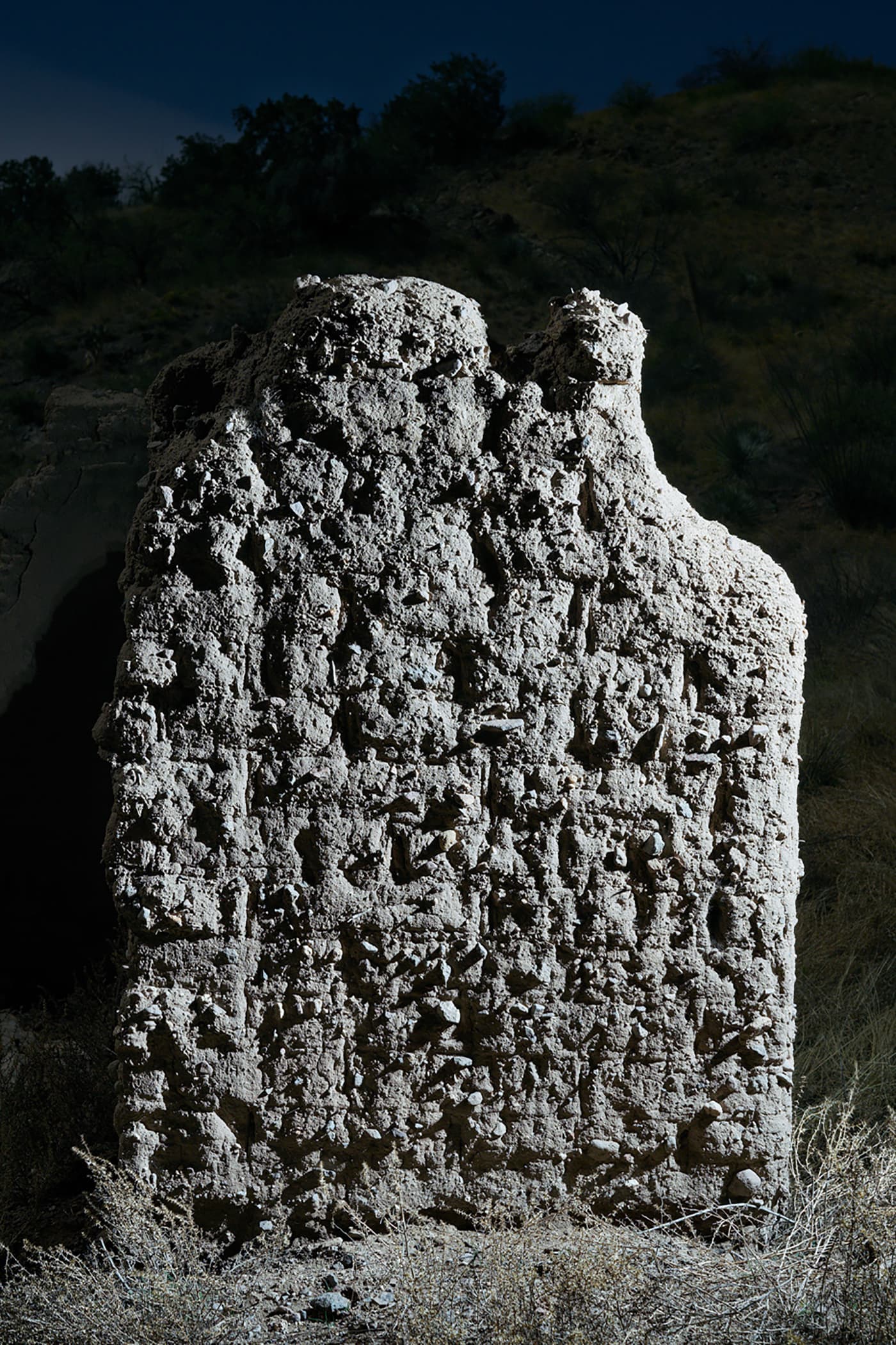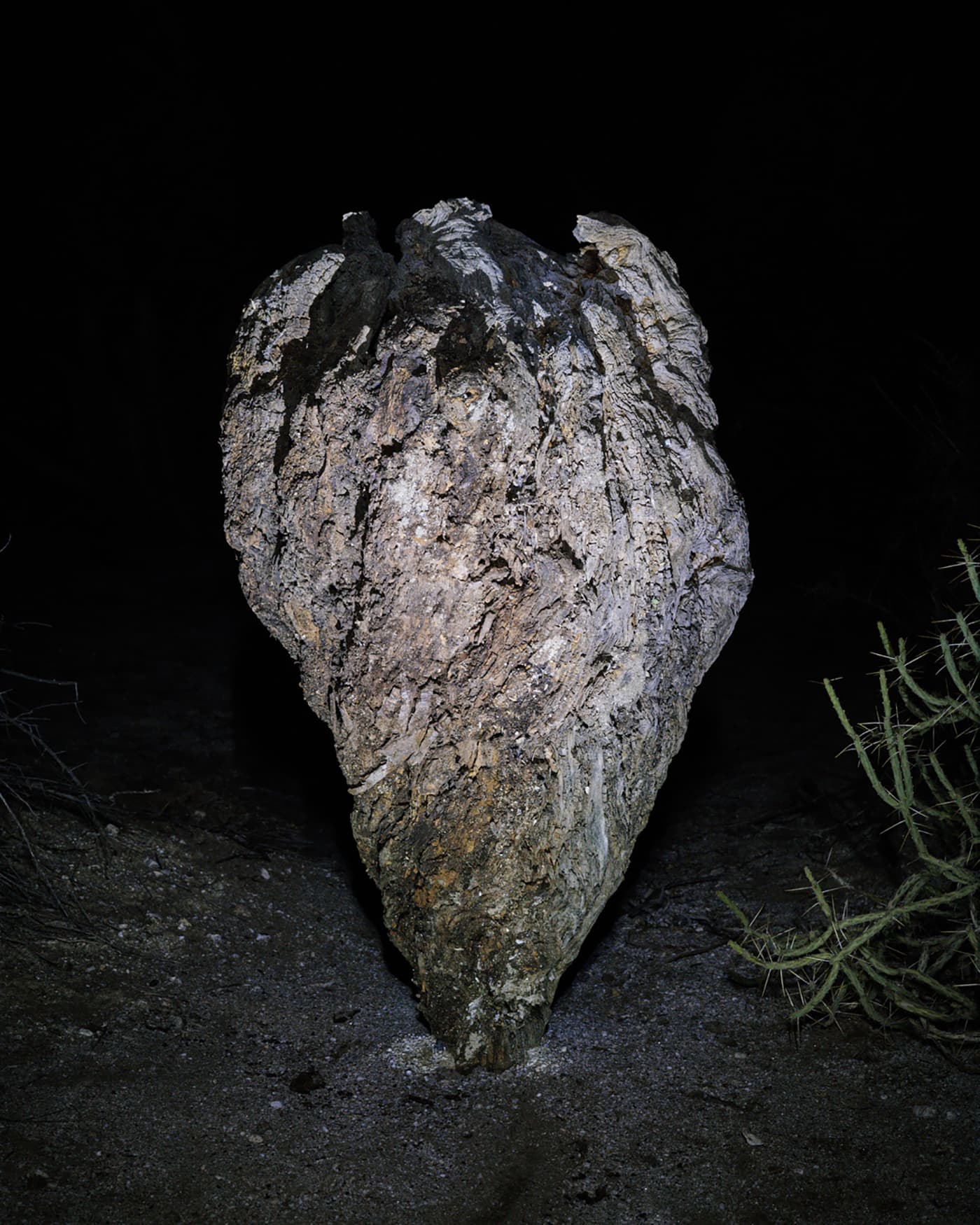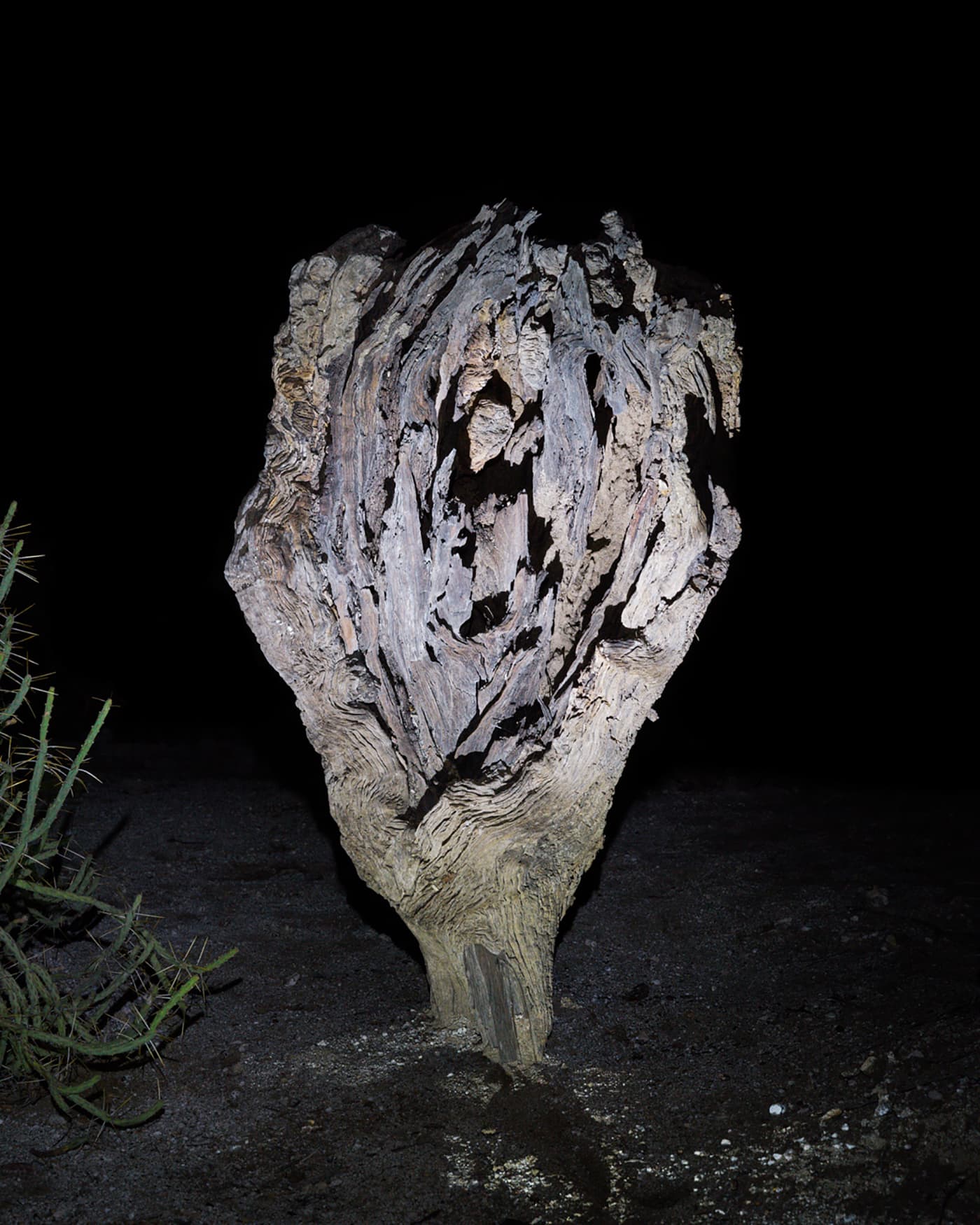 Landscape Stories: Landscape has been a constant subject in all artistic periods. What value and significance do you give to landscape nowadays? Should man still contemplate and understand landscape, the nature of its existence, through its representation?
Michael Lundgren: Of course. There was a period of time not too long ago when landscape was somewhat of a bastard in the field of art but I think that is changing. I recall the photographer Henri Cartier-Bresson saying, "The world is going to pieces and people like Adams and Weston are photographing rocks!" I've been trying to upend this position for some time. The poet Gary Snyder wrote – "No one loves rock, but we are here." We come from nature, from the folds of the Earth and that is where we will go when we die. Perhaps contemplating the surface of our planet will bring us closer to it, will slow us down and ground us.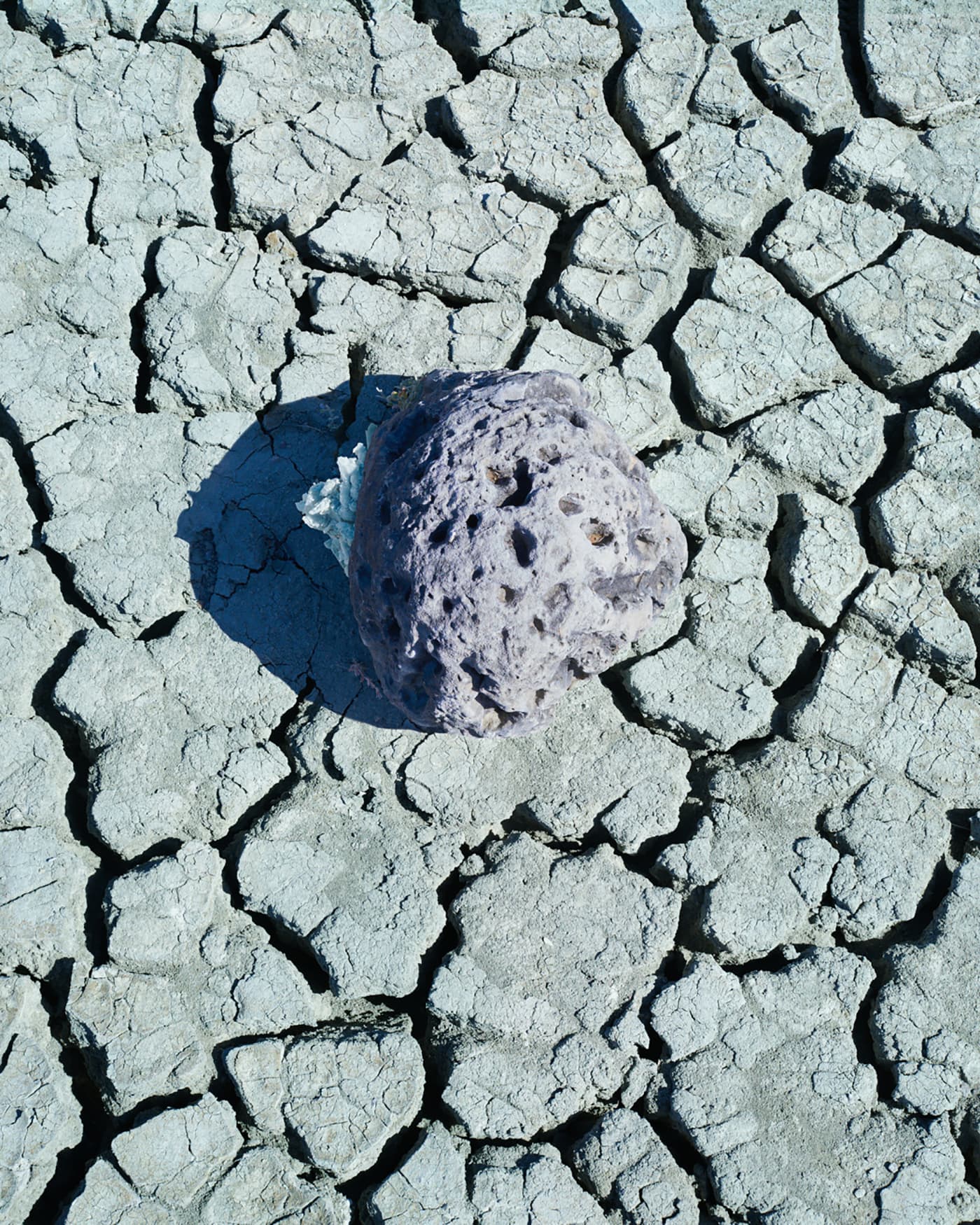 Landscape Stories: Which books you feel close or influential in relation to your "Geomancy"?
Michael Lundgren: The list of visual artists would be quite long but I'll stress Geert Goiris, Taiyo Onorato & Nico Krebs, Christian Widmer, Mike Williams, Aaron Rothman, Mark Klett, Jungjin Lee, Ron Jude, among so many. There is an amazing surge of younger artists working right now– Bucky Miller, Morgan Ashcom, Shahrzad Kamel, Travis Brown... see I could go on and I'm sure I've forgotten some important ones. I recall Emmet Gowin saying "I'm influenced by what is extraneous to the field." –– meaning literature, poetry, music, conversation. This is true of myself as well. A really important book that shaped my thoughts about the occupied landscape and the mythology of western expansion was Beyond Geography by Frederick Turner. And of course in the background there is always Carlos Castaneda.
Landscape Stories: Finally, what are you working on now? In which projects are you involved? If you wish to reveal them.
Michael Lundgren: I have been making work that feels much like an extension of Geomancy. I'm not finished with its themes and vision but it is also really exciting now to feel a current of new ideas. I've been working around water more, both rivers and the ocean and look forward to seeing where that takes me. Part of me wants to forget the idea of body of work and just make individual images but I'm certain that in a year I'll be laying out the beginnings of a new book.
Perhaps my long objective is to lose all style and affect and then the pictures might feel that they've always existed, that they were already there.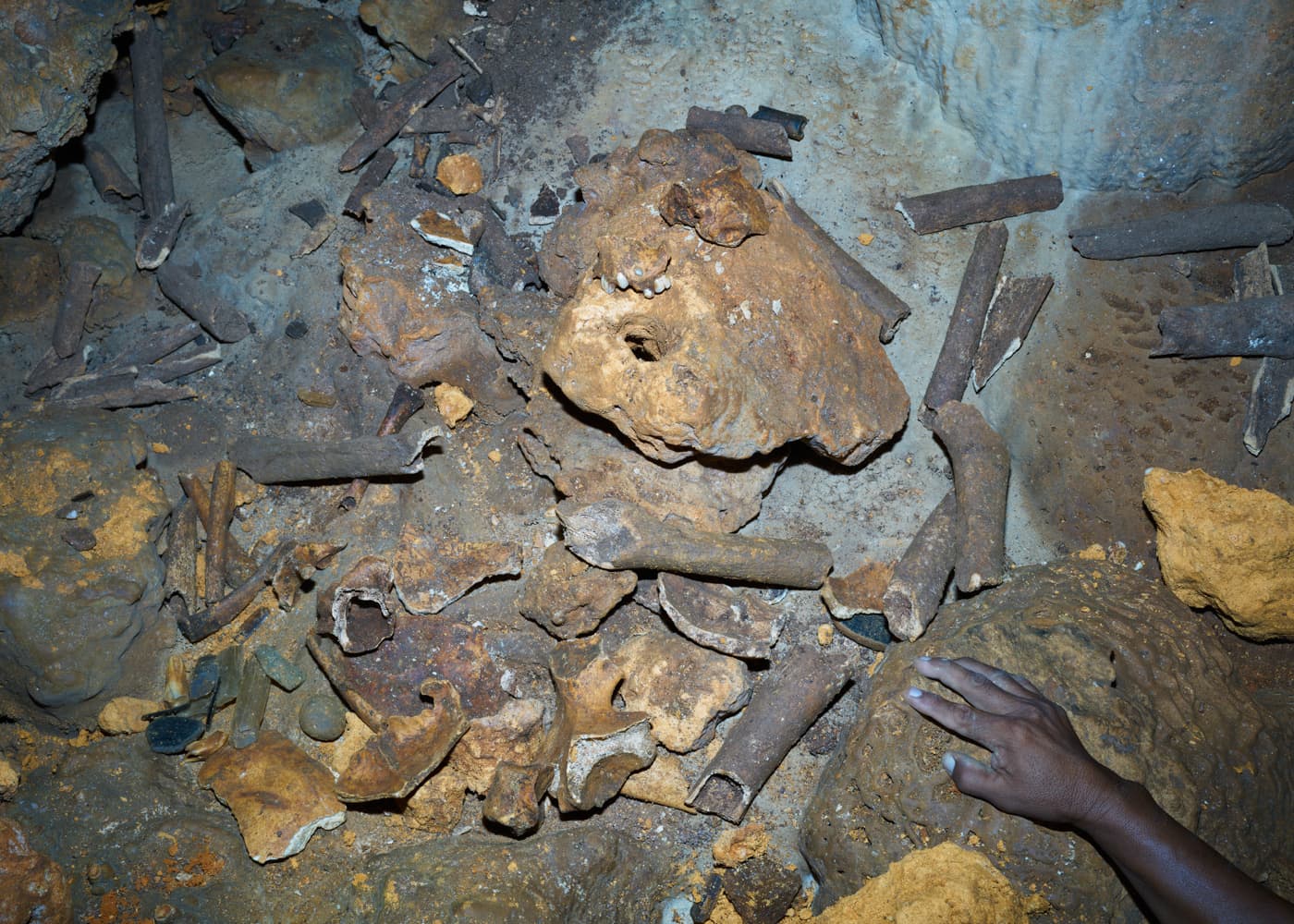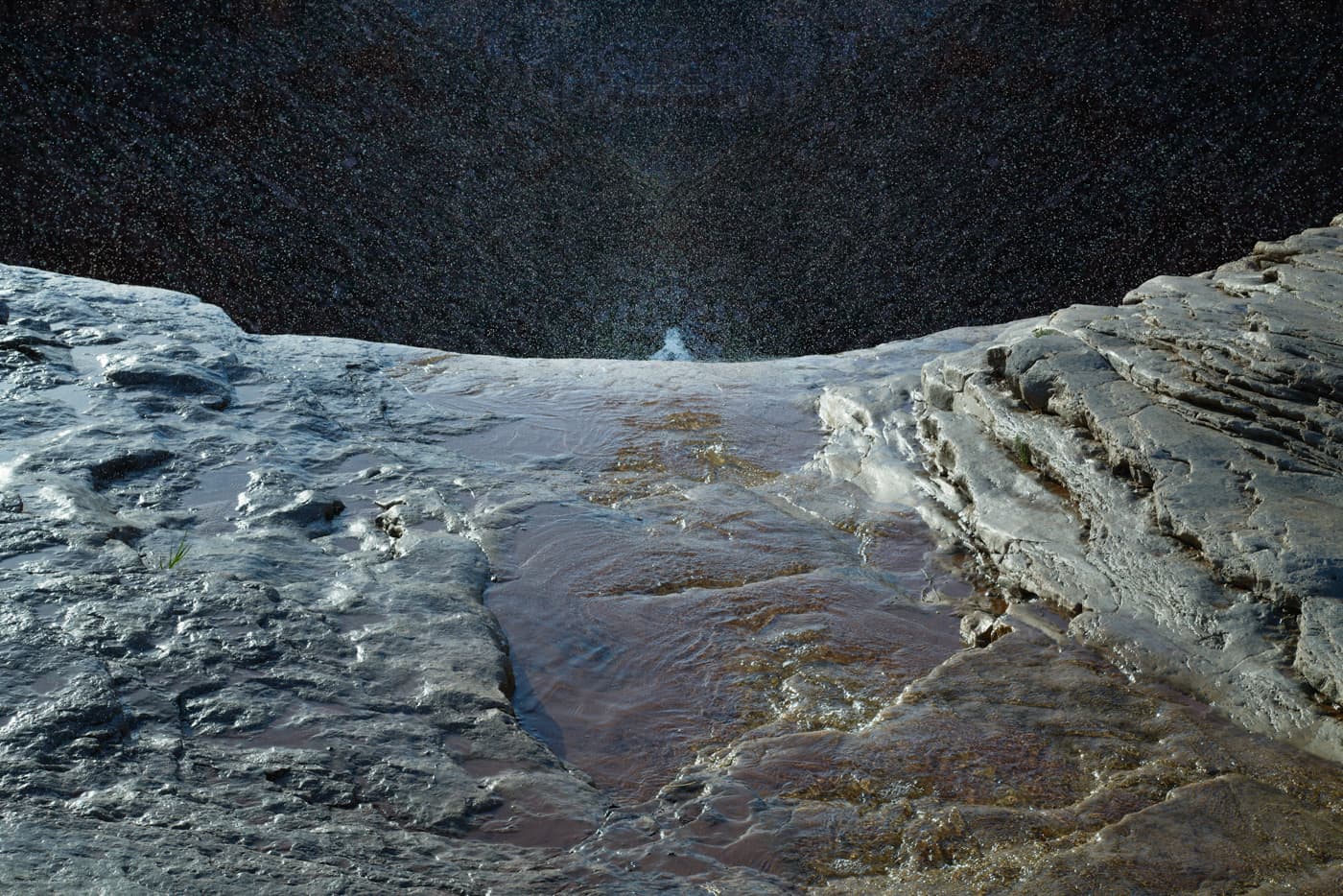 Interview curated by Gianpaolo Arena